Former leaders continue to receive millions in post-retirement payments
April 19, 2013
April 19, 2013 -- Executives at Oregon's largest hospitals and hospital networks saw their compensation climb in 2011 at double the rate of most American workers.
Hospital leader compensation rose an average of 4.2 percent that year, The Lund Report has found after reviewing pay details for 141 executives involved in supervising the state's most prominent hospitals. Across all working Americans, compensation climbed 2 percent over the same period, according to Bureau of Labor Statistics figures.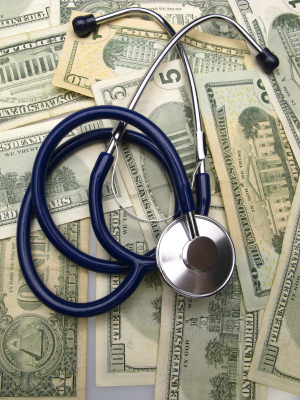 Look closely at Oregon hospital pay and a more nuanced story emerges. Some of the largest apparent pay hikes, like the reported 92.6 percent raise received by James Diegel, CEO of the St. Charles Health System, reflect more about IRS reporting rules than about how much executives really brought home. And compensation dropped for 26 executives in 2011, often because of wild swings in retirement benefits. "Compensation" itself is an imperfect measure, one that includes cash payments, as well as retirement and insurance contributions and other benefits.
But executive compensation is under growing scrutiny across all industries in the U.S., and healthcare spending is growing more quickly than the rest of the economy. An examination of hospital leadership pay in Oregon reveals that compensation committees across the state believe these executives have greater bargaining power than lower-level workers, and that hospitals must offer six- or seven-figure compensation packages to attract strong leaders. Despite efforts elsewhere in the country to keep top hospital CEO pay in check, Oregon executives continue to get raises. And in a handful of cases retired leaders continue to take home compensation, sometimes years after leaving office.
This the seventh story in a Lund Report series examining hospital finances. The first six articles provided snapshots of Oregon's 26 most prominent hospitals, some that operate independently and others that are part of chains:
With Part 7, The Lund Report begins an examination of the issues raised in those initial snapshots. Future stories will look at charitable care and the effectiveness of Oregon's hospital provider tax, which aims to boost Medicaid reimbursements in the state.
Click on the accompanying charts and spreadsheets for a detailed breakdown of the compensation data gathered for this story. 
Raises and pay cuts: How is compensation rising or falling among Oregon's hospital executives?

Top earners: We rank hospital leaders in three broad categories.

Digging deep: Click here to view the raw data compiled for this story.
The million dollar men
Seven Oregon-focused hospital leaders made at least $1 million in reported 2011 compensation:
$4.3 million: Gregory Van Pelt, who is retiring this spring, oversaw both hospitals and health insurance plans for Providence Health & Services in Oregon.

$1.8 million: Deryl Jones, who retired as CEO of Portland Adventist Medical Center in 2008, continued to receive compensation from his former employer.

$1.4 million: Larry A. Mullins, CEO of Corvallis-based Samaritan Health Services, which owns hospitals and health plans.

$1.3 million: Roy Vinyard, CEO of Medford-based Asante, which operates hospitals in Medford and Grants Pass.

$1.2 million: James Diegel, CEO of the St. Charles Health System, which runs four central Oregon hospitals.

$1.05 million: Dr. George Brown, president and CEO of Legacy Health, a network of Portland-area hospitals, labs and clinics. (His pay climbed to $1.2 million in 2012.)

$1.04 million: Andrew McCulloch, Kaiser Permanente's Northwest region president.
Colleen Wadden, spokeswoman for Providence Health and Services, warns that those official tallies should not be taken on face value. "What's reported as total compensation is not always what was taken home."
In Van Pelt's case, $3.2 million of his reported compensation actually reflected retirement benefits earned over a number of years, Wadden said. Multiple years' benefits were all reported at once in part because that's when they became fully vested, she said. Furthermore, retirement funds can grow in value over time. Providence may have contributed less than $3.2 million, because that figure could also include investment gains.
Excluding those retirement benefits, Van Pelt's compensation was $1.1 million in 2011. His pay and benefits package were determined by a compensation committee that first reviewed a survey of other executive salaries.
"Providence applies the same principle in setting compensation levels for all employees, whether they are nurses, housekeepers, radiologists, or executives – salaries are set at the middle of the market average," Wadden said.
Dennis Dempsey, chairman of the St. Charles Healthcare compensation committee, said market surveys are also used to set pay at his organization.
"I don't believe Jim (Diegel, CEO of St. Charles) is overpaid, because the data we have had over the last seven or eight years tells us that compared to his peers he's at the 25th percentile," Dempsey said.
Diegel's reported 2011 compensation was $1.2 million – up from $607,860 the previous year. Dempsey said that much of that climb was because of retirement benefits that had to be reported, and take-home pay was still at about the 25th percentile for comparable executives, meaning three quarters of his peers earned more. St. Charles' compensation committee would like to ultimately increase Diegel's pay until he's near the 50th percentile.
"Recruiting and retaining people is a very volatile business," Dempsey said.
Retirement benefits may help explain large compensation packages, but hospital watchdogs are still concerned.
"Hospitals have to ask themselves whether they're doing everything possible to fulfill their charitable mission before setting executive salaries," U.S. Sen. Charles Grassley, R-Iowa, said in a statement he issued in February.
In California, voters last year reacted to news that the leader of a public hospital district was slated to earn $714,460 by heading to the ballot box. They voted to cap El Camino Hospital CEO pay at $347,974. A bill proposed in Massachusetts this year would cap nonprofit executive pay at $500,000 – though organizations could apply for a waiver.
Legacy Health spokesman Brian Terrett said that executive compensation may elicit a strong emotional response, but large paychecks have only a miniscule effect on hospitals' bottom lines.
"If we were to take all the senior executives of Legacy Health and say, 'You are going to work for free for the next year,' that would pay for 16 hours of one day of the operation," Terrett said. "The amount of money we spent to turn on the lights, buy the supplies, pay the employees, and make sure there is clean running water in the building – the cost is really incredible." Legacy's total expenditures in 2011 were $172.6 million.
The checks keep coming
The Lund Report's review also found that sometimes it can pay to be retired. Three former hospital executives have continued collecting annual compensation of more than $1 million even after leaving their jobs:
Robert J. Pallari, who left Legacy Health in 2005: $6.3 million from the hospital network in 2012.

Deryl Jones, who retired as CEO of Portland Adventist medical Center in 2008: $1.8 million in 2011.

Pamela Vukovich, who left her position as senior vice president and treasurer at Legacy Health in 2010: $1.4 million in 2012.
Adventist's compensation packages are set by a compensation committee that reviews salary ranges for other hospital CEOs, and aims to stay near the midpoint of the range, according to hospital tax filings.
"The answer to questions about Bob Pallari and Pam Vucovich is simple – this is money that they earned," Legacy's Terrett said. "It's basically deferred compensation. It's money that's set aside, that if for some reason conditions of employment are not met or conditions after employment are not met, it does not have to be paid out."
Pallari's compensation agreement included a non-compete clause, and he has received payments since his retirement for complying with that clause, Terrett told The Lund Report in an earlier interview. 
News of similar so-called "golden parachutes" going to California hospital executives spurred that state's legislature this year to consider placing limits on hospital CEO retirement payouts.
Negotiated post-retirement payouts are virtually unheard of except in the top ranks of large U.S. businesses. More than half of Americans have less than $25,000 in retirement and other savings, according to Employee Benefit Research Institute survey results released in March.
Questions of fairness
Income inequality has grown significantly in the U.S. since the 1970s, with top earners receiving pay raises that outpace inflation while the majority of workers have seen inflation-adjusted pay either stagnate or decline.
Sister Andrea Nenzel, chairwoman of PeaceHealth's board of directors, said that she is aware of these concerns and that her organization wrestles with questions of fairness when setting compensation.
PeaceHealth uses surveys of other hospital system executives when setting pay, and tries to keep its leaders in the middle of the pack, she said. The nonprofit also tries to guarantee lower-paid employees at least a living wage, even if market rates would justify paying less, she said.
Alan Yordy, CEO of the Vancouver, Wash.-based hospital system, received total compensation of $1.04 million in 2011 – less than the CEOs of the other large healthcare organizations in Oregon. His pay was $1.2 million in 2010, when he earned a larger bonus.
"If somebody is out for a lot of money, $1.2 million is not what they are looking for, even though that is a lot more than the average person gets," PeaceHealth's Sister Andrea said. "There are plenty of hospitals where our executives can earn much more than that. We do have a growing gap between the haves and the have nots, and I'm not trying to justify the discrepancy. I'm just saying that if we are going to attract and retain the people with the necessary skills for this extremely complex field, we have to be somewhere in the ballpark with compensation. There is no way that you are going to find anyone for the top position, responsible for eight hospitals spread over three states with laboratories, clinics and more, if they are not paid adequately. It's extremely complex and there is a tremendous responsibility. They aren't going to take it for $500,000 or even $750,000."
UPDATE, 4-23-12: The documents linked to "Top earners" and "Digging deep" have been updated.