Pharmaceutical Company Donates Experimental COVID-19 Drug To Oregon 
The Lund Report is offering this coverage for free to better inform the public at this difficult time. But we need your support to help us stretch our resources. Please sign up for a tax-deductible premium subscription or consider making a donation. That is also tax deductible because we're a 501(c)(3) organization.
Oregon has received a donation of an experimental drug that may aid the fight against COVID-19. 
New Jersey-based Amneal Pharmaceuticals donated 50,000 tablets of hydroxychloroquine that arrived in Oregon on Tuesday. 
The drug, heavily touted by President Donald Trump as a possible remedy for COVID-19, offers no certainty, and it could harm some patients. But some overwhelmed hospitals are willing to try it, given that there is no cure in sight for the virus. Supplies of the drug are tight because hydroxychloroquine is traditionally used to treat other conditions, including lupus and rheumatoid arthritis. 
State officials confirmed Thursday that Oregon had received the shipment. There is no guarantee that Oregon will use the drug in experimental treatments for COVID-19 patients. At this point, Oregon officials seem more inclined toward using the supply to help people with other medical conditions who are facing drug shortages. Jake Sunderland, a spokesman with the Oregon COVID-19 Joint Information Center, said research into the drug's effects on COVID-19 is still too preliminary for a recommendation for broad COVID-19 treatment. The limited supply of this drug has hurt patient access for other needs like rheumatoid arthritis and lupus, he said. 
"This supply could assist those who are having trouble accessing the medication for these types of uses," Sunderland said in an email. 
He did not answer a question about whether the new supply will be used for experimental treatments of COVID-19 patients. Sunderland said the state is working on a plan that will prioritize requests for the drug from providers.
The Oregon Health Authority came out against the drug in a tweet on Wednesday, telling people to avoid taking it and five other substances as a treatment for coronavirus.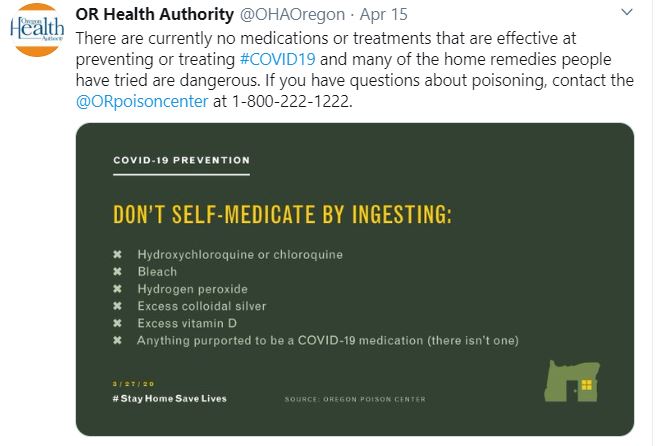 The drug's profile rose sharply when Trump touted its potential ability to cure COVID-19. He drew criticism from many medical experts who said he was making overly rosy predictions. The drug's ability to fight the COVID-19 virus is far from established, and researchers have not finished any clinical studies.
However,  the drug is capable of antiviral activity that can aid the immune system, potentially offering a pathway to fight COVID-19. But some studies have shown it can also have harmful side effects such as seizures and heart problems. Last week, the National Institutes of Health launched a clinical trial of the drug involving more than 500 adults with COVID-19.
Amneal Pharmaceuticals has donated the drug to 14 states.
"What we were trying to do was fill the pipeline," said T.W. Baugh III, chief operating officer of Franklin Scott Conway, the Washington, D.C. law firm arranging the donations for Amneal. 
The company has made donations to New York, New Jersey, Connecticut, North Carolina, Florida, Michigan, Texas, Arkansas, Oklahoma, Louisiana, Mississippi and West Virginia. 
The firm approached Oregon officials April 3 about a donation, and both sides worked to line up the logistics, according to emails obtained by The Lund Report. 
Oregon Health Authority officials had Amneal send the donation to Ardon Health, a Portland-based specialty pharmacy. 
Baugh said different states use different methods to receive the drug shipments. For example, Texas has a state pharmacy and Louisiana relied on a subcontractor. 
Audrey Monroe, a spokeswoman for Ardon Health, said the shipment arrived Tuesday. Monroe said Ardon's role is to hold the inventory for the state. The state, not the pharmacy, will make decisions about distribution, Monroe said. 
You can reach Ben Botkin at [email protected] or via Twitter @BenBotkin1.