The departing head of Portland's largest homeless services provider talks about what she's seen and what can be improved.
Image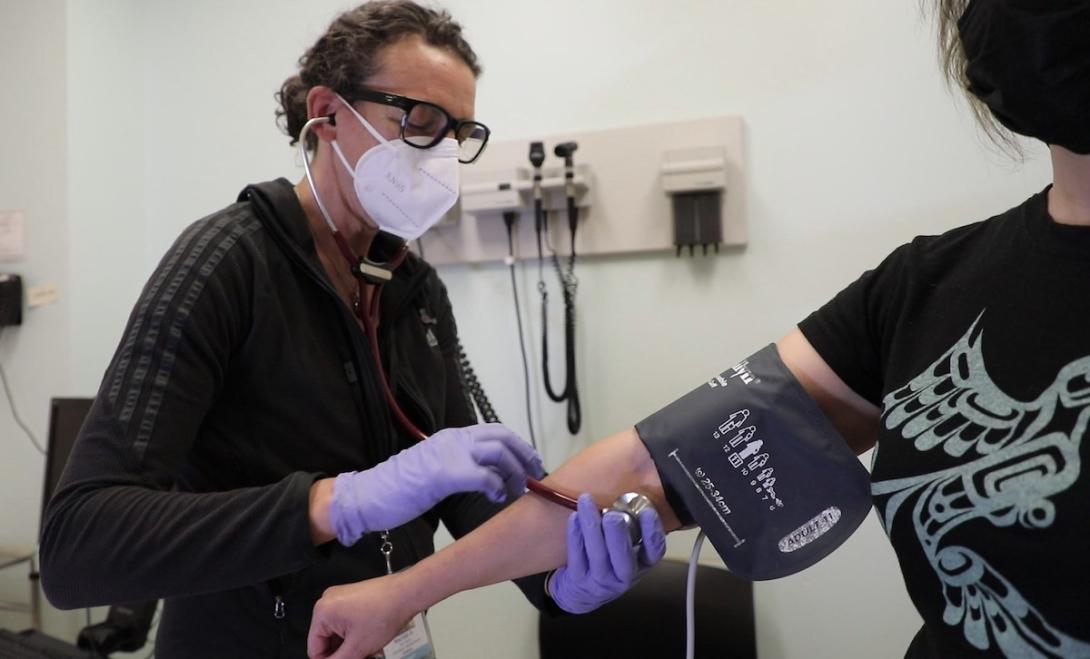 January 13, 2022
For the past 16 years, Dr. Rachel Solotaroff has delivered primary and behavioral health care to people experiencing extreme poverty and homelessness at Central City Concern.
She began working for the nonprofit as medical director of the Old Town Clinic in 2006, and since 2017 has served as the nonprofit's president and CEO, overseeing an annual operating budget of $85 million and staff of just over a thousand.  
But in June, Solotaroff will leave her position, and Portland, when she heads east to work as clinical director at Penobscot Community Health Care in Bangor, Maine. She leaves behind a legacy of combatting homelessness in a city where homelessness has never been more visible.
During her time at Central City Concern, she coordinated the creation of the Blackburn Center, a 175-bed residential facility with wrap-around services that serves as a model for ending homelessness, as well as the development of more than 1,000 supportive housing units for veterans and people with behavioral health needs. She also worked to fully integrate Central City Concern's many services and won national recognition for the Old Town Clinic. In partnership with Oregon Health & Science University, where Solotaroff worked simultaneously as an assistant professor for seven years, she designed and implemented a social medicine curriculum. She also sits on the board of directors for Health Share of Oregon and the Portland Business Alliance.
In addition to housing and employment services, Central City Concern operates 13 federally qualified health care clinics, five recovery centers, three pharmacies, one recuperative care facility and the Hooper Detoxification Stabilization Center. Its 500 health care employees served more than 13,400 people last year, including assisting nearly 3,000 people with their substance use disorder and nearly 2,000 people with mental health care.
The Lund Report sat down virtually with Solotaroff to talk about how the health care needs of Portland's homeless population have changed over the years and how she thinks the systems for serving them can be improved. This interview has been edited for clarity and brevity.
The Lund Report: Central City Concern has been involved in Oregon Health Plan reforms from the start. There is a sense in some quarters that the reforms have not fulfilled their promise. Can you give us your sense and what you think needs to be done?
Rachel Solotaroff: Even before the (reforms to the Oregon Health Plan), and our local payers here, CareOregon being chief among them, the work around setting up patient-centered primary care homes and the key elements of those: population focused care, integrated behavioral health, advanced access, team-based care, integrating client or patient voice into care — those are foundational elements that we worked on up until the ACA (Affordable Care Act) really took off.
So, we got an early start on pay-for-performance in the quality-incentive realm, understanding that you do have to do good population health and care management to advance care for diabetes or for preventative care, but also having local payers like CareOregon and the state, work with providers to say, "What's of interest to you? What are the conditions that are really impacting your population, that we should be reflecting in our pay-for-performance measures, pay-for-performance programming?" Because there was a wisdom there, that what gets measured gets done.
We're starting to see enhanced payment for behavioral health, in rates and in reimbursement, and even in one-time support for staffing. I've seen a number of initiatives for better systems integration in behavioral health, initiatives to advance evidence-based practice with things like medication-assisted treatment for substance use disorders. 
So what I would say is, let's build on what we know. I think if we continue to do so we'll make a lot of headway, but also understanding, there's probably some foundational stuff around just the basic functioning of the system, as well as the viability and adequate reimbursement of the workforce. Those need to be shored up in order to be able to make the kind of changes that we did in the physical health realm.
TLR: Central City Concern runs a recuperative care facility for people exiting the hospital in need of follow-up care. But it's not uncommon to see people experiencing homelessness discharged directly to the street when they are still in need of wound care or otherwise need to recuperate. What do you see as the greatest barriers to coordinating with hospitals on the discharge of these patients?
Solotaroff: I haven't done as much of that hands-on care coordination to give you the most up-to-date answer to that question.
My hunch is that there's often just not enough housing resource to support people who are being discharged. We've been lucky at Central City Concern to recently receive some American Rescue Plan Act funds from Reps. Elizabeth Steiner Hayward, Maxine Dexter and Rob Nosse to expand our recuperative care program on the west side of the river, because we have recuperative care on the east side. So that will be a big leg-up for us in terms of adding more recuperative care beds.
There are some recuperative care beds in shelters which we partner with (Transitions Projects) on, but again, the resources there have become more limited with COVID. 
I think the other thing is the complexity of the houseless population. We know that complexity is increasing. We see it on the physical health side. I think that the profound isolation and absence of community resources that we used to have, in COVID, those being pulled away, I think have exacerbated mental health crises. And so people are needing — even upon discharge from the hospital — higher levels of care related to mental health. We know that the presence of really dangerous substances on the street has also added to people's complexity. As an addictions medicine physician, the pervasiveness of fentanyl has made the risks much higher for patients, and sometimes the usual treatments that I can provide are not always as effective. We know that methamphetamine, which I think has been overstated in some of the recent media around it, but we know that methamphetamine at its most intense use and toxicity can cause higher levels of agitation and mental disorganization. And so that, again, requires a higher level of care and resource upon discharge. And that would be true if somebody was going back home, obviously going to the street, hopefully not going to a long-term care facility. These are considerations, which then kind of raises the bar of what's required for someone to be in a stable, recuperative care setting. And that demand is coming at a time when we have an unprecedented workforce shortage as well.
TLR: At the risk of being media overstating meth, I have a question about your quote in The Atlantic. For his article on meth, you talked to Sam Quinones about meth users, and you were quoted as saying, "If they're not raging and agitated, they can be completely noncommunicative. Treating addiction [relies] on your ability to have a connection with someone. But I've never experienced something like this — where there's no way into that person." Since giving that interview, have you given thought to any strategies that might be utilized to effectively engage the people you were talking about in that interview with the behavioral health system?
Solotaroff: I have the greatest respect for Sam and I think what he's done to raise awareness around substance use disorders and all the structures that underlie it is amazing. I also thought it was funny in that article when he said, "she sounded overwhelmed." I want folks to know he called me in March of 2020. And yeah, I was a little overwhelmed. That's right at the start of the pandemic! That's fair enough, though.
The other thing about that is that I wanted to try to communicate, particularly with The Atlantic, is that set of circumstances is meth use under its most extreme. I have many patients, the people I care for, who use meth regularly, or use meth intermittently, and do not present with that kind of symptomology. At its most extreme, at its most egregious and dangerous, that's how I have encountered folks, and that is very worrisome. But I also want to help the community understand that there are things we can do to support people with stimulant use disorder.
There are some medications such as Bupropion, which we sometimes hear is Wellbutrin, which, combined with naltrexone, has evidence to reduce stimulant cravings. There is a therapeutic modality called contingency management, which is a bit of positive reinforcement if people aren't using, and then you have some incentive that's contingent upon not using.
And I have found at the end of the day, there's never forsaking the importance of building a relationship. Even someone who may seem very agitated or maybe dissociated, they come back. Or if you're lucky to have an outreach partner who can go out and connect with them, or you can go connect with them, and that relationship slowly gets built over time.
I never meant to convey that there is a population of folks for whom there is no hope or there is no opportunity for connection, because that very premise is the foundation of why I do the work I do, and why I do it every day.
TLR: When you first started working at Central City Concern, it was in the Old Town Clinic back in 2006 — how have you seen the demands placed on the clinic change over the years?
Solotaroff: I always say that what I love about the Central City Concern model is that we're designed not to just deliver service, we're designed to help solve the problem, to solve a problem of homelessness. And to meet that mission, we need to evolve as the issues that drive homelessness evolve, and we need to adapt and innovate as well. 
To that end, what we have learned and experienced from the folks coming in the door is — we've named some of them already — increased demand for and driver around opioid use disorder and the need for evidence-based treatment for opioid use disorder. And that's both using what we call medication-supported recovery coupled with, if somebody wants it, additional counseling. 
We've seen a rise of, and now I think more of a plateauing, of co-occurring hepatitis C with opioid use disorder. So we've developed a hepatitis C program, which is community based, it's outreach based, it's low barrier. The state and other entities have been helpful in developing that. So we've developed Hep C programming. We talked already with the issues around stimulant use disorder, and needing to develop supports and medications for folks who use stimulants as well as to meet them where they are.
Obviously, it's no mystery that issues around access to safe, affordable, supportive housing have become more difficult in the last 15 to 20 years. And even though we're lucky at CCC to develop some of our own housing, we're still seeing waiting lists that are longer than we did 15 years ago. And again, for the reasons that we talked about earlier, there is a level of safety concerns that we address on a regular basis, which weren't there 15 years ago. There are more weapons, I think people are trying to defend themselves often in increasing agitated environment. People themselves have more agitation and require more comfort and de-escalation and sometimes outside support. And, you know, enhancing our own staff training, around de-escalation, around safety protocols, as well as having more support on site, is more important now than it was 15 years ago. 
TLR: Is there any unfinished business that you hope your successor will pick up after you've left in terms of the many health care programs that are offered at Central City concern?
Solotaroff: I think the expansion of recuperative care is really critical. We're doing a lot more awareness and public health work around fentanyl and safe use campaigns and helping test for fentanyl, those sorts of things. We talked about methamphetamine. Again, this is our DNA, what we're made of is to understand what people are experiencing and how we're evolving to care for them. So, expanding and deepening our programs of care for people who use stimulants. I think we are always, always, always improving the continuum of care at Central City Concern. How do people in our housing integrate seamlessly with health services as well as with employment? It sounds easy; these are vastly complicated systems at every regard. So that's an area, particularly around the integration, of people in housing in in our health services that we are always working to strengthen.
The last piece, that I could never overstate enough, is that we care for the people who care for the people. That's our workforce. I don't think it's unfinished, I think it's ongoing. Again, particularly in the behavioral health sphere, this is a workforce that has performed heroically and has been disinvested for half a century. We have lots of partners who are helping to support that workforce, both in current state, in terms of salaries, and then also, we must think about their professional development. And also think about how are we cultivating a pipeline of that workforce. Because none of the things that we've talked about today will be possible — particularly in the behavioral health sphere, but it applies across the physical health sphere as well — unless people are compensated well, have a safe work environment and have an opportunity to learn and grow where they work.
You can reach Emily Green at [email protected] or via Twitter at @GreenWrites.