The Mental Health & Addiction Association of Oregon will operate a peer-run program at the Behavioral Health Resource Center, slated to open in Portland this fall.
Image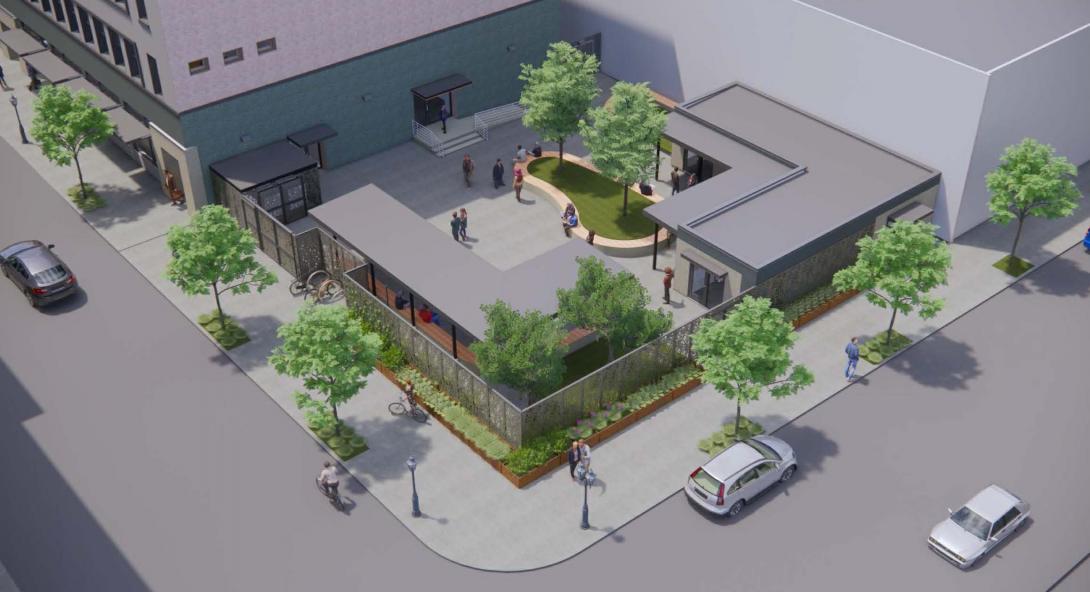 March 17, 2022
A peer-run organization, the Mental Health & Addiction Association of Oregon, has been selected to operate the day center inside Multnomah County's soon-to-open Behavioral Health Resource Center.
The nonprofit won the job by meeting criteria such as incorporating a trauma-informed and client-centered approach, county officials told The Lund Report. Finding such a provider that was completely peer-run emerged as a goal in 12 planning meetings with interested people and peers — meaning people who have experienced homelessness, substance use disorder and/or mental health issues.
"It's an innovative project," said Lynn Smith-Stott, who is the Office of Consumer Engagement supervisor at the Multnomah County Health Department. "We want to be as culturally responsive as we possibly can … and one of the ways we do that is to have people with a variety of lived experience so that when the person comes in the door, they feel welcomed by somebody who looks like them and shares similar experiences so they can connect and build that relationship right away." 
The county purchased the four-story Bushong & Co. building and adjacent parking lot in downtown Portland for $5.84 million in April 2019. The center, slated to open this fall, will offer respite to people experiencing homelessness and mental illness.
Located near Old Town, just a block west of Burnside Street on Southwest Park Avenue, it will house a day-time drop-in center along with an emergency shelter and temporary housing.
Officials say it will mesh with the Portland Street Response program, which  goes out on calls to reach people in mental health crises.
"This is that 'what next?' space for Portland Street Response or other first responders and fills a gap in our continuum," said Julie Dodge, interim director of the county's Behavioral Health Division.
People can go to the center for services after being stabilized from a behavioral health crisis, or they can drop-in off the street to access a shower or bathroom. 
The Mental Health & Addiction Association of Oregon expects to start recruiting employees in late June or July and get them in place in time for a fall opening, said Janie Gullickson, executive director of the association, in an interview with The Lund Report. 
The roster will include a program director, managers and at least 17 peer support specialists. The provider and county haven't negotiated the cost of the contract yet.
"In every program, no matter what the setting, our mission is to support people in their self-directed recovery and wellness," Gullickson said. 
The Mental Health & Addiction Association of Oregon currently has about 83 staff, including administrative support and primarily peer support specialists that work from Portland and Hillsboro. The behavioral health workforce in Oregon faces recruitment challenges to fill openings. However, Gullickson said the organization continues to see high interest in its training programs: 
"We can't schedule them fast enough," Gullickson said. "They fill up the minute we announce the dates for them."
Other Services
Once an individual is engaged with peer services on the first two floors of the resource center, they can be connected with other services including the shelter on the center's third floor. The "bridge housing" on the fourth floor would be temporary housing with supportive services, intended to serve as a transition to longer-term supportive or independent housing elsewhere.
"That's our real hope, is that this will be a funnel-up to help people move into longer term space — but at their pace, when they're ready," Dodge said.
Initially estimated to cost between $15 million and $24 million, as of Jan. 31, design and construction had cost the county $9.6 million. Operating expenses— initially pegged at $5 million a year — are estimated to cost about $8 million per year once it's open.
The county continues to seek funding from other agencies to help cover operating costs, Dodge said. "We're … not only looking at county funding, but state funding, federal funding, so that we can build a long term sustainable model."
Last October the county board of commissioners approved a supplemental budget for the center that included $13.7 million from the county general fund and appropriated $24 million for the project's 2022 budget. The county later expects to use $10 million in state lottery bonds.
The county's request-for-proposal process did not yield a single contractor to operate the center's other two programs: its 40-bed behavioral health shelter and 20-bed "bridge housing" unit. So the county is now looking for separate providers to oversee clinical services and peer staffing.
The day center will be open 365 days a year from 7 a.m. to 10 p.m. and will  include showers as well as laundry facilities, snacks, connections to resources, one-on-one peer support, skill building and activities and other services. People will be allowed to bring their pets inside with them, and lockers and outdoor storage will be available for people's items.
Unarmed security guards will be present, but dressed casually, not like law enforcement. Outside providers will be invited to come into the center to meet clients and offer information and services.
The design of the center's layout and architecture is trauma informed, with rounded corners, lots of plants and calming colors, explained Christa Jones, senior manager of the Community Mental Health Program for the county.
"The goal and intent is to create a space that is non-triggering, that is comforting, that is welcoming," Jones said.
The center will offer activities aimed at skill building, such as art and music classes and other fun activities. "Having a joyful space is also really important," Jones said.
Jason Renaud, a volunteer with the Mental Health Association of Portland, said the center will fill a critical need and help social services agencies access people. For example, multiple agencies can have the same person as their client and not realize it. Now they can collaborate through the center, he said.
"It's not just engaging people in crisis," Renaud said. "It's also engaging those agencies to work collaboratively in the same facility with the same people."
Portland-area advocates and service providers are looking forward to a new space where people can get help.
For example, at Portland Street Response, the city-run program has gone on about 1,000 calls and plans to expand its coverage at the end of the month to the full city.
Currently, the program may have to move an individual several blocks away from busy traffic and respond later in the same day to help the same person. The center, in comparison, can provide a place for the person to access services, get a meal and find programs.
"For us, it's going to allow us to take (people) somewhere where they're welcome and they'll be safe, regardless of the weather, regardless of the day," said Robyn Burek, program manager. "That's definitely an area that impacts our teams probably on a daily basis, is: Where can we take someone where they will be safe and well and feel welcomed?"
You can reach Emily Green at [email protected] or via Twitter at @GreenWrites.
You can reach Ben Botkin at [email protected] or via Twitter @BenBotkin1.