Q Corp Compares Cost of Care at the Local, National Level
Q Corp's Cost of Care methodology has progressed from a pilot to national study, revealing Oregon's resource use for healthcare services is low but has some of the highest prices – 17 percentage above average - compared to four other states. Q Corp is now working on Cost of Care for the Medicare Fee For Service populations, with the Medicaid segment soon to follow.
A method to assess Cost of Care for commercially insured Oregonians has been successfully tested and implemented with Oregon Health Care Quality Corporation (Q Corp). The metrics are being used locally, regionally, and nationally as part of a healthcare improvement collaborative effort to improve cost, utilization and quality.
Q Corp recently published a press release (also available at The Lund Report), highlighting a first-of- its-kind national study comparing Oregon's Cost of Care with four other states. While Oregon's healthcare resource use was low, its prices for medical services were the highest in the study.
The national study is part of the Getting to Affordability Total Cost Care Initiative. The multi-phase approach includes five states - Oregon, Utah, Maryland, St. Louis Missouri and Minnesota - working collaboratively through the Network for Regional Healthcare Improvement (NRHI).
The purpose of the Total Cost of Care initiatives is to advance healthcare cost transparency and develop a standardized methodology to assess regional healthcare cost data and enable comparisons and benchmarking between states and within local regions. The NRHI full report and press release can be accessed at Q Corp's website here.
As shown by the Total Cost and Resource Use Index chart below, Oregon's Price Index is the highest compared to four other states involved in the NRHI study.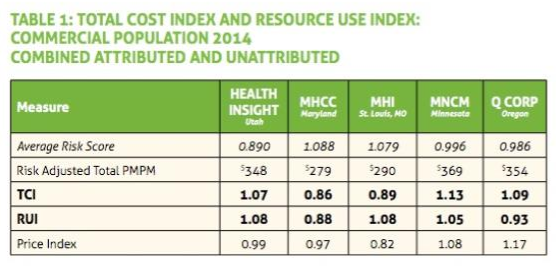 To make sense of these metrics, The Lund Report reviewed a number of online materials and reached out to Meredith Roberts Tomasi, senior director of programs and operations at Q Corp. She and her teammates, along with the Cost of Care Steering Committee of 20 stakeholder groups in Oregon, have been developing a Cost of Care methodology through a series of local and regional pilots and collaborative efforts over the past three years.
Total Cost Index (TCI) is the Resource Use Index (RCI) multiplied by the Price Index. RUI shows the frequency and intensity of healthcare services used. The price is the amount that the insurance companies and the patients are paying. These standardized metrics enable medical clinics to identify where improvements are needed.
In answer to why the Price Index is the highest of all five regions in the NRHI study, Roberts Tomasi speculated: "I can't answer why that is for sure. We've identified a few possible reasons. In regions where Medicare prices are lower, there may be some cost shifting to the commercial populations.
"Also, we have so many rural parts of the state where the prices may be higher. This might be contributing to a higher Price Index. Rural areas may be less efficient places to provide care, in part due to the difficulty in optimizing provider and hospital resources there."
Roberts Tomasi went on to add: "Another thing to keep in mind is in Oregon there's a lot of health insurance companies. At Q Corp we receive data from 16 health plans. Having more health plans means each has a smaller slice of the pie, which may affect some of the pricing. Also, areas with a high degree of provider consolidation or with limited competition for hospital services are often areas with higher prices."
The Lund Report has been tracking Q Corp's Cost of Care progress, first reported in an article published in October 2015. At that time, Q Corp released its Statewide Report on Health Care Quality 2015, available here. A noteworthy finding of the report among other things was that quality was not highly correlated with cost.
Highlights of Q Corp's statewide analysis were preliminary findings from its first round of Cost of Care clinic reports. These were summarized only in aggregate by region. Q Corp noted that it would be sending another round of cost of care to clinics the following year (last summer, 2016) before making results of the clinic scores available to the public.
In a phone call with The Lund Report, Roberts Tomasi noted that Q Corp will be sending out a third round of Cost of Care clinic reports this summer. They anticipate publishing Cost of Care clinic results publicly by end of 2017 or early 2018.
"This work is funded through a grant from the Robert Wood Johnson Foundation and administered through NRHI. Our funding was to develop Cost of Care for commercial and Medicare segments. The funding covers only certain activities. While we want to publicly report, we want to do it responsibly. We don't have the funds to go as far as we want to. We also want to respect the Cost of Care Steering Committee's expertise.
"We may report cost comparisons or averages, but I'm not quite sure about the individual scores. The reporting structure will depend on the approach the steering committee takes. Part of the beauty of the steering committee is we have all stakeholders involved. People come in with a lot of different ideas and we have to come to consensus. It's a beautiful process."
To calculate Oregon's Total Cost of Care, Q Corp used patient claims data from seven of Oregon's health plans with one-third of commercially insured Oregonians (the most collected for any study of its kind).
Q Corp has been working with this data collaborating with almost 200 primary care practices around the state, and sharing reports that compare cost and quality of care. Quality scores for Oregon's clinics are available at Q Corp's Compare Your Care website.
Last fall Q Corp conducted a short pilot to determine feasibility of calculating the Cost of Care methodology for the Medicare populations. A summary of the pilot, also a collaborative effort led by NRHI, is available here.
As a Qualified Entity (QE), Q Corp is able to access Medicare data through the Center for Medicare Services (CMS). The pilot enabled Q Corp to determine issues they would encounter in the data – such as dual care and differences in healthcare service use of an older population (for example more use of specialty services than primary care).
While Q Corp determined they would be able to calculate Cost of Care for Medicare Fee for Service (FFS), this will exclude pharmacy data due to differences in reporting periods. Roberts Tomasi also noted that Q Corp would not be able to calculate Cost of Care for Medicare Advantage due to differences in payment methods.
Next on the horizon, Q Corp will be tackling Cost of Care for the Medicaid population with a new contract NRHI recently awarded. Research will begin in May and last for about a year.
Developing Cost of Care for the Medicaid population poses several challenges. Medicaid is administered by 16 Coordinated Care Organizations (CCOs), all having different payment structures and services, and patients with dual claims.
Often CCOs include services not typically paid by insurance and not captured in claims data such as transportation, housing assistance, behavioral health services, and nutrition and chronic disease self-management courses.
Q Corp hopes to be able to share tips and lessons learned from developing a Cost of Care methodology for Oregon's Medicaid segment with its cohorts in the regional collaborative. With these anticipated data complexities, Q Corp's researchers have their work cut out for them.
Kathryn can be reached at [email protected].
×
This article is for premium subscribers. If you are one, please sign in below.
You can see
two
more premium stories for free. To subscribe,
click here
. We depend on premium subscriptions to survive, and they are tax deductible.