High Healthcare Costs Not a Guarantee of Quality
By spending 2 percent less on healthcare the result could lead to $283 million in savings
A new report revealed that healthcare costs are not highly correlated with quality, and a 2 percent reduction in overall spending by Oregon's healthcare providers could result in savings of $283 million. This amount of savings would pay for 200 new school buses, salaries of 2,330 first-year teachers, and replace 43 bridges in need of structural repair. Quality Corporation just released its statewide report with these and other surprising results.
In a 20-minute interview with Q Corp's executive director, Mylia Christensen, it wasn't easy to do justice to the weighty topics in the report: Cost of Care, launch of Oregon's Maternal Data Center, and improvements to 11 of the state's primary care quality measures.
"We're really excited about the Cost of Care program. It's a whole new field of measurement, and a critical component of achieving the Triple Aim. Physicians have been telling us that they've never see this comprehensive of a report across commercial plans before and believe it will help to isolate areas needing improvement," said Christensen.
Q Corp defines Triple Aim as a healthy population, exceptional patient care and affordable costs. The Cost of Care program works to enable the state's healthcare providers to make strides in reducing costs, an area of the Triple Aim that has lagged behind.
The cornerstone of the Cost of Care analysis is to enable a comparison of costs and quality. Q Corps' statewide report revealed a high variation in clinics across the state and within the same region. Noteworthy findings revealed that costs are not highly correlated with quality. The chart below reveals that the costs in rural clinics (for example on the coast, eastern, and central Oregon) on average may be higher while the quality of care is lower.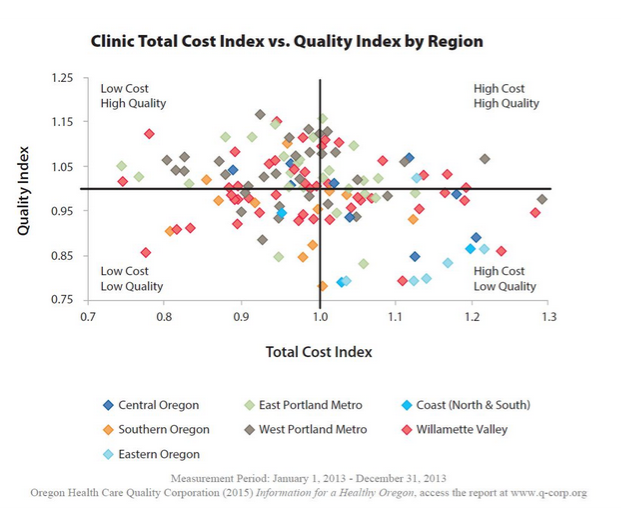 Specifics of the individual clinic scores were not provided in the report. This is because Q Corp has not yet circulated the individual reports to Oregon's healthcare clinics. A team of analysts is working feverishly to complete these individual clinic reports due to go out in early November.
The reports compare costs and quality of health services provided to the commercially insured adult population between each of the 150 clinics, and against a state average. As the Cost of Care program continues to evolve, next steps will be to highlight characteristics of clinics that are able to offer high quality of services at low costs.
When the first Cost of Care reports were circulated in April 2015, Q Corp visited with health professionals at clinics and healthcare providers across the state to get feedback. Providers were very interested and looked at specific line items - for example ambulatory or imaging - and engaging with their stakeholders to discuss ways to reduce costs.
Technical Assistance Offered
Christiansen emphasized that during this first phase of the Cost of Care program it was important to get the data out to clinics and providers, make sure it was accurate, and help them understand how to use the data. Q Corp, along with a multi-stakeholder committee, is working with the clinics and providers to provide
technical assistance and guidance on best practices in both healthcare quality and costs.
The second phase – which commences with the release of the second round of reports in the next month – will be to assess clinic and provider responses, and determine how best to present the information to the public sometime in 2016.
Meanwhile, this past year, Q Corp has been busy facilitating and launching another of its many projects aimed at improving the quality of Care in Oregon such as the Oregon Maternal Data Center (OMDC). The OMDC program – which was a collaborative effort with the Oregon Perinatal Collaborative (OPC) Subcommittee and the March of Dimes – is a "rapid-cycle" on-line tool that provides hospitals with immediate feedback and reports from about 40 quality and performance improvements metrics.
OMDC was built off of a system previously developed at Stanford University called California Maternal Quality Care Collaborative (CMQCC), and enables customized reports using maternal clinical data from participating hospitals. Currently the database contains information from 14 hospitals representing about 42% of births in the state of Oregon.
Regarding overall quality of healthcare in Oregon, Q Corp's statewide report revealed improvements from the previous year in 11 primary care quality measures, with eight of these above the national mean. The remaining three of the 11 showing improvements in Oregon still below the national mean were: well-child visits for children 3-6 (11% below), adolescent well-care visits (14% below), and diabetes kidney disease monitoring (6%).
Other quality measure results for Oregon below the national mean were: chlamydia screening (7% below), cholesterol (LDL-C) screening for people with heart disease (5% below), and diabetes cholesterol screening (4% below).
The statewide report's quality measure comparison highlighted possible barriers preventing adolescent well-care visits (which showed a striking 14% difference below the national mean). Barriers preventing adolescents from receiving this care may include lack of parental and provider's knowledge of the importance of these visits, and the adolescent's concern about confidentiality.
The low level of chlamydia screening (which may be included in adolescent well-care visits) compared to the national average is of particular concern to Q Corp. "Our results indicate some clinics are only screening 7% of the time yet in other areas of the state up to 70%," said Christensen. "This discrepancy continues to be a concern especially considering Chlamydia can be detected early and effectively treated before causing serious health problems."
Kathryn can be reached at [email protected].