Providence Health & Services officials say they've cut services as neither side budges on contract negotiations
June 19, 2023
This article has been updated to incorporate additional reporting.
Bonnie Troutman, a registered nurse at Providence Portland Medical Center, woke up at 5 a.m. Monday thinking the strike would be called off. 
"Nope, we're striking," she said about seven hours later, standing on the sidewalk outside the main entrance of Providence Portland Medical Center in Northeast Portland and holding a picket sign reading "patients over profits." 
"We're all in disbelief that it actually happened," she told The Lund Report.
Nurses and allied health care workers took to picket lines in Portland and Seaside Monday morning saying negotiations with Providence Health & Services over contracts for roughly 1,800 unionized workers had broken down.  
Oregon hasn't seen a nurses strike in over two decades. This one follows months of negotiations between the health care system and the union. 
It's not uncommon that a union asks its members to vote on whether to authorize a strike. Hospitals consider it a standard bargaining tactic. But usually the two sides reach agreement before a work stoppage is declared, most recently at St. Charles Medical Center in Bend.
That didn't happen this time. And even as both sides lamented the historic strike and stressed their commitment to patients, neither signaled Monday they were softening their positions. 
While picketing outside the hospital, Tamie Cline, Oregon Nurses Association president, told The Lund Report that hospitals are hardening their stances on raises to protect their bottom lines. 
"The nurses are just not being respected right now," she said.
Providence officials declined to answer questions on how much the strike was costing the health system and how many replacement nurses had been called in. They also did not answer questions concerning negotiations, other than to say they hoped they would resume. 
"It will be important that as the strike concludes that we come back to the table, are able to negotiate a fair contract and really move into healing and reconciliation," said Jennifer Gentry, chief nursing officer for Providence in eastern Washington, Montana, Oregon, Texas and New Mexico.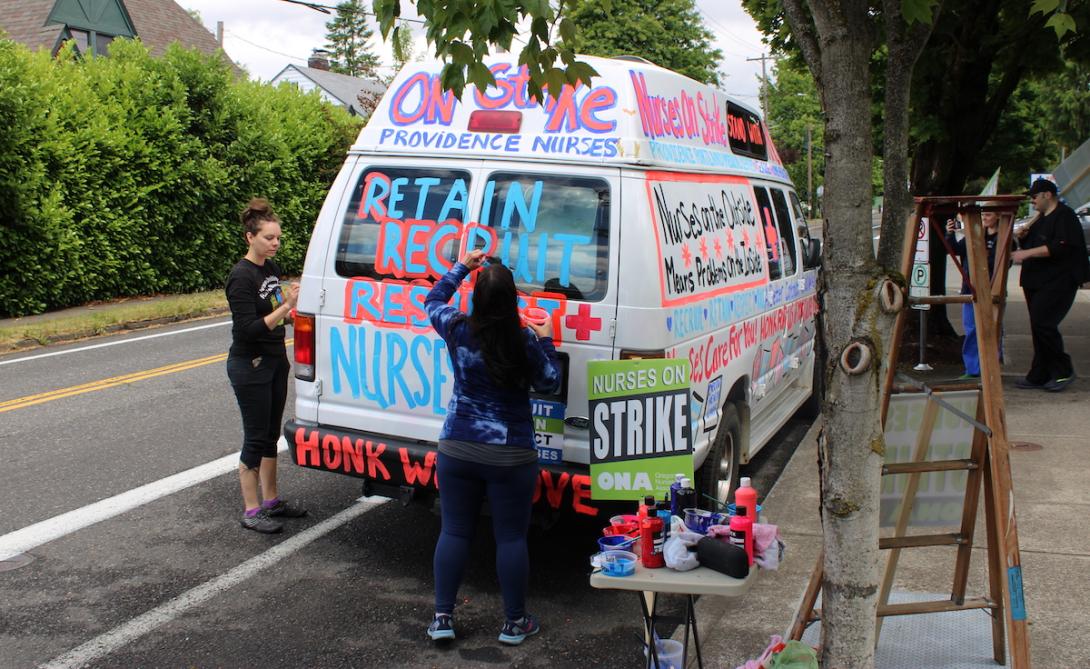 Prospects for resolution unclear
It's unclear how realistic Gentry's statement is. On June 8, top Providence nursing manager, Lori Green, wrote in an email to union negotiators that the health system's last offer was contingent on the nurses approving a new contract by June 30 with no strike. 
"We were very clear in our communications to ONA that our economic proposals following a work stoppage will be very different — and not nearly as lucrative — as the package they walked away from," she wrote.
Providence officials declined to comment on the email during a Monday briefing. But it suggests that Providence now has committed to decreasing its offer due to the strike.
Keith Cunningham-Parmeter, a Willamette University College of Law professor who specializes in employment law, told The Lund Report that reducing hospital capacity and hiring expensive temporary nurses will be a short term cost for Providence but could pay off. 
"When we're talking about making concessions at the bargaining table, we're looking at a fairly long time horizon," he said. "Ultimately, we're talking about a multi-year contract that will dictate pay hours and discipline in the years to come."
Cunningham-Parmeter said that a strike is the "ultimate leverage point for workers" and the nurses took the action because they perceived they weren't making progress at the bargaining table. 
"But it comes at a great peril because of the risk of lost income and loss of employment that they potentially face," he said. 
U.S. labor law provides few protections for striking workers compared to other western countries, he said. 
Both sides will face a "really unpredictable environment" when they head back to the bargaining table, he said. Providence may decide to make the nurses a more predictable offer but the health system could also dig in, he said. 
Cunningham-Parmeter said Providence could bargain harder with less attractive offers or declare an impasse, a legal maneuver where one party tells regulators that negotiations are fruitless. But he said that if regulators disagree they could determine Providence has engaged in an unfair labor practice.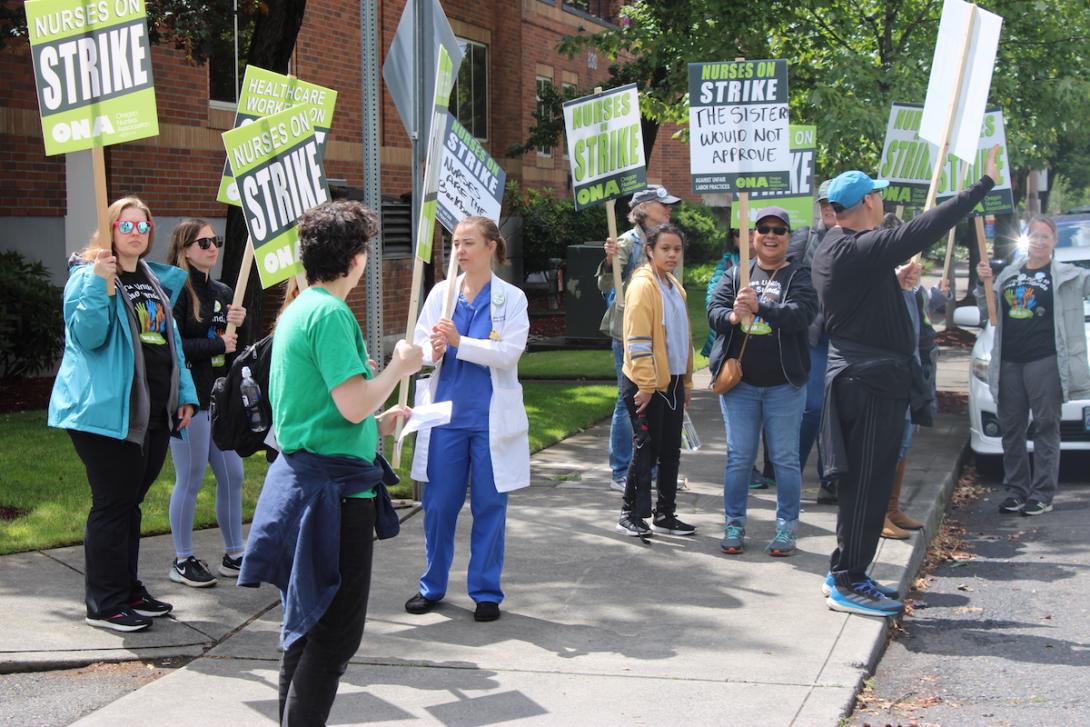 Providence has recently reported a $345 million net operating loss for the first quarter of 2023 for the entire health system. 
Gordon Lafer, a professor at the University of Oregon's Labor Education and Research Center, told The Lund Report that Providence may be willing to ride out the five day strike because "it's more important to them to retain a business model where they're able to make profit by having fewer nurses."
He said the strike represents a boiling point for nurses frustrated over hospital understaffing. He said pandemic stresses have made nurses' demands more urgent. 
"Nurses are working not just really long hours and super high stress but having to go home and not being 100% sure if patients got the right medication or just feeling like they can't do the job that they want to do," he said. 
Lafer said it's a common strategy for employers in similar situations to wait for striking workers to give up and accept a lower offer. 
When both sides return to the bargaining table, Providence may find a more face-saving way to respond to the nurses demands, he said. 
"It doesn't seem to me that that's what's happening there," he said, adding that he worries that contentious negotiations could do lasting damage to morale. "It would be a shame and I wouldn't want to have a loved one in a hospital with nurses who are beaten and bitter."
Conversely, it is unclear how eager the union leadership will be to compromise given its experience a year ago during negotiations over the Providence St. Vincent Medical Center contract. There, nurses' association negotiators agreed to a contract that sparked concerns and eventually was rejected by the nurses working there, as first reported by The Lund Report. A deal was eventually reached, but not before the union faced significant criticism from its members and others.
Both sides dig in
Gentry told reporters Monday morning that the health system had reduced services at affected hospitals and hired temporary nurses to staff them for the duration of the strike.
Providence Portland, a roughly 500-bed facility, had reduced its capacity by about 25%, said Gentry. The hospital also began sending away ambulances, which she said is "not uncommon for hospitals in the Portland service area."
Seaside Hospital, a 25-bed critical access hospital where nurses are also striking, reduced its capacity by half, she said. 
Both hospitals will continue to accept emergency walk-in patients despite the strike, Gentry said.
Nurses and other health care workers at Providence Home Health and Hospice are also striking. Gentry said Providence has hired replacements and patients receiving care from the service shouldn't see an interruption in their care.  
On the picket lines Monday, nurses told The Lund Report that they felt a mix of being energized by the unity on display but also dismayed by being away from patients and having to forgo a paycheck. 
Kyle Cook, a surgical oncology nurse on the union's Portland bargaining team, told The Lund Report the strike is a signal to Providence that nurses are serious about their contract demands. Over the honking of supportive car horns, he said the strike was authorized by 97% of the unit's members. 
"We're wanting to get Providence to move back towards their mission, 'Know me, care for me, ease my way,'" he said. "Which is our promise: making sure that we're taking care of those core values and taking care of our most vulnerable people, and making sure that we're recruiting, respecting and retaining valuable nurses at our ministry."
Cook said nurses won't be paid while they're on strike and the union has a hardship fund for members who are struggling to feed their children or make a house payment. 
Troutman, the nurse who'd expected the strike would be called off, works in the Portland hospital's neonatal intensive care unit — "from delivery to discharge," she said.
She'd watched sadly late last week as mothers and babies she's worked with for weeks or months "were suddenly gone," transferred to other hospitals in preparation for the strike.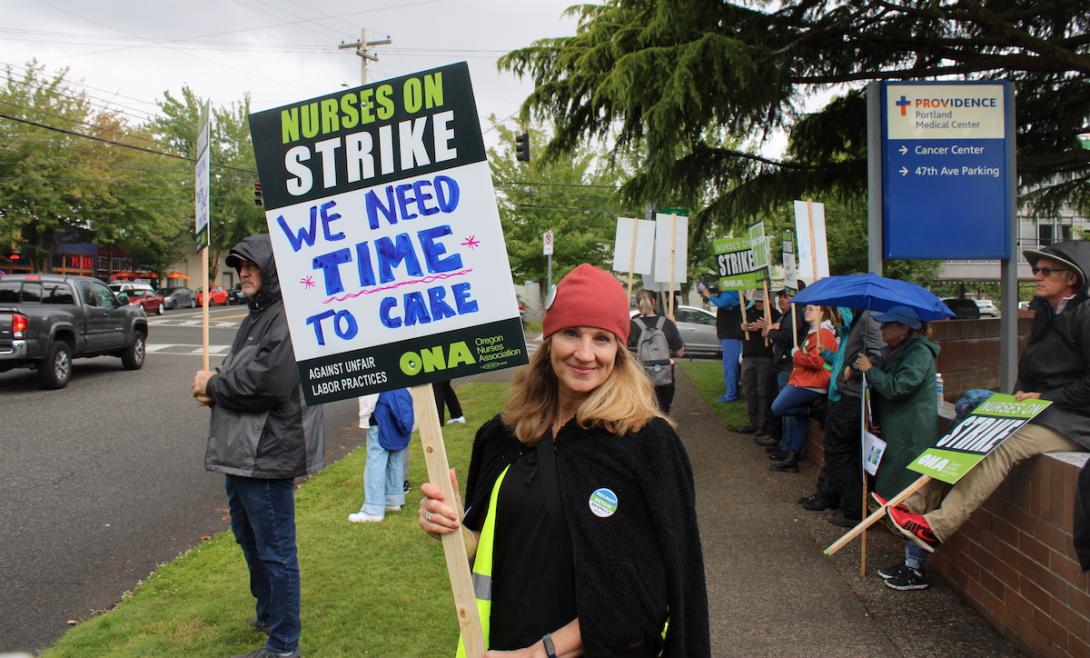 The Oregon Nurses Association, the state's largest nurses union, has blamed hospitals for driving nurse burnout with chronic understaffing. Hospitals have sounded alarm over what they've called a dismal post-pandemic financial and workforce picture that could result in fewer services.   
Nurses and other health care workers in the three units striking at Providence complain they struggle with large patient loads. They say they are demanding raises to improve staffing levels while putting their pay in line with workers doing similar jobs at other facilities. 
"It is important to be valued in your work," said Cline, the Oregon Nurses Association president. "But it's also the staffing conditions and the safe staffing that we know saves lives that we are continually being told (by hospital administrators) that if we hire more nurses we won't make a profit."
Providence, a Renton, Washington-based health system operating in five western states, issued a statement Thursday saying it offered the three bargaining units contracts worth nearly $35 million in their first year on top of salaries it characterized as generous. 
Two sides' numbers conflict
But the two sides can't even agree on how much they are currently paid. Providence said Portland Medical Center nurses are paid on average $128,000. The nurses union shot back with a statement saying that figure was far lower. 
Providence's current contract with nurses at the Portland Medical Center includes a pay scale that tops out at nearly $63 an hour, which works out to about $128,000. However, that doesn't include additional pay for working overtime, holidays or weekends. 
"The information in our release is correct," Providence spokesperson Gary Walker told The Lund Report in an email. 
Roughly 200 picketing nurses and supporters gathered outside of Portland Medical Center Monday morning with signs reading "nurses are the backbone" and "stop exploiting our comp$$ion." Another read, "the sisters would not approve," a reference to how a group of nuns founded the Catholic health system in the mid-1800s.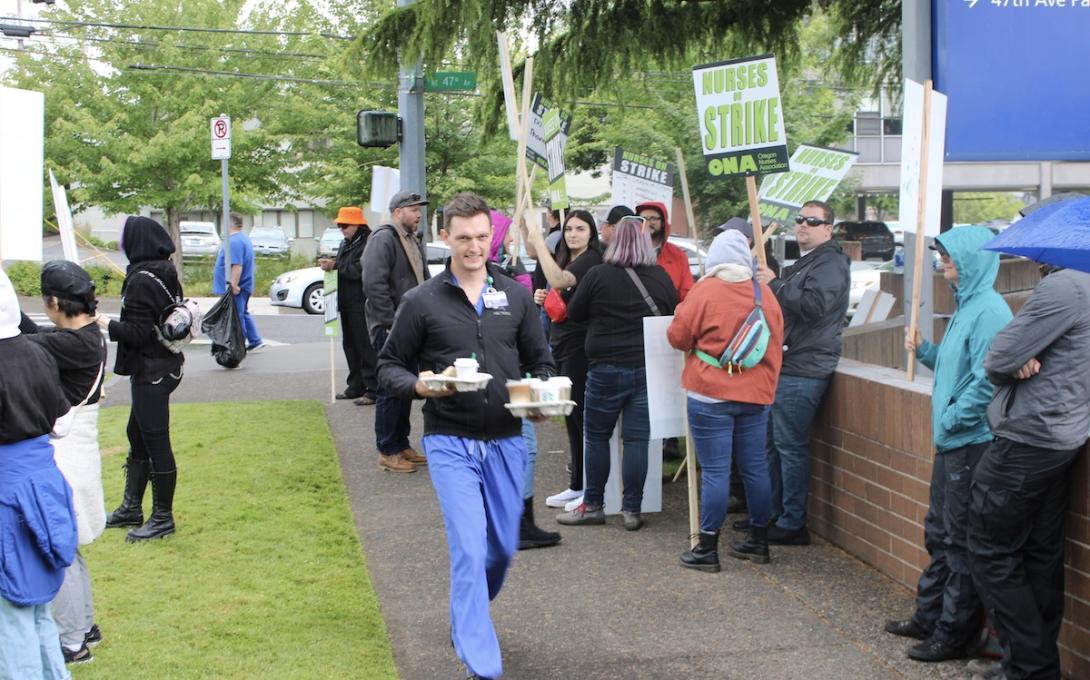 While the walkout was scheduled to begin at 5:30 a.m. in Portland, Providence began escorting nurses out as early as 4:30 a.m., spokesperson Myrna Jensen told The Lund Report. 
As picketers gathered, the nurses union brought in a U-Haul truck loaded with picket signs, along with paper towels, trail mix, bottled water and other supplies picketers would need as they maintained their round-the-clock presence outside the hospital. The union also brought in port-a-potties so nurses wouldn't have to cross the picket line to use the bathroom, said Jensen
Speakers blared pulsing dance beats as well as "Changes" by Tupac Shakur and Aretha Franklin's "Respect." As a drizzle set in, supporters of the union stopped by to offer pizza and coffee. 
The union planned a rally in Portland Monday evening that included speeches by state legislators and U.S. Senator Jeff Merkley. 
---