In a state where places for people in recovery to find community are rare, True Colors will offer programs and activities in an inclusive environment.
Image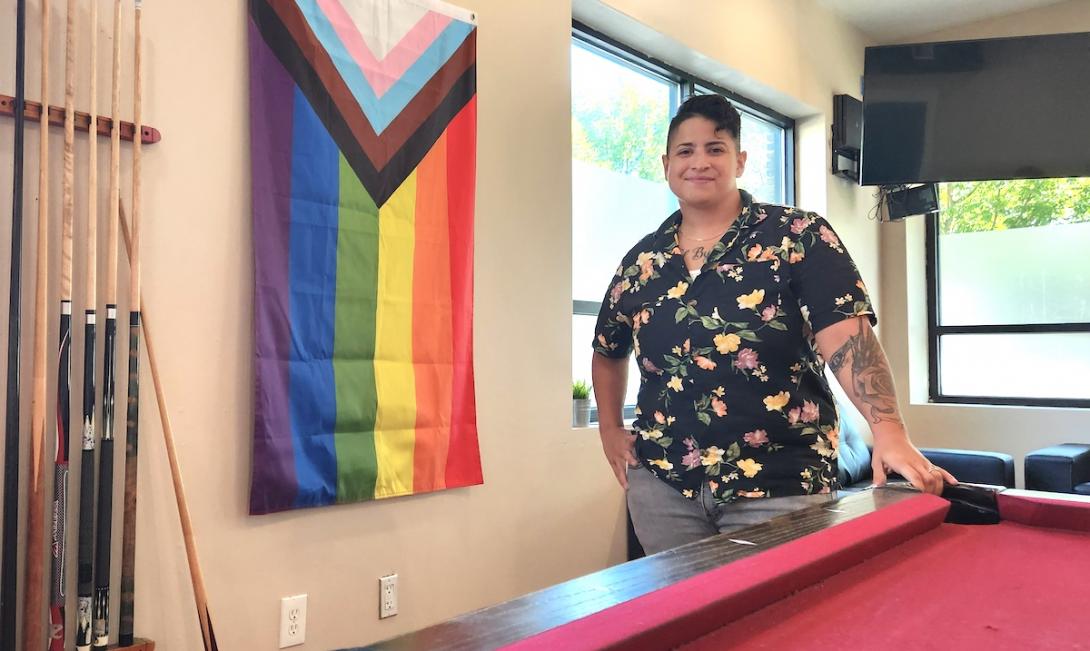 September 29, 2022
For people in recovery from substance use disorder, making new friends and discovering fulfilling drug-free activities can be challenging as well as critical to their long-term success.
For those from disenfranchised populations, connecting with people who share similar life experiences and culture can be even harder.
Now, with Thursday morning's launch of True Colors Recovery Community Organization in Portland, organizers say LGBTQ+ people in recovery have a place where they can be matched with mentors from their community and congregate in a welcoming environment.
While it's open to anyone who is in recovery or who is interested in recovery, True Colors is the first LGBTQ+ focused "recovery community organization" in Oregon.
These organizations are typically independent nonprofits led by people in recovery. Their staff often conducts advocacy and outreach or offers other services, and they offer activities and support in a drug-free environment.
At True Colors, that means hosting events such as Vogue parties (celebrating Madonna's 1990 hit single) with dance competitions, said the nonprofit's director, Amanda Esquivel, as well as offering HIV support, a connection to Hepatitis C testing and referrals for gender change services. She said the center's clients will drive the types of activities and group supports offered.
For C.R., a trans woman in her 20s, True Colors means having a place to be social without substances. C.R. asked to be identified by her initials for privacy and safety reasons.
"A lot of people in the community suffer various forms of trauma which lead to substance abuse," she told The Lund Report, adding that LGBTQ+ culture often involves going to gay bars and consuming alcohol and drugs. 
"I think it's cool that in my lifetime, a center like True Colors can happen, because the opposite of addiction is connection. And in order to recover — you can't do it by yourself — you need a community," she said.
Availability of recovery community centers in Oregon meets only 6% of the need, according to preliminary data from a state-funded analysis of Oregon's drug and alcohol treatment continuum shared earlier this week with the state's Alcohol and Drug Policy Commission. It indicated that the gap was the largest found among facilities: While the state needs 145, there are only eight. 
With such deficits in Oregon, recovery services are "very important right now," said Rep. Tawna Sanchez, D-Portland. "In particular True Colors, because there are so many parts of the population that just don't seem to feel like they fit in in lots of places," she said. Sanchez is in long-term recovery herself and has been a vocal supporter of the recovery community.
"We need a lot of opportunities for people to feel connected to other folks who are trying to go in the same direction," she said.
True Colors is taking over a space on Northeast Martin Luther King Jr. Boulevard that previously served as a recovery community gathering place run by 4D Recovery, which serves people in recovery aged 18 to 35. About half of the roughly 500 people already attending groups and activities there are LGBTQ+, so the transition felt natural, said Esquivel. True Colors will welcome people in recovery of all ages.
4D Recovery is acting as the fiscal sponsor for the fledgling nonprofit until it can secure its own board of directors and sustained funding. It is the third culturally-specific recovery community organization that 4D has helped launch. The others are Northwest Instituto Latino de Adicciones, serving the Latinx community, and Painted Horse Recovery, which serves Native American communities.
Driving this expansion has been Tony Vezina, a co-founder and executive director of 4D. He says his goal is to develop leaders like Esquivel, and emulate a recovery center model that was developed on the East Coast.
He wants to see Oregon "catch up," he said, "because the East Coast has like a couple hundred of them."
True Colors' start-up costs and its first two years of operating expenses are being funded through a $711,000 grant from CareOregon. It employs three staff, including Esquivel, but plans to add additional LGBTQ+ peer mentors.
Esquivel previously worked for two years as a certified recovery mentor at 4D. She has been in recovery for six years and identifies as queer. She said she began engaging in recovery when she was a prisoner at Coffee Creek Correctional Facility in Wilsonville. Originally from Grants Pass, she relocated to the Portland area after her release.
She told The Lund Report that True Colors will fill a gap she's seen in Portland's recovery services system, making it hard to get LGBTQ+ people into treatment.
"There weren't people within the mentor role that were representing the (LGBTQ+) community," she said. "The community also didn't feel safe. There was a lot of bias that was against, like, a lot of my clients. There was a lot of stigma when going to 12-step meetings at other locations."
C.R. said it was with Esquivel that she first felt like she could be open and honest, calling the connection "huge" in terms of her sustained recovery. Esquivel took her shopping, connected her with other LGBTQ+ people she was mentoring, and even took her to see the new Batman movie this past spring.
"What this community center represents," Esquivel said, "is a place that's inclusive to everyone, where they can come and they don't have to explain who they are, why they are the way they are, and they can just be."
Learn more about True Colors and look for upcoming events and support groups at truecolorsrecovery.org.
You can reach Emily Green at [email protected] or via Twitter at @GreenWrites.