Other states have set minimums for hospital groups but Oregon is the first to set levels for individual hospitals, which have profited from the expansion of Medicaid.
Image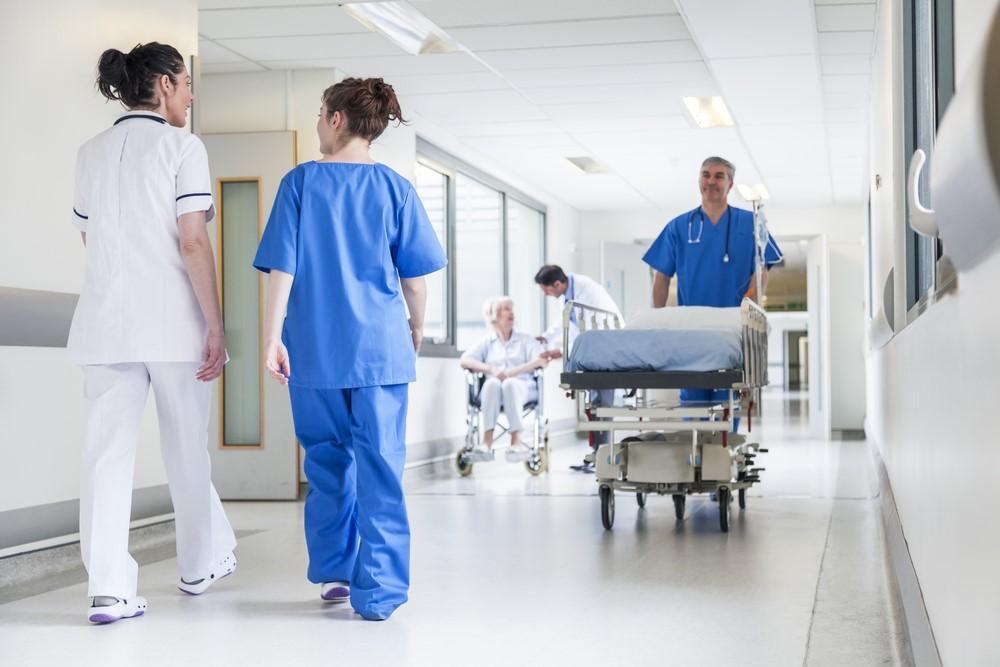 February 17, 2021
Aside from the pandemic, the last few years have been financially sweet for many Oregon hospitals. One reason: the expansion of Medicaid insurance to an additional 400,000-plus low-income Oregonians erased their historical need to provide free care for these patients, helping their profits and investment portfolios to swell.
But now the state is building a regulatory system to make sure that Oregon's nonprofit hospitals don't further cut their spending on charity care, which is required in exchange for tax breaks under federal law.
The Oregon Health Authority officially launched the system – the Community Benefit Minimum Spending Floor program -- earlier this month after more than a year of work by the agency, hospitals and other stakeholders.
The system, mandated by legislation passed in 2019, covers 58 nonprofit hospitals in the state, excluding  for-profits McKenzie-Willamette Medical Center in Springfield and Willamette Valley Medical Center in McMinnville.
State Rep. Andrea Salinas, D-Lake Oswego, a lead sponsor of the legislation, said she's been concerned for years as she's seen hospitals that are technically nonprofits focus increasingly on earning profits and salting the money away into reserves.
Then came the 2014 ACA expansion of Medicaid coverage, eventually swelling Oregon's Medicaid rolls from about 600,000 to more than a 1 million. Everyone – hospital officials, regulators, lawmakers, labor union leaders – acknowledges the taxpayer-funded expansion has been a windfall for hospitals, which until now have largely had a free hand in how they tackle community benefit work.
"We were trying to figure out how to get hospitals to stay true to their nonprofit status," said Salinas. "Shouldn't (the money) be going back into the community and helping people stay healthy?"
Another sponsor of the bill, Rep. Marty Wilde, D-Eugene, agreed. "We were concerned that (the hospitals) were going to set aside a large amount of reserves for a long time," he said.
Other states – especially those that, like Oregon, expanded Medicaid under the ACA – have taken similar steps to ensure that nonprofit hospital systems devote some slice of their spending to community-benefit programs. But Oregon's effort appears to be the only one in the nation that seeks to hold each hospital to a community benefit spending obligation.
Definition Gives Hospitals Leeway
Lawmakers and Oregon Health Authority administrators have defined "community benefit" work broadly. It includes not only charity care to uninsured or indigent people, but also community health programs, employee education, certain kinds of research, and, crucially, the difference between what a hospital says it costs to care for a Medicaid-covered patient and the amount – considerably lower – that the state pays as reimbursement. The American Hospital Association says Medicaid reimbursements cover only about 87 cents on the dollar of the true cost.
The community benefit floor is calculated using a complex formula of the Medicaid reimbursement gap, other hospital spending, and hospital revenues and profits over the previous three years. The rules don't require a hospital to spend a set amount on any specific type of work. Rather, the hospital must simply meet the overall floor.
The five-hospital Legacy system is the first to receive a community benefit spending floor: $253 million for 2022, allocated among its two hospitals in Portland, and its hospitals in Tualatin, Gresham and Silverton. The per-hospital amounts are their average spending for the past three years, with adjustments based on revenue growth.
Most of the hospitals' community benefit spending has been covering the difference in Medicaid costs and reimbursements – an average of $229 million a year – with the rest being direct spending on indigent patients and employee education.
The health authority's  proposed spending floor for Legacy rises to $264 million for 2023, based on the hospitals' past spending, revenue and profit trends.
In essence, the state is proposing to keep the Legacy system's community benefit work mostly on an even keel for 2022, then increasing it by 4.3% in 2023.
The state will review and set spending floors every two years.
Legacy and the public have until March 2 to comment on the proposed floor. A Legacy spokesman did not return an email from The Lund Report. Legacy has not yet filed any comment with the state, a state spokesman said. No public comment has been filed either, the state said.
The state will set floors for the rest of Oregon's hospitals in coming months.
What effect the spending floors will have remains to be seen. On the one hand, some legislators and activists hope for a flurry of new and imaginative spending to fix broad societal problems.
"This is going to be an amazing change for low income people throughout Oregon, and has the potential to change and transform communities," said Felisa Hagins, political director of Service Employees International Union Local 49, which represents many groups of Oregon hospital workers.
On the other hand, the Oregon hospital industry association says community benefit spending may rise, but only if hospital revenues overall rise. And COVID hammered hospital revenues, at least in the early months of the pandemic, says the Oregon Association of Hospitals and Health Care Systems, the hospital's lobbying group.
Hospitals May Need To Spend More
Under the state formula, if a hospital's revenues do rise, the state will want it to spend more on community benefit work, and that at the very least, community benefit spending shouldn't slip, said Jeremy Vandehey, director of the OHA's policy and analytics division.
"The formula envisions a system whereby spending is expected to rise if revenues rise on average, and is expected to also stay at or above historical community benefit averages," Vandehey said. "It does provide flexibility via the averaging of past revenues and spending to ensure that one-time occurrences like COVID are factored into future years."
Salinas said she hopes the system prods hospitals into spending more tackling so-called "social determinants of health" – social and environmental conditions that affect the health of individuals or socio-economic groups. Salinas said she'd like hospitals to be more active in providing housing for the homeless and disease prevention programs. 
Can hospitals afford to branch out from their medical missions? Salinas said she thinks so, although she acknowledges she doesn't scrutinize the profit levels and financial portfolios of Oregon's hospitals and wants the health authority to work with hospitals on the specifics of their community benefit programs. Community activists should help drive hospitals' work, she said.
Under longstanding state rules, hospitals work with community members and develop "community health needs assessments" that the hospitals may use to guide their spending.
"Oregon's hospitals embrace the process of the community health needs assessment to target community health programs, especially those that address the social determinants of health. This is a core mission of nonprofit hospitals," said David Northfield, a spokesman for the hospital association. The group is working with the state to see that the spending floor is "successfully implemented," Northfield said.
The state for a number of years has required each hospital to report its community benefit spending. The spending varies widely, depending on the size, location, revenues and profitability of the hospital.
Take one of the state's largest hospitals, Providence Portland Medical Center in Northeast Portland. In its report to the state, the hospital said that in 2019 it spent $98 million on community benefit programs, including $20 million on charity care for the indigent; $10 million on research; $10 million on employee education, and, importantly, $47 million covering the difference between the cost of treating Medicaid members and reimbursement from the state.
The state's largest hospital, Oregon Health & Science University, reported $340 million in community benefit work in 2019, including $119 million on filling the Medicaid reimbursement gap, and $176 million on employee education and training, and just $24 million on care for the indigent.
Tiny Lower Umpqua Hospital in Reedsport reported just $3.9 million in community benefit spending in 2019, mostly on what is called "subsidized health services" such as keeping its emergency department open, even while the cost exceeds the revenue.
Some Hospitals Report Strong Profits
The benefit of the ACA Medicaid expansion shows up clearly in hospitals' financial reports to the state, as their spending on charity care and bad debt has dwindled.
Profits in 2019 were strong at some of the biggest players: Salem Hospital had a profit of $91 million, a profit margin of 11%; Asante in Medford, a profit of $81million, a profit margin of 14%; OHSU, $138 million, with a profit margin of 7%; and PeaceHealth RiverBend in Springfield, $77 million, or a 10% profit margin.
The profits, plus a strong stock market, have swollen many hospital systems' investment portfolios. Salem Health, the owner of Salem Hospital, has an investment portfolio of about three quarters of a billion dollars. OHSU's investment portfolio stands at $2.9 billion. Asante, with hospitals in Ashland, Grants Pass and Medford had an investment portfolio of $640 million as of late 2019.
Vandehey said the new state system will increase public awareness of hospital community benefit work and will help level inequities in the system and pay for needed programs.
"With the publication of the floor and the categorization of the spending areas, it will be clear to communities how their local hospitals are directing their community benefit spending – including spending on the social determinants of health and health equity -- and provide an opportunity for input," Vandehey said. "The community health needs assessment, which has public input, is another area where the public is able to comment on the type of spending and specific health-related areas on which they'd like their local hospital to focus."
You can reach Christian Wihtol at [email protected].