OHSU Employees Take Public Stand In Sex Assault Case, Moving Alleged Victim To Tears
Anger and frustration among employees at Oregon Health & Science University over its handling of a sexual assault complaint spilled out into a campus square on Wednesday in a rare public call for change.
Dozens of professors, physicians, researchers, union members, residents, pharmacists and graduate students showed up for the hastily called event outside Mackenzie Hall, which houses the office of Dr. Sharon Anderson, dean of the school of medicine. She was among several officials who were named in a $45 million sexual assault lawsuit that prompted the rally. Filed Friday, the lawsuit accuses a former OHSU anesthesiology resident, Dr. Jason Campbell, known as the TikTok doc for his hospital dance videos, of physical assault and sending pornographic photos and sexually charged messages to a former OHSU employee who now works for the Veterans Affairs hospital next to OHSU.
The alleged victim, listed as A.B. in the lawsuit, on Wednesday told The Lund Report that the support for her at the rally, which she followed through her lawyer and social media, brought her to tears. 
Rally attendees said they were appalled by the treatment of her.
"It's over the top what she experienced," said Dr. Sue Aicher, a professor of chemistry physiology and biology who's worked at OHSU for 20 years and helped organize? the event by sending out a few tweets on Tuesday. 
"We literally have people feeling physically unsafe at work. It's outrageous," Aicher said.
Several people at the rally, who held signs saying "stop violence against women" and "50% of us fear retaliation" said they wanted to show their support for the victim and speak out against OHSU's handling of misconduct cases.
"We are extremely grateful to her for helping to air OHSU's dirty laundry," Aicher said.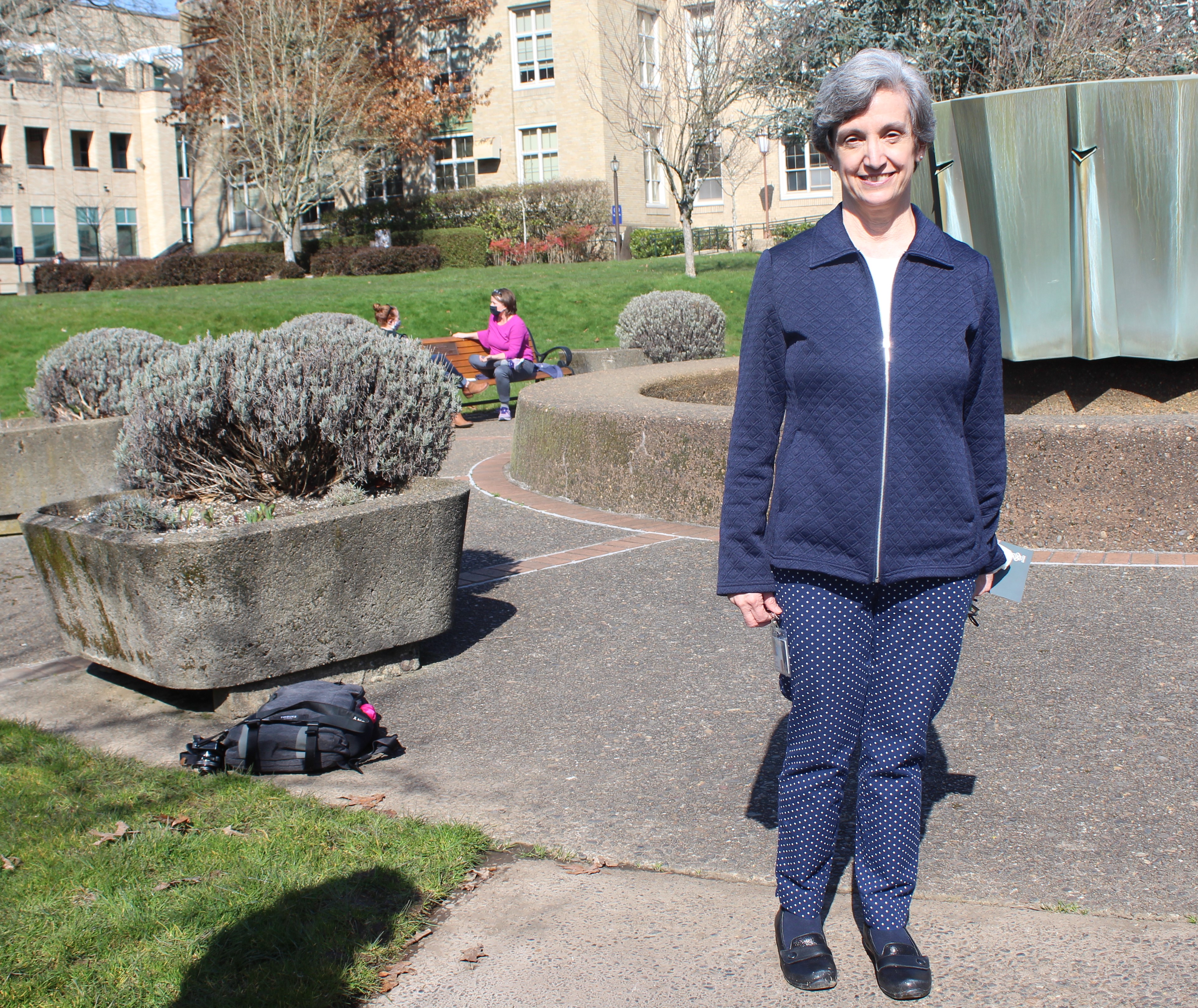 Besides Campbell, the lawsuit names OHSU as a defendant for negligence in failing to protect A.B. The lawsuit says that a number of OHSU faculty members, including a nationally known women's advocate, failed to report the assault to the administration as required by OHSU policy and that Campbell quietly left the university. Sources told The Lund Report that the administration helped him find a new residency -- at the University of Florida, where he was put on administrative leave this week after news of the lawsuit broke.
He has not responded to a Lund Report request for comment. One of A.B.'s attorneys, Kim Sordyl, said Campbell now has a new Portland-based lawyer -- Courtney Angeli -- his fifth in a year. Angeli did not respond to a request for comment.
People at the rally said the case exemplifies a pattern at OHSU: Victims report misconduct or discrimination, the university investigates, offenders keep their jobs or are moved, victims suffer retaliation or isolation and nothing changes.
"The power structures that exist at OHSU perpetuate this," said Dr. Lilli Klug, assistant staff scientist at the Knight Cancer Institute. "Without changing the power structures, we are not going to change this."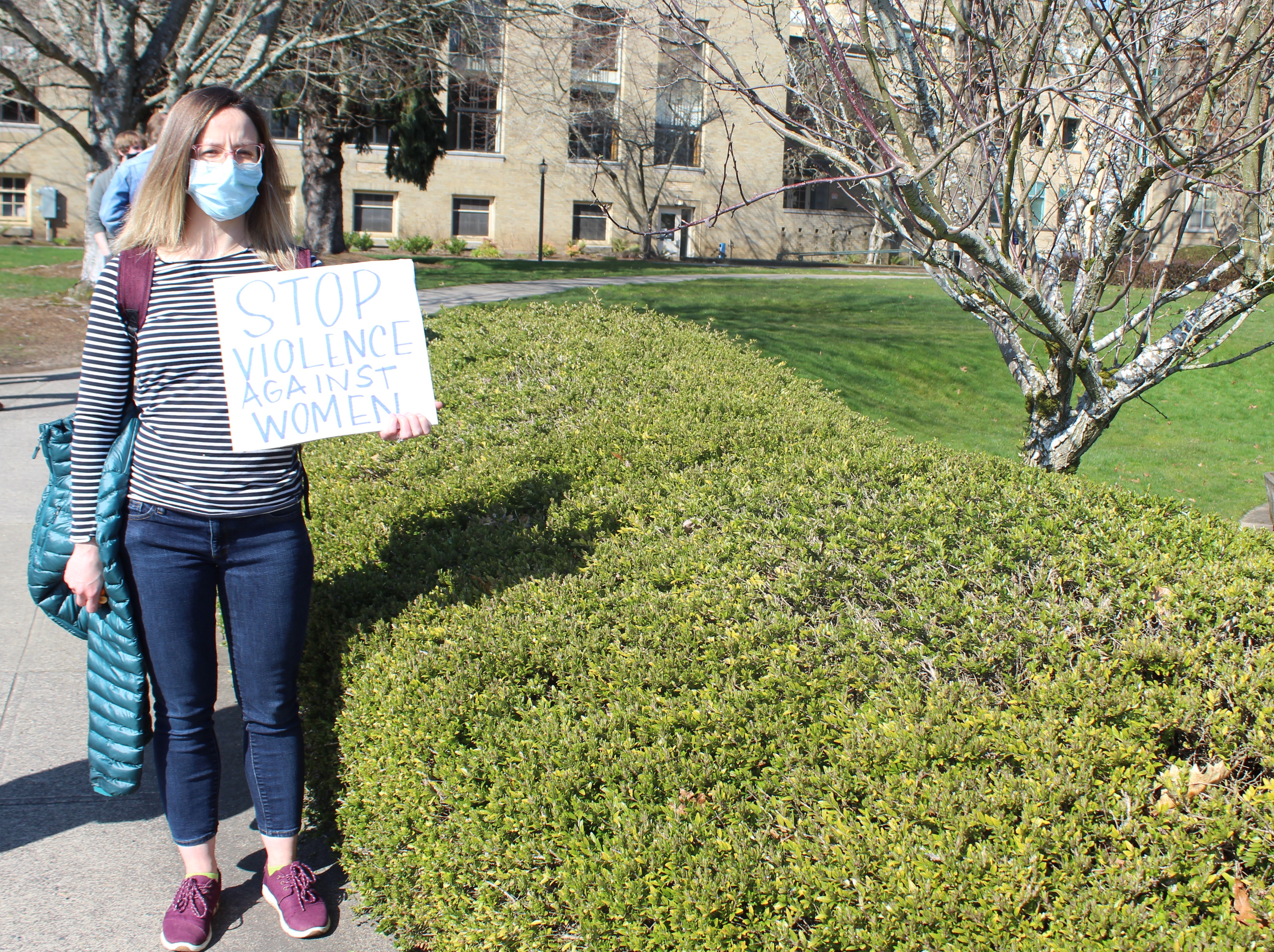 Klug, president of the nonprofit Portland-based advocacy group Women in Science, said the OHSU administration is focused on money, power and its image.
"Employees are usually not the priority," Klug said.
The lawsuit said that at least 13 employees at OHSU, including six in leadership positions, knew about the assault. Most of them took no action, the lawsuit said.
It said several faculty members who are mandatory reporters failed to report to human resources or the affirmative action office. They include Dr. Esther Choo, emergency medicine professor and co-founder of Times Up Healthcare, a women's advocacy group. She did not respond to a request for comment.
Aicher said faculty know they're supposed to report misconduct.
"We're all mandatory reporters: If someone comes to you with an incident of sexual assault of harassment you're supposed to report it to affirmative action, Title IX, or someone who will do something," Aicher said. "But we're never been given any formal training. Some people may not know what that means to be a mandatory reporter."
The alleged assault happened between January and March last year, the lawsuit says. A.B. reported it to her supervisors at the Veterans Affairs hospital, where she worked at the time, and informed OHSU authorities and faculty members. 
Lawsuit Prompts National Coverage
The lawsuit has sparked nationwide coverage and an outpouring of anger on OHSU's internal website on Monday. On Tuesday, OHSU posted a note on its public website that said its affirmative action department received the complaint about Campbell's behavior last April and that he resigned in lieu of a dismissal hearing in October.
Sources told The Lund Report that top leaders had wanted to give him "a last chance."
Dr. Danny Jacobs, OHSU's president, addressed the uproar on Tuesday with an internal staff message: "We are committed to an environment where all members feel safe, have a sense of belonging and have access to what they need to thrive. But we certainly have more work to do. I want to be sure my expectations are very clear: We must remain vigilant about monitoring and addressing the power dynamics and other factors that allow harassment and other such unacceptable behaviors to occur."
He said ensuring that is the responsibility of the institution's affirmative action department and Title IX coordinator.
Several people said the department's head, Laura Stadum, lacked authority: She oversaw investigations of alleged misconduct but couldn't fire anyone. A number of high-profile instances of apparent misconduct have surfaced in recent years. At least one person, the former head of human resources, was forced out but others kept their jobs.
A financial analyst who was caught with a pseudo Twitter account in 2019 that he used to blast the American Federation of State, County and Municipal Employees union during negotiations was kicked off the bargaining team but not fired, and another two employees who each posted a noose -- one in an online work session and the other on a door -- stayed employed at OHSU.  
Those cases angered black employees, who recently accused OHSU of being an "enabler of racism." 
On Wednesday, the Black Employees Resource Group at OHSU said in an online statement that it stood with the victim in the lawsuit but said the case had prompted a response from the administration because it involved a white victim. The statement said a former leader of BERG who was sexually harassed by one of her managers was told to confront the attacker and had to stay in the same department.
"Again, where is the outrage?" the statement asked.
"Regardless, this most recent incident of harassment further sheds light on the systemic issues plaguing OHSU. It is clear that OHSU will not take action unless there is national media scrutiny and significant financial risk," the note said.
It added that there was no accountability and no plans for systemic change.
That sentiment was echoed by the employees at the rally.
'It feels like a lot of lip service," Klug said. "It doesn't speak to the problems of the structure that created the power dynamics."
As an example, she said lab leaders who bring in a lot of money for their research are virtually untouchable. 
"They aren't reprimanded very much because of that power," Klug said.
Those who turned up at the rally want harassment victims protected.
"The way the university has handled this type of incident furthers the sense of isolation victims feel," said Dr. Catherine Morgans, professor of chemical physiology and biochemistry. "This has to change."
She added: "if someone is assaulted, call it what it is -- a crime."
Support like that heartened A.B., who told The Lund Report she followed the rally through her lawyer, Kim Sordyl, who was there and through social media coverage. Seeing images of the group of people drew tears, she said.
"Experiencing sexual assault and sexual harassment is extremely traumatic and isolating," A.B. told The Lund Report. "The severe retaliation I have faced from OHSU leadership has only reinforced that. I'm truly in awe of the outpouring of support for all survivors. It helps us all move forward together shouting 'We believe her!' loud enough for all the survivors who feel they are alone."
People at the rally hope their show of force grabs the administration's attention. But most people do not expect immediate change. The rally is a start, Aicher said. She hopes groups, like Women in Science and the campus-based Women Employee Resource Group, will come together to push for change. 
"One person screaming into the void is not going to cause change," Aicher said. "But if groups of people come together and say this is what we need, then maybe they can't ignore us anymore."
You can reach Lynne Terry at [email protected] or on Twitter @LynnePDX.
×
This article is for premium subscribers. If you are one, please sign in below.
You can see
two
more premium stories for free. To subscribe,
click here
. We depend on premium subscriptions to survive, and they are tax deductible.