Dozens of employees expressed solidarity with the plaintiff and dismay at OHSU over its alleged handling of sexual assault allegations involving a former anesthesiology physician who's known for his dance videos.
Image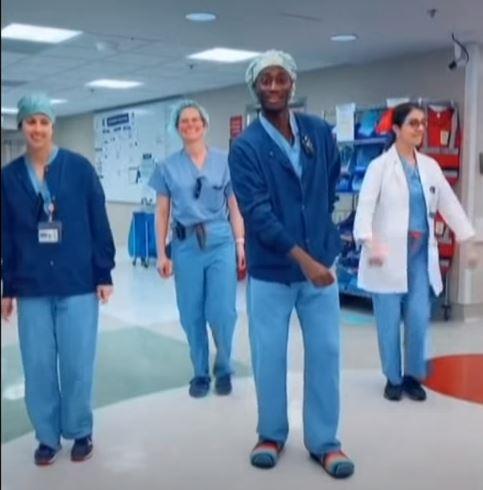 March 1, 2021
A former Oregon Health & Science University physician known as the TikTok doc for his dance videos faces a $45 million sexual assault lawsuit that accuses the state's primary academic medical center of a pattern of complacency towards sexual abuse and harassment at work.
The lawsuit, filed Friday in U.S. District Court in Portland by a former OHSU employee, accuses Dr. Jason Campbell of physical abuse and electronic harassment that included pressing up against her and sending her pornographic text messages. It also names OHSU as a defendant and says top OHSU physicians, including Dr. Esther Choo, a professor of emergency medicine and national spokesperson against discrimination against women, failed to report the abuse to human resources or the affirmative action office as required by OHSU, and that OHSU offered to pay the victim $6,000 for mental health treatment in exhange for her dropping her accusations.
The lawsuit, which has sparked national coverage, has touched a nerve among dozens of OHSU employees, who reacted on Monday with an outpouring of praise and rage on an internal message board. Most people expressed support for the alleged victim, saying she was brave to come forward. Some said that they, too, had experienced sexual harassment at OHSU and that nothing had been done about. Many said they were fed up with the culture at OHSU that allowed misconduct, saying it was time for change.
Campbell, who is 32 and lives in Florida, did not respond to a request for comment, and neither did his lawyer, John Kaempf, who suddenly quit on Tuesday. 
OHSU released a statement saying it does not condone the behavior outlined in the complaint.
"We are continuously working to evolve our culture, policies and practices to provide an environment where all learners, employees, patients and visitors feel safe and welcome," the statement said. "While we cannot comment at this time on the specifics of this pending litigation, we take our role seriously in being part of the change that needs to happen across our country to end discrimination and power dynamics that allow for harassment."
The 39-page lawsuit, however, describes a culture in which victims suffer retaliation for speaking up, allegations are buried and perpetrators are protected. Some employees who weighed in on the lawsuit concurred. 
"I faced sexual harassment from a colleague, reported it, and then watched as they continued to be promoted," said one woman in an internal OHSU message board. "Unfortunately, I know this is not an isolated incident of sexual misconduct at OHSU, said another. "I simply quit complaining when complaints to my supervisor, manager and assistant director fell on deaf ears," said a man.
The victim's lawyers, Michael Fuller and Kim Sordyl, said in a statement the alleged victim passed a polygraph test. They said they were interviewing witnesses in an investigation and decided to sue when OHSU blocked their access to employees.
The complaint states that the abuse lasted between January 2020 and March 2020. Campbell, an anesthesiologist, was in training at OHSU as a resident. 
Campbell, who is Black, was among a small minority at OHSU, which has been blasted by Black employees as being an "enabler of racism." The university has pledged to improve diversity on campus.
According to Campbell's personal blog, he was a track and field athlete at Emory University in Atlanta, Georgia and earned his medical degree from Ohio State University in Columbus. His TikTok videos, which show him dancing in his scrubs, went viral and led to appearances on national TV, including the show "Good Morning America." He said he wanted to bring joy and draw minorities to medicine, and calls himself in his blog an advocate for "underrepresented members of the medical community."
Campbell is over 6 feet tall, the suit says, and the victim is a small white woman with a slim build.
The suit says the victim, listed under the pseudonym A.B., is currently working for the Veterans Affairs medical center, which is connected to OHSU in Southwest Portland via a skybridge. Professionals from the two institutions often collaborate on research and health care. According to the suit, Campbell had provider privileges at the VA hospital.
The suit says that Campbell  started harassing A.B. by sending her "sexually-charged" text and social media messages. They included a photo of himself in scrubs with an erection and a video message on Instagram that said "you look tasty," the suit says. One message, captured with a screen grab, according to the suit, says "I'm fit, you're fit, there's the orgasm." It was followed up with "I mean organic (stupid autocorrect." 
The suit says investigators tried but could not get autocorrect to make that substitution.
Campbell also harassed A.B. physically, the suit says, describing an instance in which Campbell snuck up behind her in her office and pushed his erection into her from the back, forcing her against a desk.
She responded with a text shown in the suit which says: "Don't EVER surprise me by getting in my physical space."
He told her in a text he was sorry, the suit says.
But he continued to harass her, the suit says. He caused her "severe, substantial, enduring emotional distress, discomfort and interference with usual life activities," the suit says.
In April, she reported the incidents to her supervisors at VA Portland Health Care System and provided screenshots to substantiate her complaint. They notified Campbell and his supervisor, the suit says.
Campbell notified the director of the residency program, saying that the VA was investigating him because he had "fallen into a woman."
The victim filed a detailed report with OHSU's Title IX coordinator, the suit says, and reported the assault to an unnamed OHSU assistant professor. The suit says the assistant professor said this was the second sexual assault complaint against Campbell. The other complaint involved Campbell asking that victim to "jerk him off," the suit says.
In April, A.B. filed a tort claim notice against OHSU indicating an intention to sue.
The lawsuit says OHSU investigated and in August concluded that Campbell had violated its policies and code of conduct by sending unwanted sexual messages to A.B. 
Sources told The Lund Report that the lead investigator recommended that OHSU fire Campbell. Instead, the administration kept him on out of fears that he would sue OHSU for discrimination, the sources said. They said OHSU found a new position for him at the University of Florida. A spokesman there told The Oregonian/OregonLive on Monday that Campbell had been placed on leave over the lawsuit pending an administrative investigation.
Campbell also lost at least one one of his sponsors on Monday. Figs, a Los Angeles company that makes scrubs, said in a tweet that it had cut ties with Campbell as soon as it had heard about the allegations. "As a company, we feel strongly about standing up against sexual harassment," the company said.
The lawsuit says OHSU fosters an environment that permits sexual misconduct.
"Perpetrators of alleged sexual misconduct are praised, protected and even glorified," the suit says. "Victims are not protected -- they are shamed, dismissed and subjected to retaliation."
Two years ago, a radiology technician at OHSU sued the institution, alleging sexual harassment from a co-worker. That case settled out of court. Two other racial and gender discrimination lawsuits have also settled. A fourth suit brought by a female cardiac specialist remains in litigation. In the complaint, Dr. Rupa Bala accuses OHSU officials of discriminating against her because she was outspoken and pointed out errors in protocol. 
OHSU employees have also repeatedly complained about sexual harassment and discrimination. In a survey released to The Lund Report a year ago, one-third of the staff and students who responded said they had experienced sexual misconduct in the last five years and about the same percentage said discrimination was a problem at the institution. Nearly 60% said they feared retaliation for reporting a problem.
The complaint filed by A.B. says OHSU's culture "perpetuates high numbers of sexual assaults." It accuses campus leaders, including Dr. Sharon Anderson, OHSU executive vice president, of turning a blind eye.
It even points a finger at Dr. Esther Choo, professor of emergency medicine and a co-founder of Times Up Healthcare, an organization formed to fight gender bias and sexual assault in medicine. The suit says A.B. told Choo about her own experience with Campbell and told her he had also harassed an OHSU employee who was afraid to report it.
"It's never, ever worth it," the suit says Choo responded in text. Choo declined a request for comment.
The complaint says Choo asked whether she should have a talk with Campbell. The suit also says that A.B. told a colleague of Choo, Dr. Lalena Yarris, about the incidents with Campbell. It says both Choo and the colleague later endorsed Campbell on Twitter and in a TikTok video.
The complaint says that Choo and Yarris were among at least 13 OHSU employees -- including six in leadership roles -- who received reports about the sex assault. "Most took no action or otherwise violated Title IX rules" on gender discrimination, the suit says.
Their alleged failure to report the harassment to human resources and affirmative action provoked a stream of angry responses on the message board, with one employee saying: "Fire everyone who has anything to do with this mess; prosecute all mandated reporters who did absolutely anything to cover this up."
The Oregon Medical Board requires licensed health professionals, health care companies and associations to report an action taken against a licensed professional like Campbell. There's a $10,000 fine for failing to report.
After issuing its findings that found Campbell guilty of violations, OHSU offered to pay A.B. $6,000 for mental health treatment, then said its sexual misconduct funds were depleted, the suit said.
"The fact that OHSU's sexual misconduct fund has run out of money is an indication of how widespread this problem must be throughout the organization," an employee said.
The suit says OHSU then said it would offer payment provided A.B. signed a release of claims.
"This retaliatory behavior further added to plaintiff's emotional distress," the suit says.
The lawsuit requests a jury trial and seeks a judgment up to $4.5 million and $40.5 million in punitive damages. A.B. also want an injunction that prohibits OHSU from continuing to allow sexual misconduct and an order requiring the institution to adopt policies that shield women from sexual harassment in the workplace.
Many employees want that, too. 
"The culture must change," one employee wrote on the message board. "Anyone involved in any cover up of this must be held responsible. It is time for OHSU to stand behind its word and actually demonstrate that this behavior will not be tolerated."
You can reach Lynne Terry at [email protected] or on Twitter @LynnePDX.
,