Central Oregon Runs Out Of Hospital ICU Beds
For the first time since the pandemic began, one of Oregon's health care regions briefly ran out of intensive care beds.
On Wednesday, the Oregon Health Authority data, which are published a day late, showed that the health care Region 7 ran out of intensive care beds on Tuesday. A hospital official said the shortage was resolved by the next day.
The region comprises eight counties and includes St. Charles Bend, the region's biggest hospital; St. Charles Madras; St. Charles Prineville; St. Charles Redmond; St. Harney District Hospital; Lake District Hospital; Sky Lakes Medical Center in Klamath Falls; and Blue Mountain Hospital in John Day.
On Tuesday, the region was treating 54 COVID-19 patients, Oregon Health Authority data showed. Lisa Goodman, spokesperson for the St. Charles Health System, said the Bend hospital did not have to transfer any patients to other hospitals outside the region and on Wednesday had six ICU beds available out of 30. Only three ICU patients have COVID-19, she said.
The number of ICU beds available statewide has tightened since the onset of the pandemic. As of Tuesday, out of 700 ICU hospital beds statewide, 142 were available, according to state data. By contrast, in late March, hospitals statewide had 394 ICU beds available.
On Tuesday, Region 7 was an anomaly, with none of its 47 ICU beds available. All other regions had ICU beds available. For example, Region 5, which encompasses the Medford area, had 10 of 57 ICU beds available.
But Region 7's brief flirt with zero ICU beds available shows how close to the edge the pandemic has pushed the state.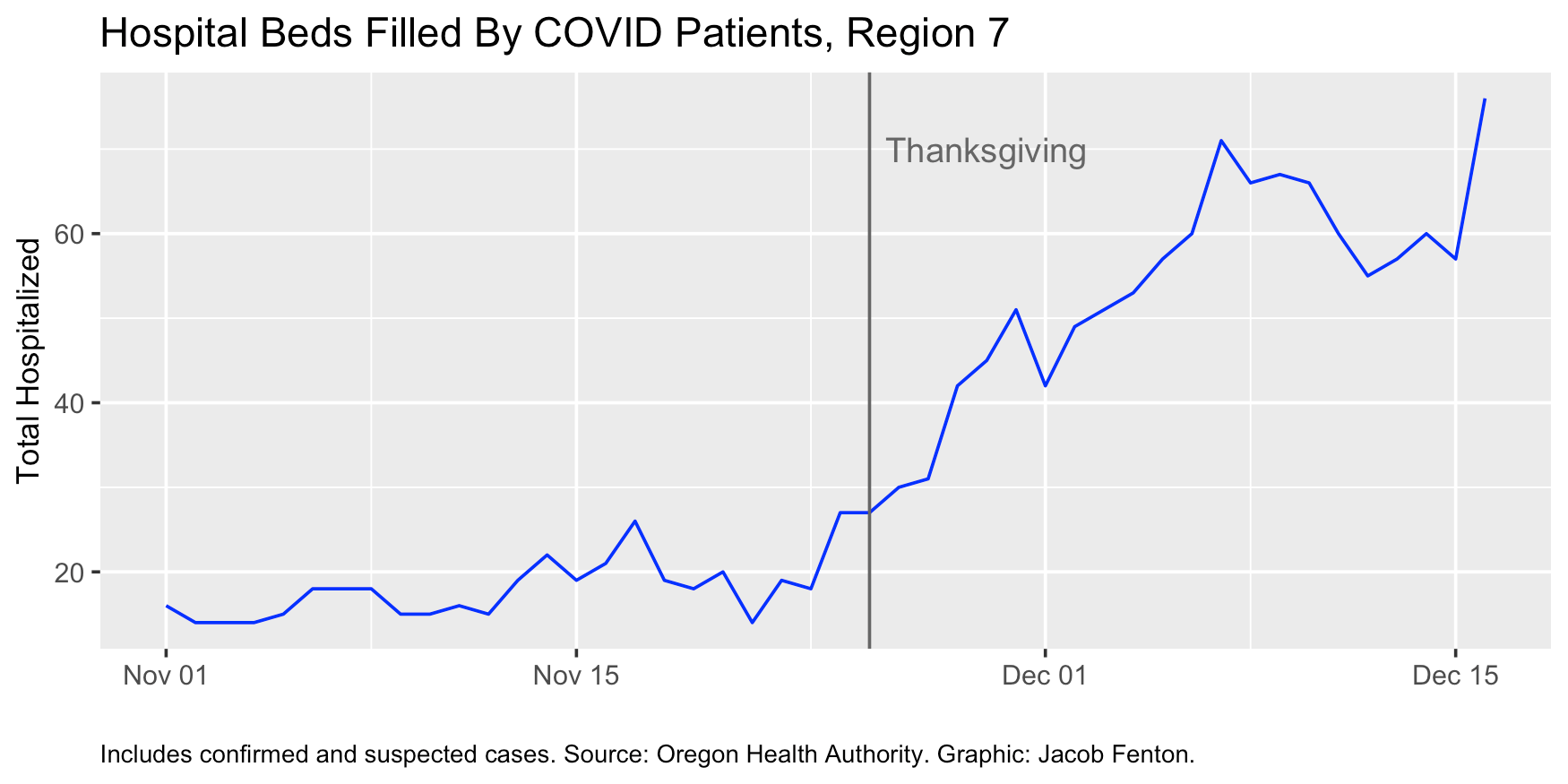 Winter is usually the busiest time of year for hospitals in the area, with road crashes from ice and snow, skiing accidents, influenza and cardiac and other health care issues caused by people overdoing it during the holidays.
But this year, emergency and intensive care staff have treated COVID-19 patients as well, including some who seek medical assistance and don't tell staff that they're infected, providers said. 
"We saw a terrifying immediate post-Thanksgiving spike," said a doctor working in Region 7 who asked to remain anonymous. The doctor said things have calmed down a tad and are now just "bad."
But the area is bracing for a bigger surge. 
The hospital expects the weeks after Christmas to be even worse, the doctor said.
When intensive care beds fill up, bigger hospitals often can put patients in post-operative beds, for example, while awaiting space.
"Hospitals are using a number of strategies to respond to increased critical care capacity,"  including modifying existing beds to meet higher levels of care and adding new beds created by converting and expanding surge spaces in the hospitals," an Oregon Health Authority spokesman said.
.But the numbers are worrying, Goodman said.
"We continue to be concerned about the high number of COVID-19 cases in our community and the stress it is placing on health care resources," she said. "Like many Oregon hospitals, St. Charles has had to postpone some elective surgeries to ensure we have the staff and beds available to take care of our patients with the highest needs."
Hospitals Face Staffing Shortage
The bed shortage is caused in part by the nature of COVID-19. The virus is highly infectious. Patients must be kept in negative pressure rooms, which prevent infectious particles from circulating into the rest of the hospital, and isolated in COVID-19 units.
"You can't have COVID patients intermingled on the same floor with patients who are not infected," said ER nurse Robin Olafson, who works at Kaiser Permanente Westside Medical Center in Hillsboro. "You have to essentially isolate an entire floor." 
When space runs out, hospitals keep patients in emergency rooms, Olafson told The Lund Report. 
"You end up with a backup in the ER," Olafson said.
This is not ideal. Emergency rooms are designed to treat trauma and other cases, stabilize patients and send them home or admit them to the hospital.
"The ER is not a therapeutic place to heal," Olafson said.
Then there's the problem of staffing -- the biggest challenge facing hospitals now. They might be able to come up with beds -- at least temporarily -- but they also need enough qualified staff. Physicians, respiratory therapists and specially trained nurses are needed to treat COVID-19 patients with severe symptoms. 
"Staffing wise we're having a hard time," Olafson said. "Real estate wise we can manage, but we have our own staff that gets sick as well, so we're working short staffed quite a bit."
When a patient with severe symptoms comes into the emergency room, staff put on protective gear and race into action. That takes time. Sometimes patients who can barely breathe must be put on a ventilator, a procedure that normally requires a physician, respiratory therapist, two nurses and a technician. The physician intubates the patient, the respiratory therapist manages the airway and the technician follows the monitors that track heart rate, oxygen and carbon dioxide levels. One of the nurses is responsible for intravenous medications -- patients must be sedated for the procedure, which is uncomfortable -- while the other nurse charts. Careful records must be kept so that staff knows what has been done.
The procedure happens quickly and is well-orchestrated -- normally. But at one point earlier this month, Olafson had to chart, watch the monitors and give medication because staffing was short.
They got through it, and the patient is fine, but it was a nail-biter, Olafson said.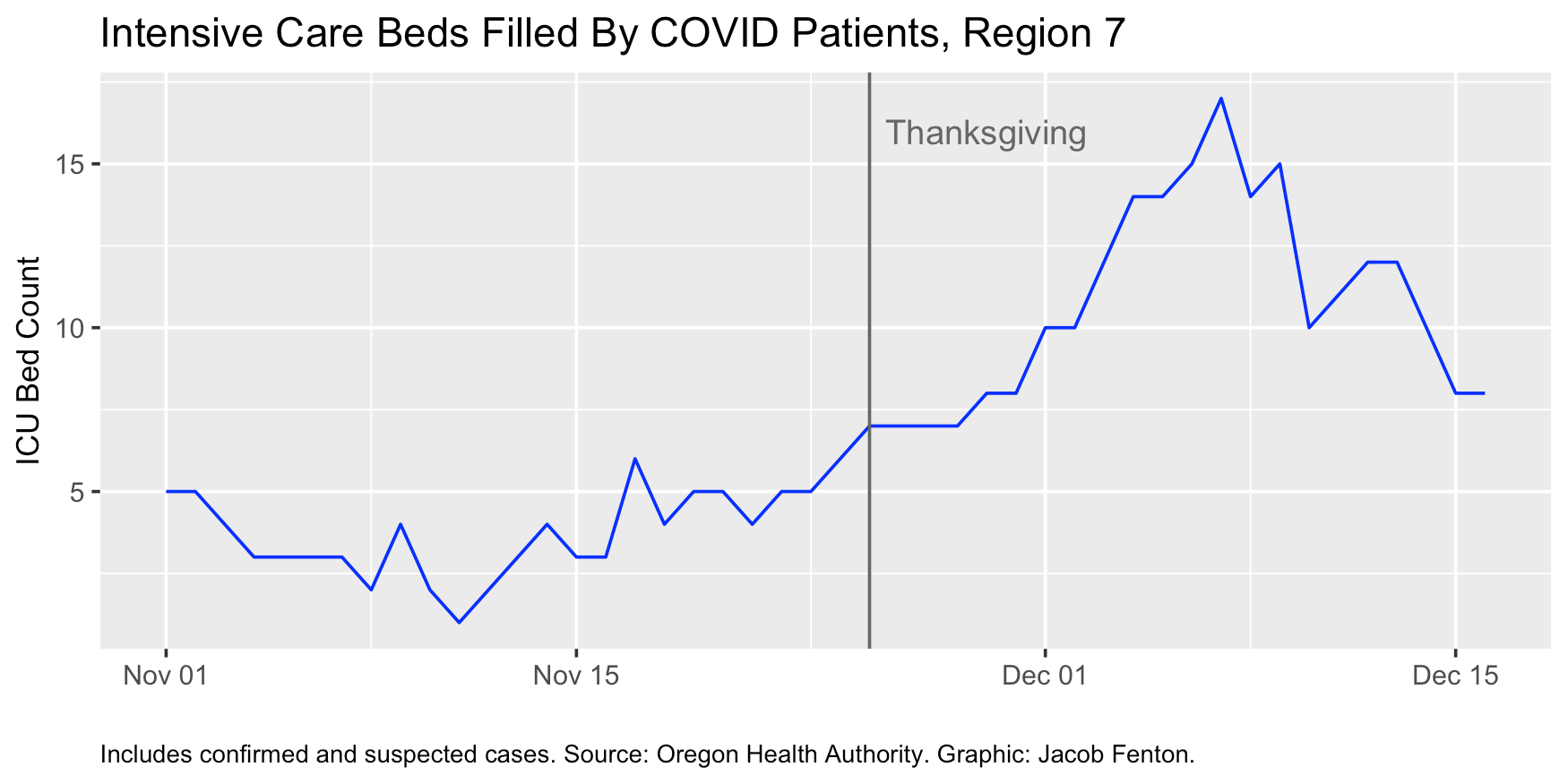 The staffing shortages at hospitals across the state has been caused by the increase in COVID-19 patients and by the disease itself, which has also affected health care staff.
Health care professionals are trained to work when they have a cold -- they just tough through it. But they can't do that now. Anyone with COVID-19 symptoms is asked to self-quarantine to avoid infecting colleagues and patients. Also, staff who've been exposed to the novel coronavirus while unprotected and those who've traveled to hot spots are asked to stay home, Goodman said.
Normally, hospitals have filled staffing shortages by hiring traveling nurses. But now, these, too, are in short supply.
Agencies used to charge hospitals about $2,000 a week for a traveling nurse. Last spring, when COVID-19 cases surged, that cost doubled, industry figures show. It has since doubled again, increasing to $8,000 a week or even higher.
Hospitals are willing to pay.
"We are attempting to secure some traveling nurses," Goodman said.
Vaccinations Start
News of the bed shortage came on the same day that Oregon began vaccinating health care workers on the front lines of the epidemic. 
So far four health care systems — Legacy Health, Oregon Health & Science University, Kaiser Permanente and Saint Alphonsus — have received a total of 4,875 doses.
In a live broadcast, providers vaccinated employees from Oregon Health & Science University, Legacy Emanuel Medical Center in Portland and Saint Alphonsus Medical Center in Ontario. Kaiser Permanente plans to start its vaccinations on Friday.
All of the health care systems have ultra cold storage units that are needed to keep the vaccine vials at minus 70 degrees Celsius, or about minus 160 degrees Fahrenheit.
Gov. Kate Brown said during the broadcast that these vaccinations mark a turning point in the pandemic.
"It has been an incredibly challenging year, but with these vaccinations, we finally can begin the long, steady process of turning the tide on the pandemic," Brown said. 
A first shipment of the vaccine made by Pfizer, based in New York, and BioNTech, a German company, arrived in Oregon on Monday. This week, the first frontline health care workers are being inoculated. Next week, vaccinations will start at long-term care facilities.
Later this week, federal authorities are expected to approve the vaccine by Moderna. Those shipments could arrive in Oregon the following week. 
Each vaccine requires two shots about three weeks apart.
It's unclear when the vaccines will be available to the general public. The health authority said in a news release Wednesday that up to 400,000 health care workers and long-term care facility staff and residents are expected to be vaccinated against COVID-19 during the first phase of the campaign. To achieve so-called herd immunity when enough people are vaccinated to thwart the spread of the virus in the community, about 70% of Oregon's population of 4.2 million people need to be inoculated. Until that happens, Oregonians will need to continue to wear face masks, social distance and avoid large gatherings.
"We all need to keep up our guard," said Oregon Health Authority Director Patrick Allen. 
Dina Ellwanger, president and chief nursing officer for Saint Alphonsus Medical Center, said the vaccinations are important in eastern Oregon, where the safety measures in bordering Idaho have not been as strict. 
"Until we can achieve community levels of immunity, we all must stay the course and continue to practice the safety measures we know can make an impact and stop the spread of this virus," Brown said.
Ben Botkin and Christian Wihtol contributed to this report.
You can reach Lynne Terry at [email protected] or on Twitter @LynnePDX.
×
This article is for premium subscribers. If you are one, please sign in below.
You can see
two
more premium stories for free. To subscribe,
click here
. We depend on premium subscriptions to survive, and they are tax deductible.