CCOs Improve Care Where it Costs Them; Mixed Results Otherwise
The Oregon Health Authority released $47 million in bonus money along with the first annual report on the coordinated care organizations' efforts to meet 17 quality metrics. The locally operated health plans for Medicaid clients are doing a good job reducing unnecessary ED visits and hospital stays for chronic conditions, but other metrics the state highlight in the report, such as an alleged increase in developmental screenings for children, are misleading.
The Oregon Health Authority released its report on Tuesday to much media fanfare, the first such report with a year's worth of numbers.
The coordinated care organizations showed marked improvement over the old system -- emergency room use was down sharply, as were hospitalizations for chronic but manageable illnesses like asthma, chronic obstructive pulmonary disease, diabetes and congestive heart failure.
An increase in primary care has led to a decline in more expensive speciality care.
However, the numbers, which stem from December 2013, do not take into account the effects of the Affordable Care Act expansion, which increased the Oregon Health Plan population by 350,000 statewide. CCOs are local organizations that started delivering the state's Medicaid program, the Oregon Health Plan, in August 2012. There are now 16 such organizations, though the report combines the two CCOs managed by PacificSource -- Hood River and Bend.
While the CCOs have been effective in improving care while reducing costs in the most expensive areas, it's too early to tell if the state is improving care for children or doing much to meet the quality metrics that don't have an immediate effect on the organizations' bottom line.
A lot of the fine details of the report were not quite as rosy as the Oregon Health Authority boasted in the executive summary, and some of the highlights were outright distorted, relying on improvements to baseline data the state knew had been incomplete.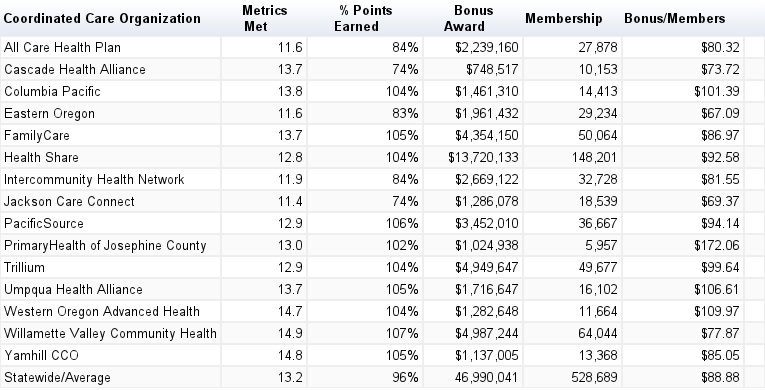 Better Data Not Always Better Care
Some of the highlights trumpeted in the executive summary appear to rely on misleading numbers -- much of the 58 percent increase in developmental screenings for children under 3 is not the result of actual changes but simply better bookkeeping on the part of pediatricians' staff.
In a 2012 interview with The Lund Report, Roseburg pediatrician Dr. Bob Dannenhoffer flagged the state's previous numbers as appallingly low, but he said he discovered the earlier, bad numbers were a data entry problem -- not all pediatricians' offices were set up to properly record all of the screenings they were actually conducting.
The state also tried to have it both ways -- championing the figures that showed growth based off incomplete data, but when the metric showed the CCOs were not performing, such as a decline in the rate of visits children received with their primary care provide, the state dismissed these figures as the result of the same incomplete data.
The Health Authority's analytics director, Lori Coyner, conceded to The Lund Report that much of the change in metrics for children was a result of a change in data-collecting habits in the transition, but she said there was some evidence that pediatricians were doing increased screenings.
For these measures, Oregonians will have to wait till next year to tell if the CCOs are coming through on their promise.
Across the board, CCOs have met the state benchmarks for electronic health records and reducing the number of early elective delivery of babies.
"The first-year data is an opportunity to look at what the highlights are," Coyner said, while adding that CCOs will be encouraged to work with the state's transformation center to improve problem areas, adopting best practices that are working elsewhere. "We're very pleased with these early results. Each of the CCOs improved a majority of their metrics."
Some of the most remarkable data came out of the Yamhill coordinated care organization. This CCO, based in McMinnville, saw hospitalization rates for adult asthma and COPD fall from 397 members per 100,000 each year to just 43. A hospital stay for members with congestive heart failure fell from 612 per 100,000 members a year to 150.
Yamhill spokesman Jim Rickards attributed the turnaround to his organization's team-based approach and investment in primary care homes where behaviorists and community health workers could assist members with chronic conditions.
But it also shows the impact of managed care. Although Yamhill County had some management from CareOregon and Salem's Mid-Valley Independent Provider Association, 60 percent of its clients had an open card used to seek care anywhere. "We had very low Medicaid managed care penetration," Rickards said.
Yamhill has gone from 38 percent of its members enrolled in primary care homes to 76 percent.
Many of the other metrics the state used are a mixed bag, and several of the preventive health measures actually showed worse results than before the transformation.
Fewer women are being screened for chlamydia and cervical cancer. Fewer children were given a strep throat test before antibiotics were prescribed to know if they would be effective. Fewer infants are getting their recommended shots. While showing improvement for school-age children, the state continued its slide in immunization rates for children under 2, which were already at dangerously low levels. 
Another measure highlighted by the health authority -- an 11 percent increase in primary care visits, combined with a 20 percent increase in spending in this area -- was accompanied by a decline in overall outpatient utilization, particularly for surgical procedures, lab tests and specialists' visits. 
FamilyCare President Jeff Heatherington said this was an intentional outcome; primary care doctors are spending more time with patients, requiring less referrals, and with them, fewer tests from the specialists.
"We raised our rates for primary care reimbursement in 2012 with the intent that our primary care physicians would see them more often and for longer times and that would result in a reduction in speciality care," Heatherington explained. "They would immediately refer stuff whether it needed it or not. The more you refer, the more specialty care and the more tests."
He added that the Salem CCO had raised its provider rates more recently and was experiencing similar results.
$47 Million Bonus Money
Despite problems with the data and mixed results in many areas across the state, the health authority used the numbers to dole out $47 million as bonus money intended to reward quality. The money was rewarded by an opaque formula that didn't match up exactly to the CCOs' performance ratings.
Unsurprisingly, Health Share of Oregon -- the state's largest CCO, with 148,000 members as of 2013 -- got the most money, $13.7 million. In a press release, spokeswoman Beth Sorenson wrote that Health Share will reinvest its bonus money in payments to providers based on performance; the development of provider capacity to report clinical quality measures; and provider-driven initiatives to improve performance on key metrics.
The other Portland-area CCO, FamilyCare, which is about one-third its size, got $4.3 million. Both the Eugene and Salem CCOs received just under $5 million.
On a per-member basis, the largest amount went to Primary Care of Josephine County, which -- with just under 6,000 members  -- received about $1 million, or $172 per member. The smallest proportionate check went to the Eastern Oregon CCO, which received $2 million for its 29,000 members, about $67 per member.
The Eastern Oregon CCO was one of five CCOs to fail to get passing measures in at least 12 of the 17 measures; all five of these received bonuses on the low end,  less than $85 per member.
Western Oregon Advance Health in Coos Bay, Willamette Valley Community Health in Salem and Yamhill CCO in McMinnville were the best performers -- meeting 15 of the metrics, but that didn't necessarily equate to the highest bonus. 
While Western Oregon received the second-highest per-capita bonus -- $1.3 million or $110 per member -- the other two were on the lower end of compensation. Yamhill received just $85 per member -- $1.1 million -- and Willamette Valley took in just $78 per member.
That's lower, proportionately, than All Care Health Plan in Medford and Intercommunity Health Plan in Corvallis -- which came up short of 12 passing metrics.
Willamette Valley outperformed its CCO peers despite a lawsuit with Salem Hospital that burdened the organization and nearly resulted in the passage of special legislation known as the Bad Actor Bill to force the hospital to drop its lawsuit over payment.
Chris can be reached at [email protected].
Editor's Note:  There are now 16 coordinated care organizations, though the report combines the two CCOs managed by PacificSource -- Hood River and Bend. The original article counted them separately.