Rep. Rachel Prusak, a nurse practitioner, plans to put forward a bill in the short session in 2022 with ways to bolster the workforce of nurses.
Image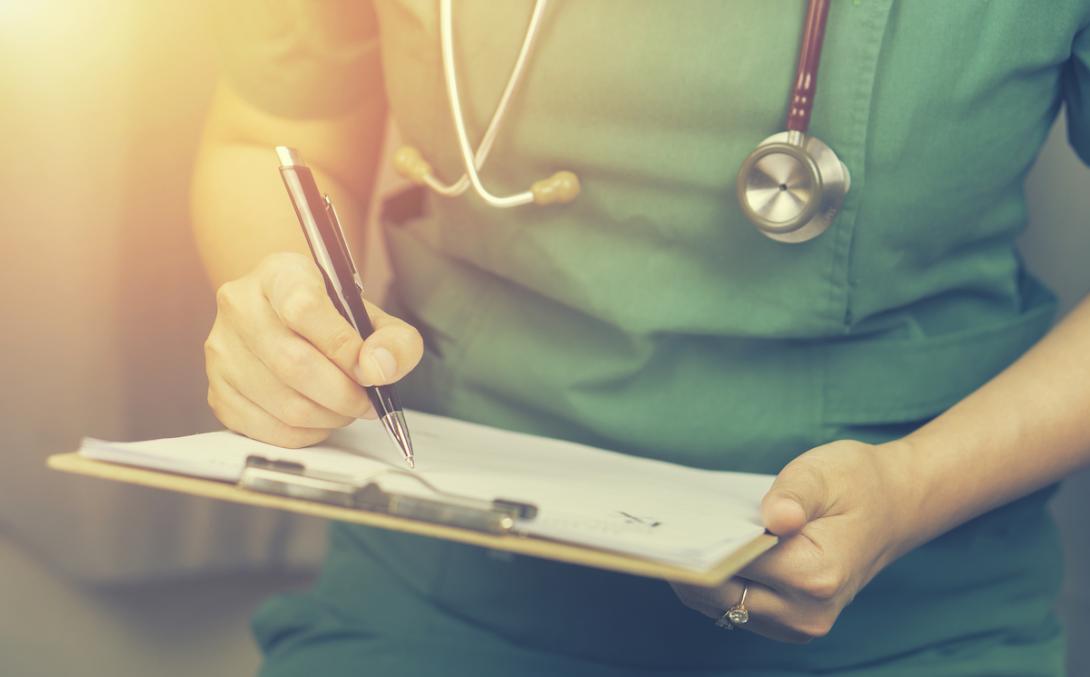 December 9, 2021
Registered nurse Matt Calzia hears stories from the frontlines of nurses in Oregon hospitals every day. 
Oregon nurses used to feel that out of every five shifts, they could confidently expect that one of them "is going to be bad," he said. "Now it's every shift." 
Calzia develops staffing plans with nurses elsewhere in the state as a nurse practice consultant with the Oregon Nurses Association. He is also a part-time nurse at Sacred Heart Medical Center in Lane County.
The nurses association has been raising the alarm as hospitals face vacancies, staffing shortages and increasingly rely on out-of-state traveling nurses to meet workforce needs.
To address the problem, Rep. Rachel Prusak, D-Tualatin/West Linn and chair of the House Interim Committee on Health Care, has been working on a bill that she will introduce in the short 2022 session, which starts in February. The bill is intended to help people prepare to be nurses and bring down barriers that prevent the workforce from growing. 
The legislation also recognizes that nurses need more support and resources to combat the burnout and stress that is compounding the problem. 
As nurses are overworked, they look for ways to pare back their hours and shifts, or leave the profession. They also face the struggle of a "moral injury" — knowing the consequences of what will happen and lacking the resources, Calzia said. For example, he said, a nurse in one Portland-area hospital told him about how a patient fell during a shift when the unit was short two nurses. 
"Nearly every shift, there's something," he said. 
Nurses who stay in the profession may look to transfer to work in environments like post-anesthesia units, where the nurse-to-patient ratios are stricter than traditional bedside care units.
In Oregon, since the delta surge of COVID-19 kicked in earlier this year, the state contracted with medical staffing companies to bring in traveling nurses and other health care professionals to help hospitals and long-term care facilities. More than 1,000 health care staffers, many of them nurses, will remain in Oregon at least until mid-January.
But the nursing workforce shortage will not end when the COVID-19 pandemic subsides. The workforce already faced pressures from increased retirements and more demand for health care services as the baby boomer generation ages and overall population increases.
For example, the Oregon Employment Department projected in 2018 the state needed about 2,600 new nurses each year for the next decade to replace nurses leaving the profession and fill new positions, according to a report by the Oregon Center for Nursing. Even so, just 1,555 newly graduated registered nurses entered the workforce in 2019, the report said.
In an interview, Prusak outlined several concepts intended to keep nurses in Oregon — and draw more people into the workforce. 
Prusak, a family nurse practitioner herself, said she held a series of meetings with stakeholders, including nurses, the hospital and long-term care industry and nursing faculty. Some of the key challenges for the workforce include burnout and wellness and education and faculty resources to train nurses. During the pandemic especially, health care workers, including nurses, have suffered from exhaustion and burnout. The Oregon Nurses Association, in its survey of Oregon Health & Science University nurses, found 86% of them reported fatigue, burnout and moral distress.
Currently, physicians, physician assistants, advanced practice providers and dentists can receive free counseling through the Oregon Wellness Program, a nonprofit program aimed at helping health care professionals. They can receive counseling and behavioral health visits to address issues like work-related stress or other needs. That program is funded through different ways and sources, such as health systems, the Oregon Medical Board and private donations. At this point, the wellness program isn't available for nurses, though the Oregon Board of Nursing is planning to vote on funding for the program in January. But a long-term funding source is needed.
Prusak said she plans to put in a request for state money to go to the Oregon State Board of Nursing to support the wellness program so nurses can participate. The dollar amount of state funding isn't yet determined, but it would only be a fraction of the overall cost. 
Wellness Program To Expand 
The Oregon Wellness Program provides the free counseling services to health care professionals through telehealth or in-person visits within three days of when they are requested.
The program has 18 therapists who are available to counsel health care professionals. The therapists don't work full-time for the wellness program; they have their own practices. 
The move to include nurses would represent a major expansion for the program. It currently is available to about 25,000 licensed health care professionals. With about 70,000 licensed nurses, it increases by nearly fourfold the number of licensed health care professionals who qualify for the service, which is what Diane Solomon, a member of the Oregon Wellness Program's executive committee and a psychiatric mental health nurse practitioner, said the program will gradually do.
The plan is to begin with a "soft startup" that's not widely advertised and gradually build up more capacity as the program recruits qualified therapists who provide the counseling services, Solomon said. 
Solomon said the wellness program can aid the workforce and keep it from losing people.
"Recruitment is getting new people in, but we need to retain the people we have," Solomon said. "Our system has invested time and countless dollars in them and giving them access to mental health services actually is a huge part in retaining the workforce that we have."
The program fills a need because it provides an avenue for health care professionals to seek help when they might otherwise be reluctant to do so, said Dr. Donald Girard, emeritus professor of medicine at Oregon Health & Science University's School of Medicine and chair of the executive committee of the Oregon Wellness Program. 
Confidentiality is one key part to the program's success, and none of the counseling outcomes are shared with any groups, such as medical credentialing boards, Girard said.
Licensing Changes 
Prusak also wants to see the state create a nursing license for nursing students that allows them to get firsthand experience and alleviate some of the administrative burden on nurses. The goal would be for them to get credit through that work, which could serve as an internship. Washington and Idaho have a similar license program in place for nursing students.
"They'll gain some experience and have a job supporting the nurses at the bedside," Prusak said.
That would allow them to gain more experience than current clinical requirements in nursing programs.
Other ideas on the table include changing the state's strict emergency licensure requirements, which limit out-of-state nurses to practicing for up to 30 days in critical care units. Prusak wants to change that to a 90-day limit and anywhere a nurse is needed, not just critical care units. Prusak said the 90-day limit would not apply to situations involving a labor dispute. 
With that added flexibility, behavioral health facilities could get more support from nurses. 
But the goal isn't for the health care industry to permanently rely on out-of-state workers.
"The hope is while the nurses are here, they really feel appreciated and supported and love Oregon" and apply for their state license to work permanently in Oregon, Prusak said.
There are other needs that may get help from a separate bill. Currently, nursing faculty earn less than experienced registered nurses, which makes it difficult to retain and recruit instructors.
Long-term solutions
For faculty members, tax credits or incentives that make up for the pay cut they take to teach are possible solutions as well.
"There is a space for the state to help make up that gap," said Kevin Mealy, communications director for the Oregon Nurses Association. 
A nurse educator makes an average of salary of $70,708, while a registered nurse makes an average salary of $81,484, according to a 2014 Oregon Center for Nursing report. 
That gap persists and has grown since then, even though nursing educators often need a master's degree and registered nurses don't, Mealy said.
In the long-term, one issue that Oregon could benefit from would be a nurse corps program, Mealy said. 
That program would provide nursing graduates student loan forgiveness if they spend time working with underserved populations, such as people in rural areas or minority communities.
Meanwhile, the demand for nurses continues, regardless of whether schools can keep up with the need. 
"These were problems before the pandemic; they're still problems, but now we have the pandemic on top of all that," said Jana R. Bitton, executive director of the Oregon Center for Nursing.
You can reach Ben Botkin at [email protected] or via Twitter @BenBotkin1.