Tuality Hospital Isn't Being Sold to Providence
But its CEO and president is concerned about Kaiser Permanente wooing away his employees once its new hospital opens in Hillsboro next year
October 2, 2012 -- Despite signing an exclusive letter of intent to affiliate with Providence Health & Services, Tuality Hospital is not for sale.
Dick Stenson, president and CEO of Tuality Healthcare, made that quite clear when speaking to The Lund Report.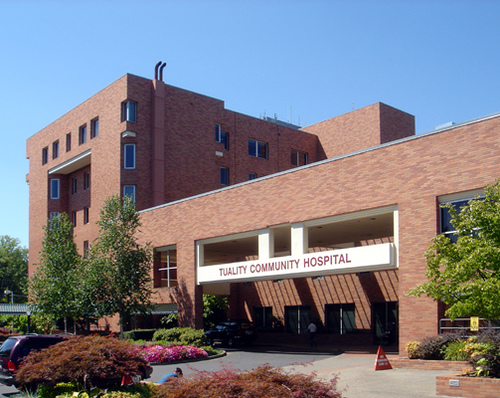 "Selling the hospital is not part of the discussion," he insisted. "This is not a sale, an acquisition, a partnership or a merger but a clinical affiliation. It's one of the avenues for competing healthcare organizations to work together. Nothing more. It probably would have been easier to do an acquisition but that would have been a loss to the community."
What does trouble Stenson, however, is the prospect of Kaiser Permanente capturing some of his top employees once its new hospital opens in Hillsboro.
"I'm more worried about Kaiser taking some of our employees – whether they are nurses or supervisors but realize there's nothing we can do," he said. "We do offer fairly competitive compensation and benefits but a shiny new hospital might be an attraction for some people."
Stenson might be worried for naught. Once Kaiser opens its new 126-bed hospital next August, most of its positions are likely to be filled with Kaiser employees who decide to transfer, according to David Northfield, media relations manager.
Going forward, Tuality intends to remain independent, but have a primary care affiliation with Providence, share medical records, develop a package of maternity care services and use telemedicine to meet the needs of people in remote areas.
"This affiliation is a touchstone for our board; they didn't want folks from Salem or Portland making decisions on what's in the best interests of the community," Stenson said. "And, it's a way for competing health organizations to work together."
Stenson wouldn't disclose if he'd had discussions with other hospital systems such as Legacy Health. "If we had, it would have been confidential, and I wouldn't be at liberty to discuss it."
And, its decision to affiliate with Providence didn't come about because of Tuality's finances, Stenson insisted. "We remain in the black but as an independent hospital it's been more challenging. Now we can spread our overhead over a larger organization and focus on population health."
Remaining independent means more than just money to Tuality, according to Len Bergstein, its consultant. "It's not a question of price but the commitment to Hillsboro and western Washington County by the hospital. Right now the community gets top quality, affordable care, and that's always been foremost every time the board discusses business decisions."
Someone would have to come in, Bergstein said, with a tremendous offer that would translate into the kind of care the community would get before Tuality's board of directors would even consider selling the hospital.
"We're not at the whim of a far off owner to dictate the way care is delivered," he said.
From Providence's perspective, Tuality will remain an independent health system. "Our goal is to work together to improve access to high quality healthcare for Washington County residents," according to Gary Walker, spokesman. "We believe the affiliation will help provide more integrated preventive and ongoing health care. Integration of care services will support best practices, decrease clinical variation, improve community health and save costs. As part of our commitment to the community, both Tuality and Providence will meet with leaders and partners to discuss needs and to ensure we are providing services to support our communities."
Image for this story by Tim Gee (CC BY-NC 2.0) via Flickr.