Image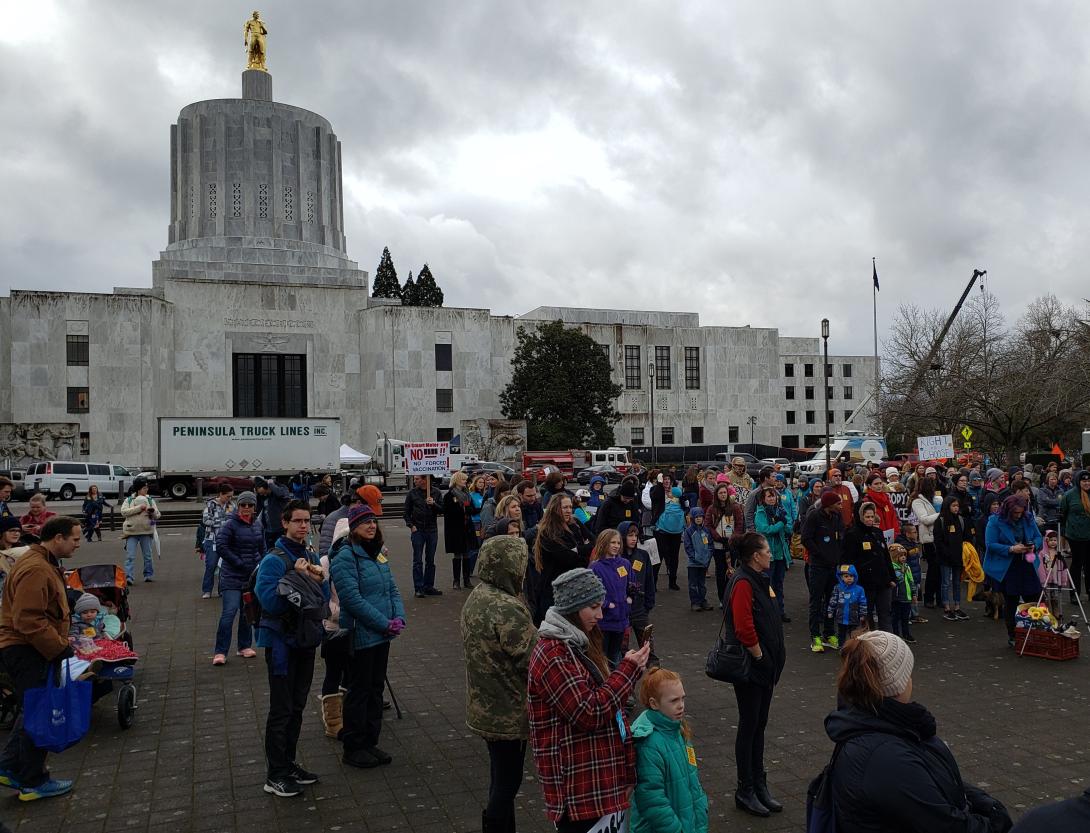 March 7, 2019
Hundreds of people gathered outside the Capitol on Thursday to protest a controversial bill that would eliminate non-medical exemptions for childhood vaccinations.
Men and women showed up with children of all ages in tow, including young children in strollers and babies in body carriers. A few held signs --  "NO FORCED VACCINATIONS" read one, "Right to Choose" said another -- and they bought T-shirts that read "VACCINE INJURY IS REAL." Braving icy winds and scattered showers, they listened to speakers who oppose House Bill 3063. The bill, which was discussed by the House health care committee a week ago, would make Oregon the fourth state nationwide to ban non-medical exemptions.
Lawmakers are being reactive to a few measles cases in Oregon, Sarah Bacon, executive director of the group Oregonians for Medical Freedom, told the crowd. Her group organized the rally, dubbed Vaccine Injury Awareness Lobby Day. She said those cases are nothing out of the ordinary.
An outbreak in Clark County has surged to 70 cases, with nearly 90 percent among unvaccinated children. An additional four cases in Multnomah County are linked to the outbreak.
"There is no measles emergency here in Oregon," Bacon said. "Let's kill this bill."
She claimed that data showing that vaccines are safe are falsified. That view was echoed by Dr. Paul Thomas, a Portland pediatrician who supports delaying or foregoing some vaccines to let a child's immune system develop. Author of "The Vaccine-Friendly Plan," he stood next to a poster showing autism rates. The first to suggest that vaccines might cause autism was Andrew Wakefield, a British doctor, who published his findings in 1998. He was later banned from practicing medicine and the study has been widely debunked in Britain and the United States.
Thomas said Wakefield was a brave doctor who was unjustly punished. He called the study legitimate.
If the bill passes, Thomas said parents won't be able to follow his vaccine schedule and that he'll be unable to do his job.
"We could save 900 cases of autism every year in Oregon," Thomas said.
Vaccine skeptics often vaccines for a rise in autism. But that, too, has been debunked by numerous studies. Among the latest, a study was published last week in the Annals of Internal Medicine involving 700,000 Danish children. It found no link between autism and the measles, mumps and rubella vaccine.
That message was repeated this week in Congress during a discussion of vaccine safety in the U.S. Senate. A panel of five health experts testifying before the health care committee said there's no connection between vaccines and autism.
The Oregon bill was written by a former scientist -- Rep. Mitch Greenlick, D-Portland, former professor and chair of public health and preventive medicine in the school of medicine at Oregon Health & Science University.  A bipartisan group of two senators and 10 other representatives have joined him.
At the bill's hearing last week, two Republicans, Sens. Dennis Linthicum and Kim Thatcher, and one Democrat, Sen. Jeff Golden, testified against the bill, arguing that parents deserve the right to make medical choices for their children. Another Republican, Rep. Bill Post of Keizer, turned up at rally.
After rallying, protesters scheduled one-on-one meetings with bill sponsors and health care committee members to share their personal anecdotes, hoping to persuade representatives to oppose the bill. There were so many opponents last week when the bill had its public hearing that officials had to put people in an overflow room.
So far, the House health care committee has received around 2,000 pieces of written testimony on House Bill 3063, lawmakers said Thursday. The committee has not yet scheduled the proposal for a vote.
Vaccines are a hot button issue not just in Oregon but also across the country. Most states allow religious or philosophical exemptions to vaccines. Only California, West Virginia and Mississippi do not allow non-medical exemptions.
Washington state is also considering banning non-medical exemptions. On Tuesday, the state's House of Representatives passed a bill to remove non-medical exemptions for the measles, mumps and rubella vaccine. The state Senate is considering a bill that would remove philosophical and religious exemptions for all childhood vaccines.
Nationwide, the head of the Food and Drug Administration leader has warned that if states don't tighten vaccine requirements that the federal government might step in.
It's unclear what will happen to the bill in Oregon, which has drawn national attention. A chiropractor from Olympia, Washington, Adam Trachsel, turned up in Salem for the rally. He said he suffered an injury from the anthrax vaccine while serving in the military and left California after they removed non-medical exemptions in 2015. He said he would leave the West Coast entirely if Washington state and Oregon pass laws removing religious and philosophical exemptions for children.
"Is this not medical fascism?" Trachsel said. "This is the greatest atrocity that has ever happened to mankind."
Trachsel, who calls himself a "radical," accused the pharmaceutical industry of financing fake studies to support vaccines. He vowed to fight any government attempts to forcibly vaccinate his children.
"I hope all of you are armed," he said.
Have a tip about health care of the Legislature? You can reach Alex Visser at [email protected].