VA Facilities In Oregon Will Mandate COVID-19 Vaccines
The U.S. Department of Veterans Affairs plans to make COVID-19 vaccines mandatory for all health care personnel who work in its facilities — including physicians, dentists, podiatrists, optometrists, registered nurses, physician assistants, dental auxiliaries and chiropractors.
It will be one of the only health care facilities in Oregon to do so. By state law, health care companies cannot mandate staff to get vaccinated. Oregon Health & Science University has announced it will mandate COVID-19 vaccines by Sept. 1, and while it has to abide by state law, it's also an educational institution and a research center. And it will allow exemptions under state law.
But the VA falls under federal jurisdiction. 
The decision will also apply to visiting providers, for example from Oregon Health & Science University in Southwest Portland. Some providers work in both facilities which are right next to each other on Marquam Hill.
The VA said that it opted for a mandate following the death of four employees to COVID-19. None was vaccinated, and three contracted the highly transmissible delta variant which is driving a new spike in infections. The VA also recently had an outbreak at a training center among unvaccinated staff.
The department said its decision has the backing of numerous medical organizations, including American Hospital Association, America's Essential Hospitals and a Multisociety group of the leading Infectious Disease Societies. The American Medical Association, American Nurses Association, American College of Physicians, American Academy of Pediatrics, Association of American Medical Colleges, and National Association for Home Care and Hospice have also endorsed mandating COVID-19 vaccination for health care workers.
So has the Oregon Association of Hospitals and Health Systems. Earlier this month, the association's president and CEO, Becky Hultberg, released an unusually strongly worded statement calling on the Oregon Health Authority to end the ban on mandatory vaccines for health care workers.  
"As the number of hospitals and health systems requiring COVID-19 vaccination for employees continues to grow across the U.S., here in Oregon, we can't even have the conversation," Hultberg said. "Ensuring health care workers are vaccinated protects vulnerable patients, visitors and coworkers. It is unconscionable to leave tools on the table during a global pandemic. It's well past time for state leaders to address this misguided policy." 
Dozens of health systems and hospital associations have backed vaccine mandates. So have Italy, France and Greece. The hospital association said the Oregon Health Authority could write a rule to initiate that mandate in the state. 
But health authority director, Patrick Allen, said last week that the agency did not have the authority to single out health care organizations, even though the law only applies to them. He also said the authority would be reluctant to do anything that might further aggravate the shortage of health care workers.
Daniel Herrigstad, the VA spokesman in Portland, said 80% of the department's nearly 4,500 employees in the metro area are vaccinated. A spokeswoman representing the VA in the Northwest did not immediately respond to a request for comment about employees elsewhere.
But in non-VA health care facilities in Oregon, vaccination rates vary widely among staff. Dentists have the highest rate at 94%, and chiropractic assistants are the least vaccinated — at 45%.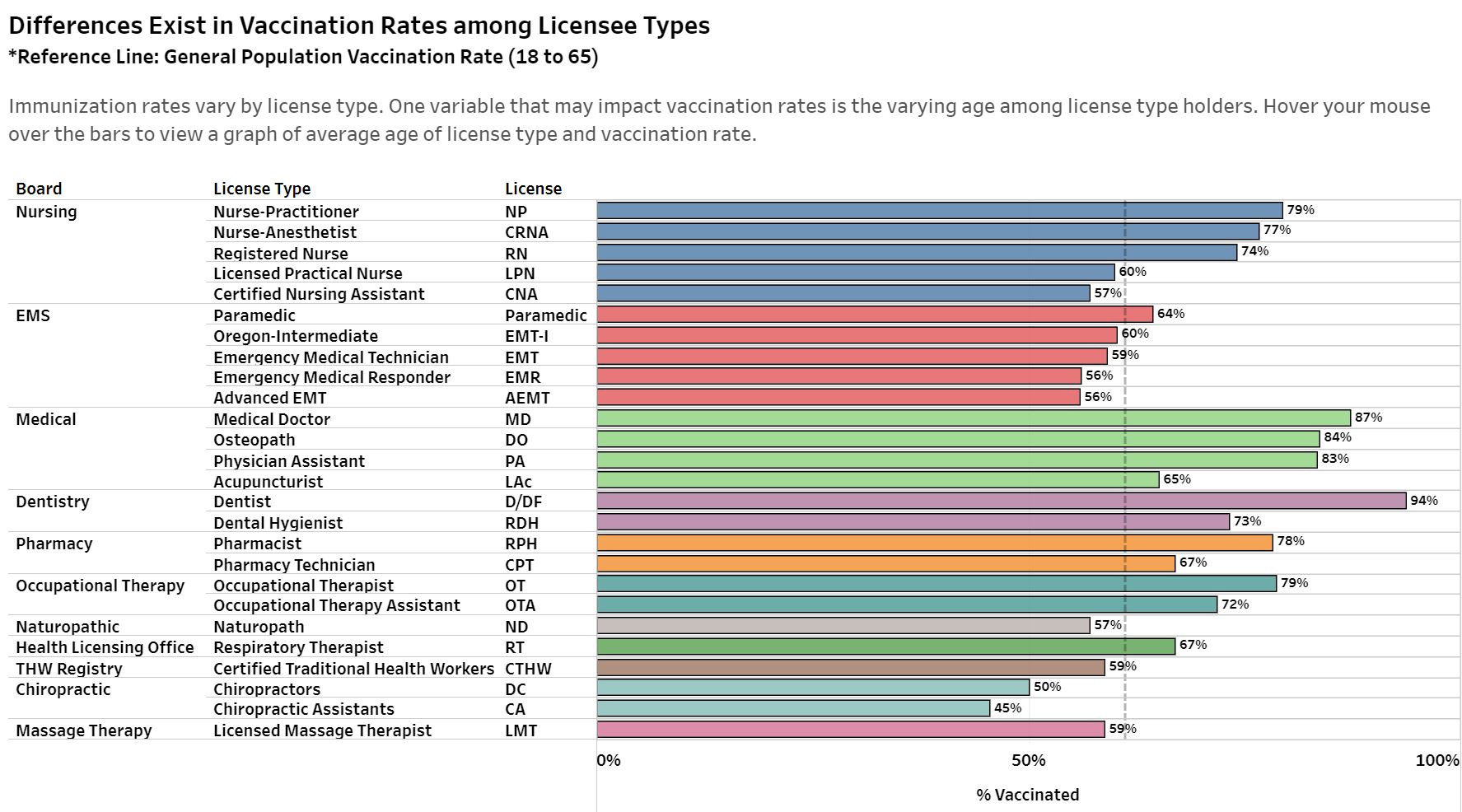 The department's announcement said that employees will have eight weeks to become fully vaccinated. That will give staff enough time to get any of the three vaccines. Both Moderna and Pfizer require two shots. The Pfizer doses are given three weeks apart, while Moderna recommends that its second shot be given 28 days after the first. Johnson & Johnson only requires one dose. People are considered to be fully vaccinated two weeks after receiving one Johnson & Johnson shot or the two doses for the other vaccines.The VA is offering a carrot with its stick: Employees will receive four hours of paid administrative leave after showing they have received the vaccine, which is free.
You can reach Lynne Terry at [email protected] or on Twitter @LynnePDX.
Correction: This story has been corrected to remove a reference to a statement that all staff would need to be vaccinated. Only providers will be affected.