Delta Variant Drives Infections In Oregon
Since COVID-19 swept into Oregon, the state has been hit with two spikes: in early 2020 and again this past spring. But the pandemic is not done yet: Officials fear a new spike caused by the delta variant is in the making.
First identified in India in December 2020, the variant has marched around the world. In the United States, it now accounts for more than 80% of new cases, according to the federal Centers for Disease Control and Prevention. That compares with 50% the week of July 3.
A similar trend is unfolding in Oregon. The variant was first identified in the state the week of March 28 when only one sample was identified. A few popped up in the weeks that followed, but a new trend emerged the week of June 13 when eight delta cases were identified. Labs found 13 the following week, 27 the week after that and 22 the week of July 4. 
Only a small fraction of all cases are analyzed for variants, and delta now accounts for 50%, according to data provided to GISAID, a global open source database for genomic data.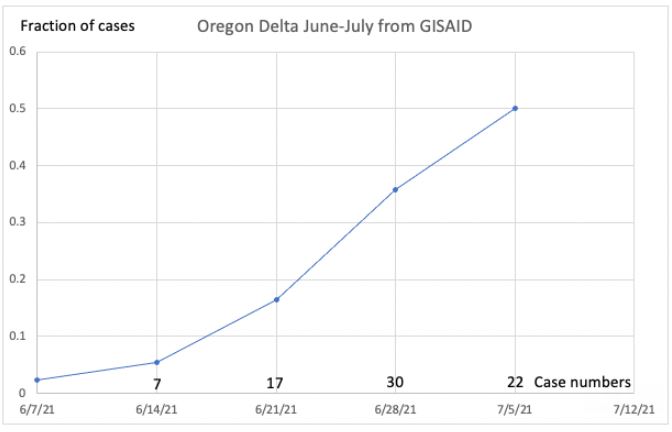 Researchers at Oregon State University are also seeing more delta samples.
"On our last wastewater survey around Oregon (last week of June), 59% of samples showed probable detection of delta," said Brett Tyler, director of OSU's Center for Genome Research and Biocomputing.
Delta's rise is not a surprise. The variant, B.1.617.2, is 40% to 60% more infectious than the original coronavirus strain. The strain has continued to mutate, remaining highly transmissible, scientists say.
The Oregon Health Authority's latest weekly report, which was published Wednesday, shows that nearly 2,030 new cases of COVID-19 emerged last week. That marks a nearly 55% increase over the week before and the highest tally in nearly two months, the report said.
Five rural counties — Crook, Morrow, Josephine, Umatilla and Sherman — have the highest case rates per capita, with at least 119 residents per 100,000 infected. By ZIP code, 97882 in Umatilla has the highest rate, followed by 97761 in Warm Springs and 97818 in Boardman. 
The weekly report shows that testing is up along with the test positivity rate, another indicator of the viral spread. Last week, over 4% of samples tested positive, compared with about 3% the week before.
Deaths and hospitalizations are also on the rise. New COVID-19-related hospitalizations were up nearly 20% last week to 123 compared with the previous seven days, and deaths nearly doubled, from 15 to 29 this past week.
The state noted that case rates have trended higher in counties with lower vaccination rates. About 90% of new cases in Oregon are in unvaccinated people, according to the Oregon Health Authority.
All three vaccines approved for emergency use  in the United States — by Pfizer, Moderna and Johnson & Johnson — have proven to be effective against the original strain. But studies indicate they are somewhat less effective at protecting patients from the delta variant.
Nevertheless, research indicates that the two-dose Pfizer vaccine protects nearly 90% of patients from the delta variant, while about 70% of those who'd had two doses of the Moderna vaccine were protected. There's scant data on the single shot Johnson & Johnson vaccine and the delta variant, but initial research indicates that it, too, is effective after about a month in thwarting severe disease.
"Current data for the eight months studied so far show that the single-shot Johnson & Johnson COVID-19 vaccine generates a strong neutralizing antibody response that does not wane; rather, we observe an improvement over time," Dr. Mathai Mammen, a lead Johnson & Johnson researcher, said in a release on July 1.
Pfizer is currently working on a booster shot to tackle the delta variants, spurred by data from Israel where more than 60% of the population has had at least one dose. Data there showed that the Pfizer-BioNTech vaccine's effectiveness at thwarting infection declines six months.
The companies could start clinical trials on a third shot next month.
You can reach Lynne Terry at [email protected] or on Twitter @LynnePDX.
×
This article is for premium subscribers. If you are one, please sign in below.
You can see
two
more premium stories for free. To subscribe,
click here
. We depend on premium subscriptions to survive, and they are tax deductible.