Te new board will address high prescription drug prices that are unaffordable to many and make up a large portion of state health spending.
Image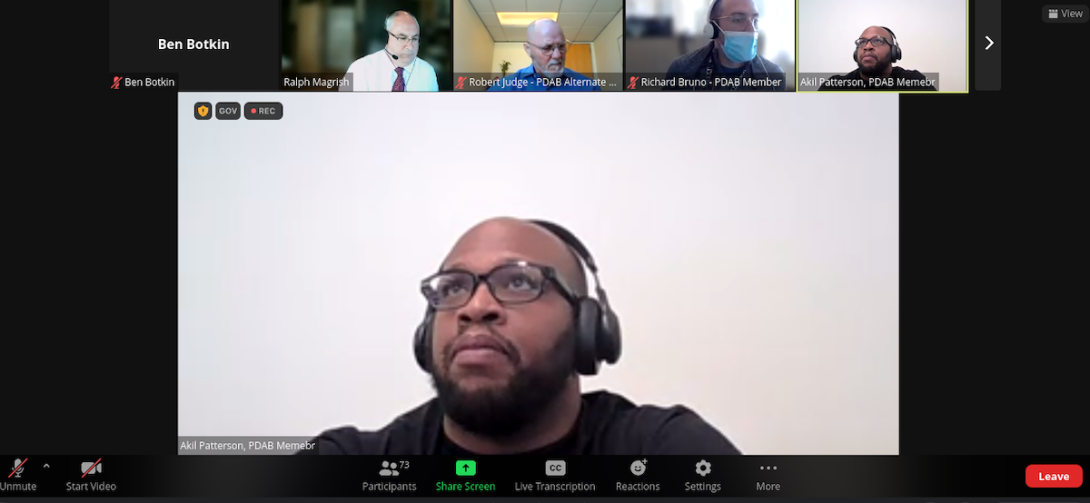 June 23, 2022
A new state board set up to address high prescription drug costs in Oregon met for the first time on Thursday, organizing and planning how best to review prices and rein in their impact on consumers and the health care system.
"Good luck, godspeed," Senate Majority Leader Rob Wagner, D-Lake Oswego, told the board. "No backing out now. You signed up for this. Enjoy the months of deliberation. I look forward to monitoring the work and hearing about the feedback when we're back in session in 2023."
The Legislature created the Oregon Prescription Drug Affordability Board through Senate Bill 844, which passed in the 2021 session. The goal of the legislation is for the board to try to protect residents and entities that provide health care coverage from high prescription drug prices, such as insurers, pharmacies and government agencies.
According to a Gallup poll released in November 2019, more than 58 million Americans reported they couldn't afford a needed prescription drug during the prior 12 months. In Oregon, prescription drugs account for 11% of total health expenditures and more than a billion dollars every two years through programs administered by the Oregon Health Authority.
Under the law, the five-member board will identify and report on nine drugs annually that pose potential affordability challenges. The board will send reports and recommendations to the Legislature.
The board will start out by studying the prescription drug payment and distribution system and how policies can lower the listed price of prescription drugs. From there, the board will also complete drug affordability reviews on specific drug and insulin products that are unaffordable for Oregonians or otherwise burden the health care system.
The board also heard from Sen. Deb Patterson, D-Salem, and Rep. Rachel Prusak, D-Tualatin / West Linn. Both were key sponsors of the legislation. 
"It is complex, as you know, and multi-layered, so thank you for being willing to peel back the layers and shine the light on this issue that affects so many people," Patterson said.
Along the way, Patterson and others speakers were briefly "zoombombed" by an intruder who entered the virtual meeting. The disruption included the airing of a few seconds of a commercial, as well as an outburst of profanity. 
Two years after COVID-19 put government meetings on virtual platforms, Patterson and others took it in stride. 
"And the fact that we're getting zoombombed indicates that people are interested in this issue," Patterson added after the interruption.
It's work that will take time to gear up. As Ralph Magrish, the board's executive director, told lawmakers in a May 20 letter, the board will need more time for its initial reports. Hiring staff for the board took longer than anticipated. which delayed board member appointments, the letter said.
As a result, the legislatively mandated output of the board will be delayed. Magrish said release of an annual report about the affordability of generic drugs will be pushed back six months to Dec. 31, 2022. 
The need to draft criteria for rulemaking means other drug affordability reviews, including price trends and recommendations, won't meet the legislation's annual deadline of Dec. 31 this year.
"PDAB expects to adopt administrative rules specifying criteria for affordability reviews no later than June 1, 2023," the letter said. "Given the reality that we are approximately a year away from having rules in place around affordability reviews, PDAB will not complete its review of nine drugs and at least one insulin product that it determines may create affordability challenges until December 31, 2023."
Thursday's meeting was largely organizational, featuring the adoption of board policies, election of a chairperson and vice chairperson and temporary procedural rules. The board also went into executive session, which is closed to the public, to receive legal advice from the Oregon Department of Justice.
"The inaugural meeting is the result of a tremendous amount of work and dedication that went into establishing the PDAB by many advocates and legislators," Magrish said in a prepared statement. "The meeting will lay the foundation for the important work ahead of us in promoting meaningful change for Oregonians in the months and years to come."
The board members are: 
Shelley Bailey, CEO of Famlee, the nation's only 50-state virtual fertility care and treatment program; 
Dr. Richard Bruno, a family and preventive medicine physician who is senior medical Director at Central City Concern, a federally-qualified health center in Portland; 
Dan Hartung, a professor of pharmacy practice in the College of Pharmacy at Oregon State University; and 
Akil Patterson, who advocated for the creation of a prescription drug affordability board in Oregon with the Oregon Coalition for Affordable Prescriptions and the social equity and educational development coordinator for Portland's cannabis program.
Alternate board members are Robert Judge, director of pharmacy services at Moda; and Dr. Rebecca Spain, a neurologist who specializes in multiple sclerosis and an associate professor in the Department of Neurology at Oregon Health & Science University. 
Board members voted in Patterson as the chair and Bailey as the vice-chair.
The board still has openings for a member and an alternate from rural Oregon. Members are appointed by the governor and need confirmation in the Senate.
Oregon is one of seven states that have set up a board to seek solutions for high drug costs. Washington state lawmakers passed a bill this year that establishes a prescription drug affordability board. The other states with boards are Colorado, Maine, Maryland, New Hampshire and Ohio, according to the National Conference of State Legislatures, a nonpartisan research group.
You can reach Ben Botkin at [email protected] or via Twitter @BenBotkin1.