Two seniors died from heat on the fourth floor of the supported living facility. The son of one filed suit, alleging management knew his mother had dementia but failed to check on her.
Image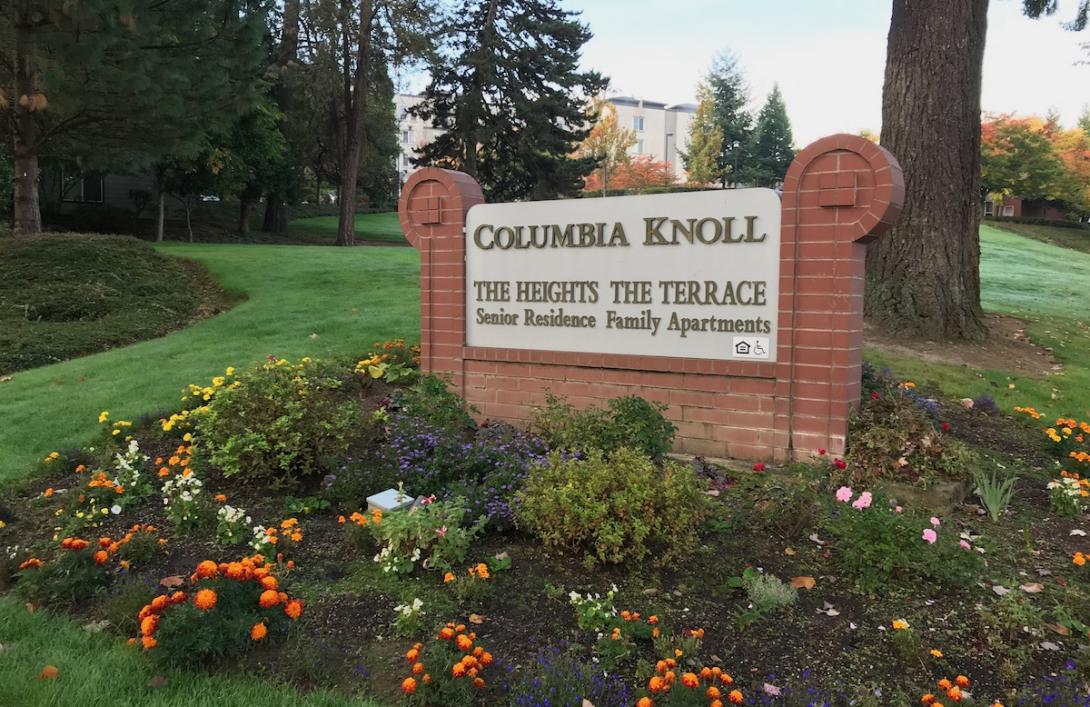 October 19, 2021
An elderly woman with dementia died during June's heatwave in a Portland senior living complex because its management neglected to check on her or take other actions to keep her safe, a recently filed lawsuit alleges.
Charlotte Iverson was found dead in her unairconditioned apartment at The Heights at Columbia Knoll on the evening of June 28 as Portland temperatures reached a record 115 degrees. Police found her kneeling near her bed as if in prayer, according to the complaint filed last week in Multnomah County Circuit Court. 
Oregon saw 116 deaths during the historic heatwave, with many of the deceased being older and lacking air conditioning. Iverson is one of two people who died from the heat on the fourth floor of the apartment complex located at 8320 NE Sandy Blvd. She died in room 434, and Ronald Dunham died nearby in room 433. According to the The Heights' website, the facility offered "supported" living, "where to-do lists and chores are a thing of yesterday."
Police found Iverson dead from hyperthermia inside her apartment, with the windows open and the fan running, according to the lawsuit. The complaint states it was about 90 degrees inside the room — her body was 95 degrees.
Filed on behalf of her son, Royce Iverson, the complaint seeks $13 million in damages. The lawsuit targets the complex, known as The Heights at Columbia Knoll, as well as two related companies: SIR Columbia Knoll Associates Limited Partnership and Independent Living Ventures, both headquartered in Washington. 
The complaint was filed by Kristen McCall, an attorney with Portland law firm Pickett Dummigan McCall LLP.
As of press time, management at The Heights had not responded to a request for comment from The Lund Report.
offers the following account leading up to Iverson's death:
Iverson moved into the fourth floor of the apartment complex in 2018 after needing some help to continue living independently.
"When she moved in, The Heights was very aware that Mrs. Iverson was capable of living independently but needed some assistance making decisions regarding her health and safety," reads the complaint. "Further, The Heights was also aware that Ms. Iverson's dementia was worsening over time, and that she relied heavily on others for her health and safety."
She was generally well-liked and frequently played the piano. Staff helped her with housekeeping and security, as well as offering her assistance to connect with health care, exercise facilities and other services.  
During this time, Royce Iverson "was her only family and the only person watching out for her." He visited monthly from Texas and was friendly with staff and his mother's neighbors.
As Iverson's dementia worsened, the apartment's management required her to secure a caregiver to help with her daily needs. The caregiver came in twice a week starting September 2020.
"The Heights knew that Mrs. Iverson was not living independently, but rather relied on family and an in-home caregiver to meet her needs related to health and safety," reads the complaint.
The apartment's management noticed that meals were piling up in Iverson's refrigerator after staff started delivering food as a COVID-19 protocol. At least twice, housekeeping emptied out her refrigerator of the old food.
Around June 13 of this year, Royce Iverson told management that his mother had been forgetting to go eat dinner in the common cafeteria. A manager told him staff would bring meals to his mother. The manager also told Royce Iverson that his mother's in-home caregiver had quit and a replacement wouldn't arrive until July 6.
In preparation for the historic heatwave, the apartment set up air conditioning in common areas, including the hallways, but the system was in disrepair and needed to be replaced.
"The Heights knew that the majority of the senior living apartments did not have individual air cooling or air conditioning units," reads the complaint. "Apparently, The Heights also knew that if residents kept their windows open, to get ventilation from the outside, that the individual apartments would likely not stay cool, and that the indoor temperatures would likely rise to that of the outdoor temperature."
The apartment's management was aware that seniors were the most vulnerable to the extreme heat. Those living on the top floor, which included Iverson, were particularly at risk. Staff created a one-page memorandum titled "EXTREME HEAT WARNING" that instructed residents to find alternative housing, use air-conditioned common areas and take other precautions.
However, many residents, including Iverson, did not get the memorandum.
As temperatures rose between June 26 and 28, the apartment's air conditioning failed and heat in common areas increased to 98 to 100 degrees. Management knew that residents such as Iverson did not have alternative housing and many were not opening doors to let cooler air in but instead opening windows.
At about 8:30 p.m. on June 28, Portland police responded to a call that a resident had found their neighbor dead on the floor of their apartment. While responding, officers noticed Iverson's untouched dinner tray outside of her doorstep. An officer asked a manager if she had checked on Iverson.
"No. Why? Should I?" was the response.
The complaint alleges the company running the complex was negligent in failing to warn Iverson or her son about the life-threatening heat wave, in addition to not adequately responding to the failing air conditioning system. The company also breached its contract agreeing to keep the building safe, the complaint alleges.
Additionally, it alleges the company's actions amount to elder abuse and a violation of landlord-tenant laws to keep rentals in habitable condition.
You can reach Jake Thomas at [email protected].