Rep. Mitch Greenlick Willing to Consider Legislation Mandating Flu Vaccinations
At an informational session before the Legislature adjourned, Greenlick urged a healthcare work group to draft such legislation for the 2013 session
March 8, 2012 – It's very likely that the 2013 Legislature will consider a bill mandating flu vaccinations for all healthcare workers in Oregon.
Dr. Mel Kohn, director of Oregon's Public Health Division and the state's health officer, shared those comments during an information session before the House Health Care Committee recently.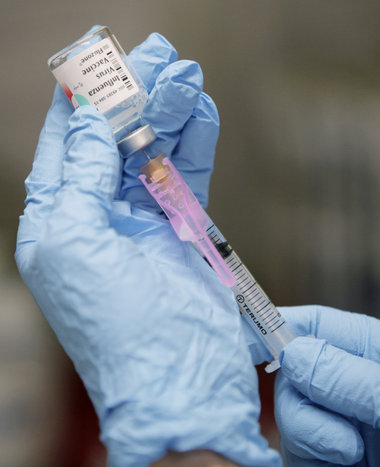 "In my line of work," Kohn said, "we've seen, over the last 100 years or so, a pretty dramatic transition in the health problems that people are facing. It used to be, in the 1900s, that they were communicable diseases and infectious diseases. Now chronic diseases and injuries, by and large, are what are killing people. But, there's one pretty major exception to that change. That is flu. It has continued to be a major killer. It's in the top 10 every year in Oregon, as well as around the country."
Kohn said patients who see a healthcare provider are especially vulnerable to the effects of a flu infection. "Because, obviously, they're already sick," he said. "That's why they're going to see a healthcare provider. And, because the healthcare providers have close contact with patients, they can be a pretty easy source of infection, if they, themselves, are infected."
Kohn said nobody should be afraid they'll get the flu when they see their doctor or are hospitalized.
"Really, as a nation, we haven't done a very good job, in fact it's pretty embarrassing, how poorly we've done in getting health-care workers vaccinated," he continued.
Statistics from the Centers for Disease Control and Prevention, for the last flu season, showed only about 64 percent of healthcare workers had been vaccinated, according to Kohn, who said people who worked at places where vaccinations were required had much higher rates, perhaps 98 percent.
Kohn indicated that a work group organized by former Sen. Bill Morrisette (D-Springfield) has been focused on this issue, and has 25 members including representatives from hospitals, physicians, nurses and health services' groups.
Kohn said the work group hadn't been officially chartered to draft legislation for the 2013 session, but was actively promoting annual flu vaccinations of all Oregon healthcare workers, educating them about the benefits, monitoring vaccine coverage in hospitals and long-term-care facilities and looking into patient safety issues.
In response, Rep. Mitch Greenlick (D-Portland), who co-chairs the House Health Care Committee, urged the work group to draft legislation. "I think we want a bill," he said. "And, we want one that does something."
Rep. Jim Thompson (R-Dallas), the other co-chair, took it a step further. "If I were to hazard a guess, I would say there will be a bill in this committee in 2013."
Rep. Jason Conger (R-Bend) said he'd seen statistics on vaccination rates, but wanted to see numbers on the effectiveness of those vaccinations in reducing influenza.
"Certainly, if you're asking for the ability for a company to mandate that someone stick a needle in their arm to get a vaccination, it had better be driven by a very real, profound public benefit."
Image for this story appears courtesy of The Oregonian.