Providence, SEIU Workers Gear Up For New Bargaining Session
More than two years ago, dozens of workers at Providence Milwaukie Hospital voted to unionize under Service Employees International Union Local 49.
The vote marked something of a coup for both the employees and SEIU Local 49: It was the union's first bargaining unit in Oregon at Providence, the Portland-area's largest hospital system.
"We were so excited to finally be able to sit down with the administration," said Stephanie Shufelt, a registrar in the emergency department who's been working at the hospital for 15 years.
But her enthusiasm has turned into frustration: The two sides have still not agreed to terms even though they've met 20 times.
Their next session is scheduled for this Wednesday.
"We look forward to reaching an agreement," said Gary Walker, chief spokesman for Providence Health & Services. 
So far the two sides have only agreed on the logistics for the meetings -- which are now happening online because of COVID-19 -- and on discounts for over-the-counter items sold by Providence, Shufelt said.
The sticking point is wages.
"We're asking for fair wages," Shufelt told The Lund Report. "We want wages that are based on the years of service and across the board raises. That is something that is in place in every other SEIU contract that's been negotiated."
SEIU bargaining units at Providence hospitals in Washington state and California have contracts. Shufelt said the Milwaukie union members -- who include certified nursing assistants, dietary aides, environmental service workers and phlebotomists -- want similar wages. She said the two sides are also deadlocked over raises. The bargaining team wants set raises every year that are based on years of service. Shufelt said that Providence is insisting on "discretionary raises" that would be determined by administrators.
"That's not a fair way for us to get pay raises," Shufelt said. "We don't know what we would have to do to get a raise."
Providence insists its compensation packages are fair.
"Providence St. Joseph Health has a consistent compensation practice for all its caregivers," Walker said in a statement. The company, headquartered in Renton, Washington, commonly refers to staff as caregivers. "For all positions in our organization, including the CEO and senior executives, compensation is based on a market average range. Our HR compensation team uses third-party salary studies to determine the market pay for a given job."
Frustrated by the lack of progress in the talks, mask-clad Providence employees rallied outside the hospital in late July. That was their second rally since January and came two months after their peers at Providence Portland Medical Center lost their bid to form a bargaining unit when the National Labor Relations Board ruled against them because of one ballot.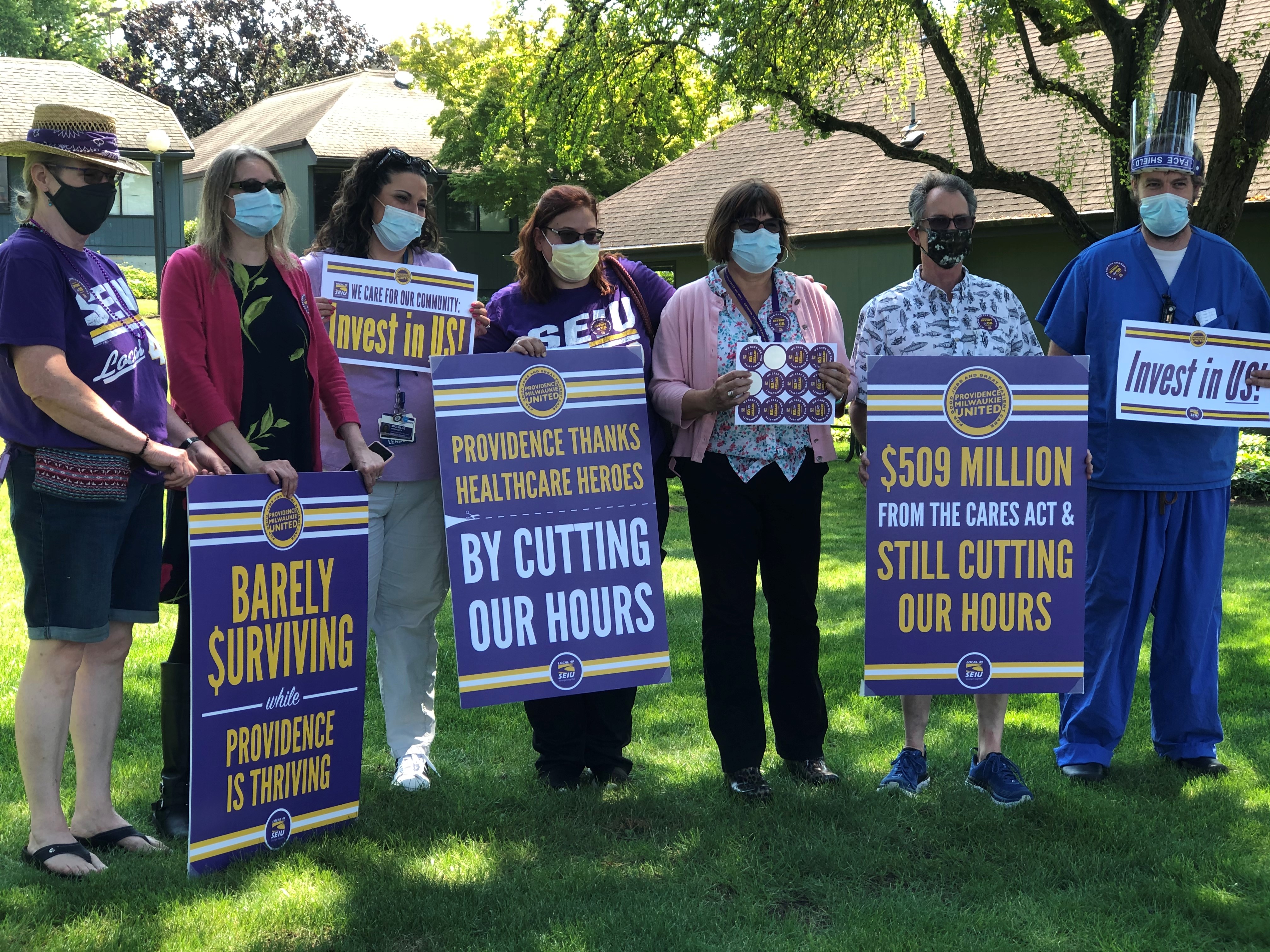 We will continue to negotiate and have community actions," Shufelt said. "We will do this as long as it takes."
Shufelt acknowledged that Providence has been hit -- like other hospitals and clinics in Oregon -- by revenue losses from the suspension of elective surgeries ordered by Gov. Kate Brown on March 18. Though Brown allowed the procedures to resume May 1 with certain restrictions, many patients are still staying away, fearful of becoming infected with COVID-19. 
Walker said Providence has seen revenues plummet 40% since the start of the pandemic. Though volumes remain down in the emergency room, Shufelt said Providence is rich enough to restore hours to people like her who make less than they did in the past.
Providence Health System has $12 billion in reserves and got a $509 million cash infusion from the federal government through CARES Act funding, one of the richest U.S. hospital systems to benefit, according to a report by the New York Times in May.
"It's very confusing that that money didn't translate into us keeping our hours," she said.
Walker responded that the CARES funding will not cover all of Providence's losses.
"While Providence has received federal funding from the CARES Act, it will cover less than one quarter of the anticipated losses due to COVID-19," he said in his statement. 
And on revenues he added: "Providence operates on very narrow margins of 0 to 1%  so we can't count on operating income for viability. Unrestricted cash, which includes assets that are not easily liquidated, is our financial foundation. If we had to sustain our operations on this, it would only last six months."
With the two sides still far apart, it's unclear whether they will reach an agreement on Wednesday. They have two other sessions scheduled after that on Aug. 27 and Sept. 10.
A spokesperson for the union, Tara Noftsier, said there's no average time for the length of negotiations.
"First contracts can range from settling in six months or four years," Noftsier said.
You can reach Lynne Terry at [email protected] or on Twitter @LynnePDX.
×
This article is for premium subscribers. If you are one, please sign in below.
You can see
two
more premium stories for free. To subscribe,
click here
. We depend on premium subscriptions to survive, and they are tax deductible.