Labor Board Rules Against SEIU In Providence Vote
More than a year ago, union backers at Providence Portland Medical Center celebrated a razor-thin vote to join the Portland-based Service Employees International Union, SEIU Local 49.
On Wednesday, Providence announced that the vote had been overturned by the National Labor Relations Board.
The decision hinged on one ballot.
The count from more than 750 workers at Providence Portland gave SEIU Local 49 a one-vote lead, which is all it needed for approval of a bargaining unit. But Providence managers challenged that ruling. The regional labor relations board, located in Seattle, ruled that the contested ballot was valid. Providence took its case to the board's headquarters in Washington D.C. which ruled in favor of Providence, saying the ballot was not valid.
That meant that the final vote was 383 for unionization and 383 against, according to an internal note to staff on Wednesday from Krista Farnham, chief executive of Providence Portland Medical Center. 
"Since the union did not receive a majority of the votes cast, it is not the certified representative of the proposed bargaining unit," Farnham wrote. "I want to recognize that this decision is disappointing to some of our caregivers and would ask that we all join together in the spirit of the Sisters in our ministry of service."
A statement from SEIU Local 49 blasted the decision, accusing Providence of "intimidation" tactics against workers who wanted to unionize and the labor board of being anti-union.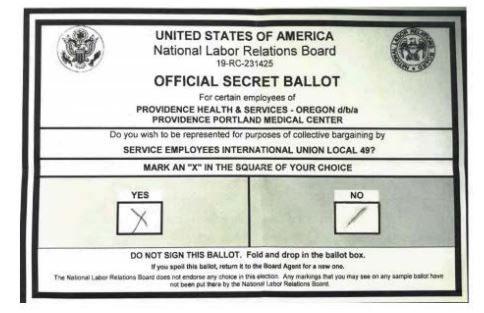 "After a regional administrative law judge certified the vote a year ago, Providence Health & Services filed with the Trump board looking for a more favorable decision," SEIU said. "Even during a public health crisis that is affecting the health and safety of frontline hospital workers, billion dollar companies like Providence and the Trump administration will not stop their attacks on working families."
The statement said the board "went out of the way to write a new rule and overturn reasonable precedent that ballots if they have any additional markings in the voting box regardless of clear intent will now be thrown out, rejecting decades-long precedent of honoring voter intent if there are signs of obliteration or erasure."
"The decision really shows the lengths this board will go to disempower workers; I can't imagine them invalidating the same ballot if doing so resulted in certification," Jakob Metzger the unions attorney, said in a statement. 
The contested ballot shows an "x" in the "yes" box and a line in the "no" box.
Staff who voted in the election included workers in dietary/nutrition services, environmental services, as well as registrars, schedulers, technicians and certified nursing assistants.
Providence Health & Services has a substantial footprint in Oregon with eight hospitals in the state, including four in the Portland area, and 100 clinics and other facilities. Making a foray into Providence Portland would have marked a huge achievement for SEIU. So far it has only made inroads at Providence Milwaukie Hospital, where about 150 workers voted to form an SEIU bargaining unit in June 2018. The two sides have yet to sign a contract, Providence said
News of the board's decision emerged on the same day that SEIU Local 49 released a scorecard in which their members rated Legacy Health, Providence and Kaiser Permanente on their management during the COVID-19 crisis.
The evaluation ranked the three health care systems on hazard pay; child care assistance; a moratorium on layoffs, hour cuts and furloughs; paid lead for COVID-19-related absences; and offering 100% coverage of COVID-19 testing and treatment for employees and their families. 
All three systems offer the last category and none of them offer differential pay for an increased workplace risk. Both Kaiser Permanente and Providence have offered child care assistance, and Legacy and Kaiser Permanente have pledged not to lay off or furlough workers or cut their hours. Only Kaiser Permanente has offered paid COVID-19 leave, the rating shows.
The evaluation gave Kaiser Permanente a B rating for meeting four conditions and gave Legacy and Providence D-pluses for meeting two each.
Providence did not respond to a request for comment about the scorecard.
On Tuesday, the health care system released details of cost-cutting measures in response to the coronavirus crisis. They include furloughs, executive pay cuts and shorter hours.
You can reach Lynne Terry at [email protected] or on Twitter @LynnePDX.
×
This article is for premium subscribers. If you are one, please sign in below.
You can see
two
more premium stories for free. To subscribe,
click here
. We depend on premium subscriptions to survive, and they are tax deductible.