Portland Mayoral and City Commissioner Candidates Emphasize Livability
Toxic air, sick leave reform and childcare took center stage at a local candidate's forum in Portland recently
March 19, 2012 -- Family Forward Oregon and the Mother PAC brought mayoral and city council candidates together recently to discuss family-related issues in Oregon's largest city. Six candidates participated in the weekend event, held at Harriet Tubman Leadership Academy for Young Women, a public middle school in Portland.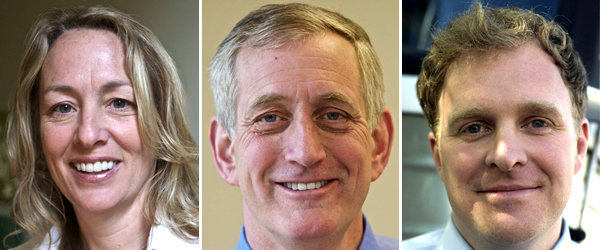 Vying for attention were mayoral candidates Eileen Brady — a businesswoman who helped found the New Seasons grocery store chain — former city commissioner Charlie Hales — and Rep. Jefferson Smith (D-Portland).
The city council candidates included Council Member Amanda Fritz and Rep. Mary Nolan (D-Portland), vying for the seat currently held by Fritz. The other, Steve Novick, is running for the seat currently held by Randy Leonard, who's retiring. Novick's opponents didn't participate in the forum (organizers of the forum set a fundraising threshold which neither his opponents nor the 30 other people vying to be Portland's next mayor reached).
Both sets of candidates were asked similar questions. Among them: whether the candidates would support rules to require Portland employers to offer paid time off for sick days. According to the event organizers, 40 percent of the city's workforce lacks such benefits. Many of those unable to take time off to recover from an illness are concentrated in public-facing industries like restaurants, retail, child care and home healthcare, meaning employees showing up ill to work could pose a public health risk, the organization said in a prepared question.
All the candidates supported some form of such a policy. Fritz said a sick day law should allow for so-called "first day sick leave" so employees don't wait many days into an illness to call in sick. Nolan said paid time off should include leave while caring for sick family members. Such a policy, she added, should include caring both for children and aging parents.
"Family needs to go across all generations," Nolan said.
Mayoral candidates were asked the same question.
"It's sad that we're behind Seattle and San Francisco on something," Hales said of other West Coast cities that have enacted sick time accrual rules. "This shouldn't be."
Smith said he hopes such rules happen even before whoever is elected takes office. He also said the city should only take on such a policy if Multnomah County fails to do so itself.
"If we want to have more public health, which makes a much better impact on community health than health care reform, we should do this," Smith said.
Brady said this should be a statewide and national issue, and that she knows first hand why a healthy workforce matters.
"As a grocer, I can tell you the last thing we want is for someone to come to work sick," Brady said.
Air pollution also received significant attention at the forum. Candidates were asked how they'd address a significant increase in emissions — the organizers' prepared question said legal emissions from non-vehicle sources increased 10 percent from 2009 to 2010 — without spooking businesses.
Novick cited his history as a lawyer enforcing environmental laws for the federal government. He said he was more proud of work on a case that forced General Dynamics to reduce air pollution in Texas than he was of his contribution to litigation related to the well-known Love Canal contamination case in New York State.
"Public pressure can change behavior," Novick said.
Novak used the pollution discussion to float an idea he acknowledged as "half-baked" to address cleanup of the heavily contaminated Portland Harbor. He said he wondered if discussions could be launched between companies on the harbor and the EPA about establishing a fund they could pay into that would be used for cleanup of the harbor. Such a fund, he said, might be significantly smaller than the cleanup currently required of Harbor tenants as a federally-designated Superfund site.
"A lot of our major corporations are very concerned about the Portland Harbor Superfund site," Novak said.
Smith, who didn't realize at first that the pollution increase used to frame the question didn't include vehicle-based emissions, focused his response on managing transportation. Portlanders, he said, should be able to get to jobs and other places without relying as much on driving.
"The dirty secret of Portland is that our air is dirty," Smith said. "That won't help us in our efforts to sell food products or pitch ourselves for TV shows like 'Portlandia.'"
Brady expressed praise for Mary Peveto for her leadership on a good neighbor agreement hammered out between Northwest Portland residents and ESCO regarding emissions from the company's nearby steel foundry. As reported by The Lund Report in December, that agreement was hailed as a groundbreaking method for resolving environmental health concerns.
"The city needs to now step up and negotiate more of these good neighbor agreements," Brady said.
Hales said the city shouldn't wait for state or federal regulators to address pollution concerns, but should craft its own approach. He also touched on transportation-related emissions, even though it wasn't the focus of the question.
"There are all kinds of reasons to keep doing what we have been doing in Portland to give people transportation choices that get them out of their cars," Hales said.
Image for this story appears courtesy of The Oregonian.