Pharmaceutical Companies Profits Reach 30 Percent, Author Says
Cheaper drugs could be prohibited for VA and Medicaid formularies if pharmaceutical corporations succeed in extending patents through evergreening.
OPINION – May 3, 2013 -- Like sharks, the largest pharmaceutical companies smell blood. They swim in murky international waters, competing for prey. The sick are easy prey—whether rich or poor, insured or not.
Blood, the Journal of the American Society of Hematology, recently published an editorial that asserts "unsustainable drug prices in CML and cancer may be causing harm to patients." OHSU's Dr. Brian Druker and over 100 prominent experts in chronic myeloid leukemia (CML) were co-signatories.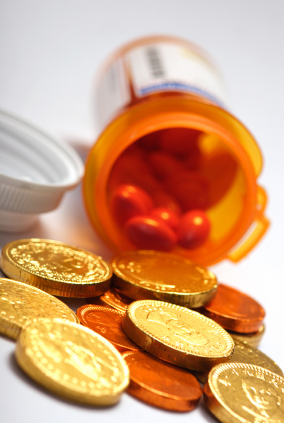 Dr. Druker's tenacious research led to the development of Gleevec, a drug that revolutionized the treatment of CML. This paved the way for other new chemotherapeutic agents that target cancer by interfering with specific molecules involved in tumor growth and progression. With fewer side effects, these drugs have turned many lethal cancers into chronic diseases.
A recent Indian Supreme Court decision prohibited pharmaceutical companies from extending patents through "evergreening." Evergreening delays availability of more affordable generic drugs through minor changes to the existing drug. Dr. Druker and Doctors Without Borders, a medical humanitarian organization in nearly 70 countries, supported this decision.
Evergreening is a strategy with a great return on investment. That's because pharmaceutical companies spend $19 for promotion and marketing to every $1 spent on basic research.
The ten largest drug companies (six American and 4 European) control one-third of a $300 billion per year market. With profit margins of 30 percent, several of these companies exceed $10 billion in sales in America. These windfalls result from drug prices that are 35 to 55 percent more here than in other industrialized countries. White House opposition to reimportation of drugs at lower prices was the price extracted by the Pharmaceutical Research and Manufacturers of America (PhRMA) to support Obamacare.
That's why we need to pay attention to secret trade agreements. The U.S. Trade Representative is spearheading Trans-Pacific Partnership (TPP) negotiations with ten other Pacific Rim countries. While approximately 600 corporations are official advisors, consumer groups and journalists are barred access to the negotiations. More ominously, Congress is left out. In June last year, Senators Ron Wyden, Jeff Merkley, Sherrod Brown and Robert Menendez sent a letter to then-Ambassador Kirk demanding more transparency.
Leaked drafts of the TPP indicate pharmaceutical corporations want evergreening (and other rules favorable to the industry) included as intellectual property rights, which will expand those imposed in 1995 through the World Trade Organization. Should the TPP be fast-tracked without any Congressional scrutiny, Congressman DeFazio speculates cheaper drugs currently available on VA and Medicaid formularies will be prohibited. Doctors Without Borders claims TPP provisions would "further tip the balance towards commercial interests and away from public health.
If there is any question as to whom the US Trade Representative favors, they just released a report raising concerns about the "innovative climate" in India. "In the pharmaceutical sector, some innovators are facing serious challenges in securing and enforcing patents in India."
We can learn more at the People's Assembly on the Trans-Pacific Partnership May 11th in Portland. The public and Congress must weigh in on the TPP. All provisions that harm access to medicines must be withdrawn. Trade secrets should not trade off access to healthcare. Profits should not bloody international trade.
Dr. Kris Alman retired from healthcare to become a citizen activist for a healthier democracy. She advocates for fair taxation to invest in our common goods--prioritizing education, renewable energy, campaign finance and healthcare policies and laws. She is also the Green Shadow Cabinet Assistant Secretary of Health for Data Privacy. She can be reached at [email protected].