Pfizer, Eli Lilly and Genentech Pour Money into State Elections
Pharmaceutical companies spent $491,000 to influence elections and legislation in the Oregon capitol, as the Legislature tailored certain bills to fit their interests.
September 4, 2013 -- Nineteen drug companies have spent a combined half a million dollars since 2011 trying to influence elections and legislation, led by Pfizer, Eli Lilly and Genentech.
Pfizer, known for Viagra, Zoloft and Xanax, is the world's largest drug company by revenue, and Eli Lilly is the world's largest manufacturer of psychiatric medications, such as Prozac.
This year the Oregon Legislature continued a practice of carving out psychiatric drugs from Oregon Health Plan requirements that patients first seek generics. The Legislature actually expanded the exemption list to include brand-name drugs to fight AIDS.
Lawmakers were undoubtedly influenced by the injection of $491,000 in campaign cash by the pharmaceutical industry and its lobbying group, the Pharmaceutical Research and Manufacturers of America, or PhRMA, which retains two attorney lobbyists in Oregon, Lynda and Jim Gardner. The Gardners also represent other clients such as Purdue Pharma LP, WalMart Stores, Inc. and Philip Morris USA, known by its service company Altria Client Services, Inc.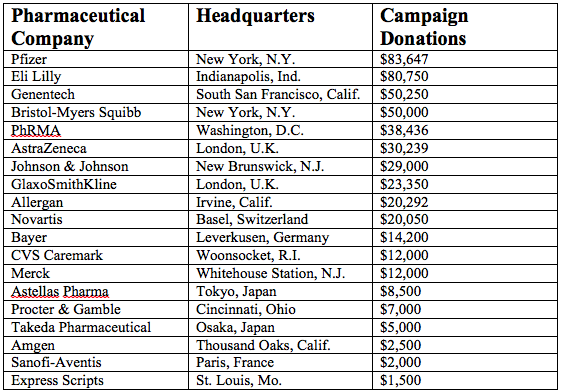 Pfizer gave Oregon politicians $84,000 since 2011, including $7,000 for the House Republican caucus; $6,000 to former Co-Speaker Bruce Hanna of Sutherlin; $5,500 to former House Republican Leader Kevin Cameron of Salem; $4,000 to Rep. Tim Freeman of Roseburg, the ranking Republican on the Joint Human Services Budget Subcommittee; and $3,000 each to Sen. Betsy Johnson, D-Scappoose; Sen. Fred Girod, R-Stayton and Sen. Tim Knopp, R-Bend.
The Lund Report analyzed campaign finance transactions in 2011, 2012 and 2013. The analysis of the pharmaceutical sector is the second in a series of articles that began with the health insurance industry last week. The next article will focus other top spenders in the healthcare arena. Detailed information about these political donations was obtained from the Secretary of State's website.
Eli Lilly spent $81,000 and its top legislator was House Majority Leader Val Hoyle, D-Eugene, who received $9,000. The company also gave $7,500 to Freeman, $5,500 to Rep. Jim Weidner, R-McMinnville, and $3,000 to Senate Minority Leader Ted Ferrioli, R-John Day.
Genentech backed Hanna, House Speaker Tina Kotek, D-Portland, Senate President Peter Courtney, D-Salem and Senate Health Committee Chairwoman Laurie Monnes Anderson, D-Gresham with $3,000 each.. The manufacturer of complex biological drugs spent $50,000 total.
Genentech is based in the San Francisco area but has facilities in Hillsboro. All of the drug companies are based outside Oregon, with some headquartered as far away as the United Kingdom, Switzerland, Germany, Japan and France.
Kotek and Monnes Anderson pushed through controversial legislation for Genentech that would require pharmacists to get additional authorization from doctors before they dispensed so-called biosimilar drugs, or generics for biological medications such as those Genentech manufacturers to treat cancer or cystic fibrosis.
The bill caused national attention, including a critical editorial from the New York Times which expressed concern that an Oregon law would set a precedent for other states and effectively prevent pharmacists from dispensing biosimilar drugs. Biological drugs currently account for one-quarter of the $320 billion spent on prescription drugs in the United States.
SB 460 was initially fought by the Oregon State Pharmacy Association, but opposition was dropped when the bill was amended to sunset in 2016. The Food and Drug Administration has not currently approved any biosimilar drugs for the U.S. market, so the law is moot unless it is later extended.
Other leading pharmaceutical companies giving money to Oregon legislators include Bristol-Myers Squibb, which spent $50,000, including $4,000 to Freeman and $3,000 to Hoyle.
Meanwhile, PhRMA spent $38,000, including $3,400 to Rep. Jim Thompson, R-Dallas, $3,000 for Freeman and $2,500 to the House Democrats.
The British company AstraZeneca spent $30,000, including $3,000 to Hanna and $2,000 to Sen. Jackie Winters, R-Salem, who led the efforts to expand the Oregon Health Plan generic exemption list to include AIDS drugs.
Hanna and Freeman were easily the biggest benefactors in the Legislature from drug companies; the Roseburg-area Republicans each took in upwards of $25,000.
Hoyle was third, with about $15,000 in major contributions while the House Republican Caucus received about $14,000 and Rep. Kevin Cameron, R-Salem, took in at least $12,000.
Perhaps the most significant legislation the 2013 Oregon Legislature passed involved the regulation of pharmacy benefit managers, which came after outcries from local pharmacists, who told lawmakers the PBMs were driving them out of business.
HB 2123, sponsored by Rep. Jules Bailey, D-Portland, came down heavily on the side of pharmacists, creating more price transparency for generic drugs and attempting to rein in frivolous and abusive audits.
The lack of support for PBMs also showed in campaign finance records. Although the companies are worth billions and some of the most lucrative corporations in healthcare, they spent lightly on Oregon elections.
CVS Caremark donated $12,000, while Express Scripts spent just $1,500, the bulk of it to Monnes Anderson.
Here's a detailed look at the campaign contributions from the pharmaceutical industry.
Chris can be reached at [email protected].