Petition Delays Integration of Dental Services into CCOs
Now state officials must wait until June 2013 before dental care can become part of the transformation process
October 11, 2012 -- Dental care is off the radar screen for the time being. State officials had been preparing to integrate dental services into the coordinated care organizations (CCOs) on January 1, and had finalized a memorandum of understanding to seek approval from the Centers for Medicare and Medicaid Services.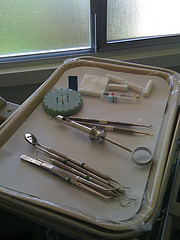 But when a petition signed by two prominent legislators surfaced on Monday, things came to a sudden halt. Sen. Alan Bates (D-Medford) and Rep. Tim Freeman (R-Roseburg) joined Mike Shirtcliff, DMD, president and CEO of Advantage Dental Services, asking for an administrative rules change.
Fearing that the new CCOs would trample on dental care organizations and move too quickly, Shirtcliff had succeeded in slowing down the process.
"Don't get me wrong, I'm very supportive of what Governor Kitzhaber is trying to do with healthcare in Oregon," said Shirtcliff, whose health plan covers 187,000 patients in 35 counties, making him the second largest DCO in the state behind Capitol Dental Care. "We're not trying to be an obstacle, but are concerned about our patients and want to do things in an orderly fashion so we don't end up having a disaster."
The day after receiving that petition, the Oregon Health Authority announced a new timeline for integrating dental care – July 2013 – six months later than originally planned.
"It gives us more time and was the right thing to do," said Shirtcliff, who believes coordinated care organizations (CCOs) should be required to contract with every dental care organizations in their service area and be prevented from signing contracts with independent dental clinics or other dental groups. The Oregon Health Authority is expected to hold public hearings on this rule change in the coming weeks.
Ultimately, the decision rests in the hands of Dr. Bruce Goldberg, director of the Oregon Health Authority. An earlier opinion from the Attorney General's Office had said that these CCOs could contract with whichever dental care organization they chose and also contract directly with health professionals.
If Goldberg decides to turn down the petitioner's request, Shirtcliff has no qualms about taking this issue to the legislature next February.
"We can always go through the legislature if we feel the administrators are misinterpreting the law," he said. "Legislators seem to be in agreement that the intent of the law was not to penalize the dental care organizations but give them a period of transition. We do need to transform healthcare and do global budgeting but not damage patient care in the process. If this rule isn't changed, the survival of dental care organizations is at stake."
The petition was filed a day after the OHA hosted a dental working group to try and resolve differences in a collaborative manner with the help of Barney Speight., special assistant to the director. That group did agree on a memorandum of understanding setting out the contractual language for dental care organizations, Speight said.
"It's not appropriate to continue with the public meetings when the Oregon Health Authority will be placed in a situation where we'll have a public hearing on the rules process," Speight told The Lund Report.
Shirtcliff also insists that dental organizations must be part of the governing structure of the CCOs. "How can you transform healthcare and not have all the parties at the table as part of the discussions?" he asked.
There's a lot of misunderstanding, Shirtcliff believes, about the role of dental organizations. "CCOs need to be cautious about what they're getting into, otherwise they could end up with patients who aren't getting care. Dental is different than primary care; we don't have contracts with hospitals or deal with death and dying issues. There's a rush to get contracts going too fast. I'm just pleading for time so we can do it right."
Dental care organizations actually have until July 2014 to merge into the CCO structure, according to statute, another decision Shirtcliff fought.
"We all do want to be integrated into one organization called a CCO with oral health being part of the governance structure, but it's pretty complicated with 16 CCOs and will take some time," he said.
FOR MORE INFORMATION
To read the petition filed that's led to the delay in integrating dental care services, click here.
To read the Attorney General's opinion on dental contracts with CCOs, click here.
Image for this story by Phil King (CC BY-NC-ND 2.0) via Flickr.