PeaceHealth Not in the Running for Salem Hospital Merger
Norm Gruber has been entertaining offers for several months, and two large healthcare organizations are leading the pack.
It's no secret that Salem Health is having discussions with large healthcare organizations, seeking a partnership or merger. CEO Norm Gruber has made that very clear over the past few months, and reiterated that stance at the Salem City Club.
Seven larger healthcare organizations are in the running – but as of yet Gruber's not been willing to say who's around the table.
The Lund Report's learned that at least one prominent healthcare organization, PeaceHealth, isn't being courted – at least not at the moment.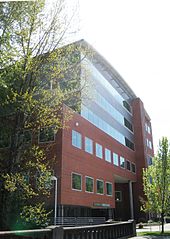 "We only go where we're invited," according to Peter Adler, senior vice president and chief strategy officer. "PeaceHealth never enters a new community that we aren't already in unless we're invited to do so."
If Gruber does reach out, he'll definitely have Adler's attention.
Meanwhile, there's plenty of discussion about who's actually sitting down to negotiate with Gruber, who admitted all contenders have their corporate offices along the West Coast.
Two very strong contenders have emerged, according to physicians and other insiders who spoke to The Lund Report but request anonymity – among them Legacy Health based in Portland. When asked whether his hospital system was pursuing such a possibility, CEO George Brown didn't give a direct response, only telling The Lund Report, "I don't know."
If Legacy is in the running, that would represent quite a stretch down the I-5 corridor since the majority of its six hospitals are in the Portland area with the exception of Legacy Salmon Creek Medical Center in Vancouver.
Dignity Health is another strong contender, according to people familiar with that organization, and operates hospitals in Arizona, California and Nevada. Its spokespeople did not return calls by press time. http://www.dignityhealth.org/Dignity_Health_Hospitals/Hospital_Search/index.htm?Mode=listhospitals
"We are financially strong, have a dominant share of the market and have made significant strides in clinical quality," he told his medical staff in November
Gruber at the City Club
Appearing at the Salem City Club, Gruber said the current system is unsustainable, with too many hospital beds and an overall occupancy rate of 67 percent across the country. "The system has over capacity and been in decline since 2008." And, Salem Hospital's ability to cost shift is becoming less and less with growing labor cost pressures.
That means hospitals such as Salem have been forced to charge insurance companies such as Regence BlueCross BlueShield higher prices because "we lose 20 cents on every dollar from Medicare," he said.
Gruber acknowledged that Salem Hospital makes most of its money on surgical cases, which have a fairly significant profit margin. Overall, it derives 50 percent of its revenue comes from government sources (Medicare and Medicaid) and the remainder from the commercial market, with that number on the decline, he admitted.]
The scale of competition is changing things, Gruber admitted, with more corporatization of hospital services, and believes some independent hospitals will survive but far more are at risk, particularly in urban areas.
The big concern of hospitals, he continued, is rapid consolidation as the cost shift continues, with the system taking on characteristics of the airline industry, which has gone through massive consolidation to deal with huge fixed overhead costs. Hospitals face that same dilemma.
"We're looking for a partner; the time to partner is when we're strong and need to be proactive," said Gruber, who's looking for a model similar to Kaiser Permanente which has a strong integrated system and only relies on employed physicians and other allied practitioners.
Speaking of physicians, Gruber said graduates coming out of medical school are no longer interested in starting their own practices, compared to a physician who's 55 years old and intends to remain in private practice, calling that trend an "evolution rather than a revolution."
He also acknowledged that many physicians have left Willamette Valley Partners which employs physicians on behalf of Salem Health
"We're not in a financial bind where we're looking for someone's checkbook," Gruber said. "We really want to be proactive."
"We are financially strong, have a dominant share of the market and have made significant strides in clinical quality," he told his medical staff in November
Recently Standard & Poor's and Fitch Ratings, which rate Salem Hospital's investment risk, downgraded its bond rating from A+ to A – those rating helps investors determine whether the entity would repay its debt.
Salem Health operates Salem Hospital, West Valley Hospital and Willamette Health Partners and is the largest private employer in the Salem area, with nearly 4,000 workers.
Diane can be reached at [email protected].
Image for this story by M.O. Stevens (public domain).