PeaceHealth Lavishes Pay On Execs, Angers Staff But Keeps Profits Flowing
As a big player in the Northwest's health care industry, PeaceHealth is hamstrung by a curious liability: It has no commanding presence in the region's two major and thriving markets in Portland and Seattle.
That's not for want of trying. PeaceHealth's latest effort to elbow its way into the two hubs entailed its purchase of  Portland-based ZoomCare for an undisclosed sum.
PeaceHealth announced the deal in December. It gives the group access to more Portland and Seattle patients through ZoomCare's 34 neighborhood clinics in the two metro areas. It also helps diversify the organization beyond its costly and potentially cumbersome hospital model, observers said.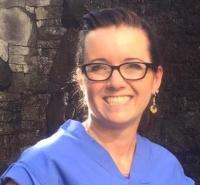 "We're seeing a trend toward delivering care to people really quickly," said Adrienne Enghouse, president of the Oregon Federation of Nurses and Health Professionals labor union, which is at the forefront of a wave of unionization at PeaceHealth hospitals. PeaceHealth executives deserve credit, she said, for seeking ways to take pressure off hospital emergency rooms overburdened by walk-in patients.
Yet, even with such innovations, the 83-year-old non-profit Catholic health system remains in essence what it has long been: a chain of hospitals – 10 at latest count – in small and mid-sized cities scattered across the Northwest.
At a time when big hospital chains nationwide are merging in a quest for a bigger market share and efficiencies, PeaceHealth, for the moment at least, remains a venerable legacy system that is simply trying to keep its footing in the shifting regional health care pecking order.
Most of its hospitals are financially mediocre, losing money or generating a small profit. Two stand out as the financial workhorses: Sacred Heart Medical Center at RiverBend in Springfield in Oregon and St. Joseph Medical Center in Bellingham, Washington near the U.S.-Canadian border. They make big profits year in and year out, essentially subsidizing the rest of PeaceHealth operation and funding such experiments as the ZoomCare purchase.
PeaceHealth declined to answer questions for this profile. But interviews with employees, union officials and others, plus a review of PeaceHealth's financial reports, bond rating reports and other documents, paint a picture of an organization whose leaders are trying to adapt the network to meet consumer demands, as well as increase revenues and worker productivity while keeping a lid on costs, which primarily consist of employee pay and benefits.
That's no easy mission.
See related story: PeaceHealth CEO Alan Yordy Scored $3.8 Million Payout After Retirement
'Satisfied People Don't Organize'
The chain has faced intensive unionization from workers who want to preserve their health care and retirement benefits and receive steady pay raises and who are galled by PeaceHealth and other hospital chains paying sky-high salaries to executives. PeaceHealth's latest filings show its had six executives who were paid over $1 million apiece, including $1.1 million to former CEO Alan Yordy, and 10 who were paid between $500,000 and $1 million apiece.
In comparison, a full-time entry-level cook at RiverBend who's in the union is paid $33,000, while top-seniority registered nurse earns a base salary of $116,000.
Since 2015, nearly 2,000 PeaceHealth employees systemwide have opted for union representation, on top of thousands of others already represented by unions.
"Satisfied people don't organize (into unions)," said Kevyn Paul, a registered nurse at PeaceHealth's University District Medical Center in Eugene and co-chair of the Oregon Nurses Association union bargaining team at the hospital. "PeaceHealth employees have felt that in the past, management has walked all over them. If you have a union, you have a way to stand up to that," she said.
The unionization is pushing up PeaceHealth's expenses.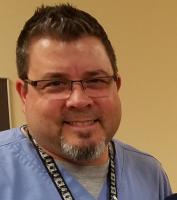 Eric Quinn, a CT tech at PeaceHealth's Southwest Medical Center, said "the number one issue is clearly wages" in ongoing contract negotiations between PeaceHealth and 300 tech workers at the hospital represented by the Oregon Federation of Nurses and Health Professionals union, an affiliate of the American Federation of Teachers. "We're trying to get back up to market level (pay) for the Portland region," he said.
Another challenge: Finding the right executives and managers to lead the system. Workers note incessant turnover in the executive suites. Even bond rating analysts last year commented on the turnover.
In a bond rating report on PeaceHealth in October, S&P Global Ratings analyst Allison Bretz wrote:  "Since 2015, PeaceHealth has experienced significant management turnover at both the parent and two of the regional networks." The current management team "has been highly focused on increasing operating efficiency and growing revenue across the system," Bretz added.
Other issues:
Public discontent about overcrowding and long waits at the flagship RiverBend emergency department, a problem PeaceHealth has said it may address through an expansion or remodel;
Oregon Health Authority investigations into the company's nurse staffing levels, training and qualifications that have found numerous violations at all the PeaceHealth hospitals in the state. PeaceHealth has told the state it is addressing the shortcomings;
PeaceHealth's recent hiring of contractor firms for some work at its Eugene and Springfield hospitals, including management of food services and cleaning services employees, plus some medical equipment maintenance. The outsourcing to France-based servicing giant Sodexo, allegedly to save money and increase worker productivity, has unnerved some staff.
Awash In Investments, Cash
Amid the angst, one thing holds true: PeaceHealth is financially durable. As of last June, it held a whopping $2.1 billion in investments and cash, a Fitch bond ratings report noted. Over the last several years, PeaceHealth has been actively cashing in on the booming stock market. For the fiscal years ending June 30, 2017 and June 30, 2018, it reported in its annual audits a total of $172 million in profits on the sale of stocks and other investments, on top of dividends and other investment income totaling $58 million.
In the fiscal year ended June 30, 2017, PeaceHealth reported a record profit – that is, an excess of revenues over expenses – of $318 million. The chain followed up in the fiscal year ended June 30, 2018 with its second-highest profit ever: $197 million on total revenues of $2.6 billion.
As a nonprofit, PeaceHealth doesn't make payouts to shareholders. Instead, it puts the profits into reserves or spends them on capital and operating costs.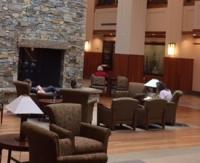 These big numbers draw the attention of employees and labor unions.
PeaceHealth should be "investing in staff," said union official Enghouse. Instead, PeaceHealth "invests in CEO bonuses," she said, while trying to "take more and more away from frontline workers."
Beyond the intensified tussle between workers and management over employee compensation, another feature characterizes PeaceHealth: The system lacks the top-tier visibility and the top-notch quality-of-care rankings that the region's bigger and dominant hospitals have achieved.
The visually impressive RiverBend, with its lavish lobby and customized patient rooms, has reaped architectural awards. But Medicare.gov, the federal government's Medicare website, gives RiverBend an overall rating of three stars out of five. By contrast, the region's biggest hospitals – OHSU Hospital in Portland and heavy hitters in Seattle such as Virginia Mason Health Center, the Swedish hospitals and the University of Washington Medical Center, all score five stars from Medicare.gov. PeaceHealth's St. Joseph hospital in Bellingham rates four stars.
The Oregon Association of Hospitals and Health Systems ranking website lists RiverBend "patient experience" as "average."
PeaceHealth executives have engineered some big changes in recent years, mostly under the leadership of Alan Yordy, who worked at the organization for 25 years, the last 10 as the top executive – or "chief mission officer" – before stepping down in 2015.
Notable initiatives included building the $600 million RiverBend in Springfield, which opened in 2008 and replaced the old Eugene Sacred Heart University District hospital as PeaceHealth's flagship; absorbing the financially lackluster nonprofit Southwest Medical Center in Vancouver in 2010, and then centralizing many systemwide corporate and administrative functions there; selling PeaceHealth's laboratory network to New Jersey-based Quest Diagnostics in 2017 for $101 million; and most recently the purchase of Zoom. Also, in 2012, PeaceHealth and Colorado-based chain Catholic Health Initiatives talked about a merger but then called it off for undisclosed reasons.
Two Hospital Profits Crucial
But through all the change, PeaceHealth's fundamental structure has remained intact. RiverBend, and to a lesser degree St. Joseph in Bellingham, generate the big profits propping up the system's other hospitals in Florence, Cottage Grove, and Eugene in Oregon; in Longview, Vancouver, Sedro-Woolley and Friday Harbor in Washington; and in Ketchikan, Alaska.
RiverBend generated $71 million in operating profit on operating revenues of $665 million in 2017, the latest filings show. Filings with Washington regulators show Saint Joseph was not far behind, producing $47 million in net profit on revenues of $536 million.
"RiverBend still does generate the majority of the money for the PeaceHealth system," said Paul, the union negotiator.
But even in its financial heartland of Eugene-Springfield, PeaceHealth faces a threat: fast-growing for-profit McKenzie-Willamette Medical Center in Springfield. McKenzie-Willamette has remodeled and expanded its facility and sharply increased its patient volume. It reported $52 million in profit on revenue of $204 million in 2017, according to financial filings with the Oregon Health Authority. That compares with RiverBend's $71 million profit on revenues of $665 million.
Bond analysts say PeaceHealth's finances look stable for the next year or two at least, marking an improvement from 2014 to 2016, when it was in the midst of spending $270 million on creating electronic records systems to fulfill a federal mandate. The massive expense pushed PeaceHealth into a rare annual loss. For the 2015 to 2016  fiscal year, it reported a loss $23 million, its first systemwide loss since a drop of $39 million in 2008 to 2009, amid the Great Recession.
Aside from the two losing years and the two most recent high-profit years, PeaceHealth's annual profits have ranged over the past dozen years from as little as $11 million to as much as $160 million.
Those profits have allowed the system to build up its reserves, which bond analysts note are crucial for important capital spending.
PeaceHealth plans to spend $277 million on capital upgrades in the fiscal year starting July 2019, according to an October 2018 bond rating review by Fitch's. The report did not give specifics, and PeaceHealth declined to answer questions from The Lund Report.
Paul speculated that PeaceHealth may opt to make capital upgrades to its old and partially vacant University District hospital in Eugene to absorb overflow from the heavily used RiverBend.
Nonstop Union Drives
With the wave of unionization, PeaceHealth is now continually engaged in union negotiations at at least one of its hospitals with registered nurses, tech staff or service employees, and even, at RiverBend, with some doctors.
PeaceHealth is hardly alone in facing a union thrust. Across the country, hospital workers by the thousands have voted to be represented by the Service Employees International Union -- SEIU -- or by affiliates of the American Federation of Teachers union.
Union-represented workers say they care deeply about patient care and staffing levels. They also want to secure and enhance their pay and benefits.
Workers typically turn to unionization when management cuts benefits or pushes for increased productivity, said Enghouse, a longtime PeaceHealth registered nurse.
But PeaceHealth made health care history of a sort when about 30 RiverBend hospitalists – a type of doctor who is based in a hospital as opposed to a clinic or specialty center - voted to unionize in 2014. It was apparently the first unionization of doctors in the nation. Since then, the hospitalists won a contract guaranteeing them base annual pay of $247,217 in 2016, rising 4 percent the following year. The two sides in late 2018 inked a new contract that raises the hospitalists pay a further 9 percent over three years.
Meanwhile, in November 2017, tech employees such as respiratory therapists and pharmacy technicians at RiverBend in Springfield and University District in Eugene voted to be represented by the Oregon Federation of Nurses and Health Professionals. A big driver in the vote: PeaceHealth management had previously unilaterally decreed that tech workers could earn paid time off based only on the first 40 hours of the work week and not for overtime, a change from past practice. That angered workers, said Enghouse. The sides last year reached their first contract, giving the roughly 330 represented workers annual raises of 3 percent, plus an additional raise of 1 to 3 percent, and restoring the paid-time-off accrual, the union said.
In 2017, SEIU Local 49 in Portland was voted in to represent about 200 medical and lab assistants, cooks, aides and other nonprofessional workers at PeaceHealth's Peace Harbor Medical Center in Florence. Last year they  signed a three-year contract. "The strong contract includes 8 percent in cost-of-living wage increases over the life of the contract, affordable health care benefits, and more," SEIU said.
In 2016, Oregon Federation of Nurses and Health Professionals was voted in to represent about 300 tech workers at PeaceHealth's Southwest Medical Center in Vancouver. Also in Washington, employees in 2016 approved SEIU to represent about 100 tech workers at PeaceHealth St. Johns Medical Center in Longview, adding to the 620 St. Johns workers already represented by the union.
And in what SEIU billed as an "historic" vote because of its magnitude, the union in 2015 won representation of more than 1,000 cooks, housekeepers and other workers at RiverBend and University District. SEIU exulted when the sides reached a contract in 2016, stressing that the deal gave an across the board 8 percent wage increase for all service workers and an average 21 percent wage increase over the three-year contract life.
The issue of nurse staffing has been a special source of friction, not just at PeaceHealth, but at hospitals across Oregon. Following the Oregon Legislature's passage of tougher requirements for nurse staffing levels, the Oregon Health Authority has systematically investigated hospitals around the state and found virtually all were violating the new laws.
All four of PeaceHealth's Oregon hospitals were found to have violated numerous requirements, and all four implemented or committed to implement fixes. Typically, the health authority found that the hospitals had failed to properly convene nurse/management committees to evaluate nurse staffing levels, had failed to develop and implement staffing plans that ensured there were enough nurses in hospital units to care for the high numbers of patients and had failed to ensure all nurses were properly trained and certified in needed specialty areas.
Paul, the union representative and nurse, said PeaceHealth nurses and management remain at odds over staffing levels. Adequate staffing is key to letting nurses take rest and lunch breaks, she said, and the state has been slow to pressure hospitals.
The Oregon Health Authority "lacks the will or the teeth," Paul said.
Lorie Quinn, an environmental services worker at RiverBend in Springfield, said the hospital's cleaning staff of about 120 workers is about 13 full-time workers short of what's needed.
The hospital "is busier than we've ever been," said Quinn, whose main job is cleaning rooms between patients. "We're at capacity all the time,"
PeaceHealth's main effort to address the issue has been to let go of some of its own managers and bring in Sodexo managers to streamline cleaning and food services procedures and improve worker productivity, Quinn said. Sodexo managers have taken over some food production line work, a violation of the SEIU union contract, she said. The union has filed three grievances on that, she said.
Meanwhile, a revolving door for executives and top managers has made workers leery, Paul said. In the past half-dozen years, there have been about a half-dozen CEOs of PeaceHealth's Lane County network of four hospitals, employees noted.
"The patient care staff ends up not having a lot of care for management," Paul said. "The attitude is, you're going to be gone in six months anyway," she said.
Rank and file workers don't have much sense of what direction PeaceHealth executives will take the organization.
"They don't really tell us what their big plans are," she said. "We're just waiting for what the next change is and to see how will handle it."
You can reach Christian Wihtol at [email protected].
×
This article is for premium subscribers. If you are one, please sign in below.
You can see
two
more premium stories for free. To subscribe,
click here
. We depend on premium subscriptions to survive, and they are tax deductible.