Pandemic Rages In Areas Of Oregon With Low Vaccination Rates
Oregon Health Authority officials warned that the delta variant of the coronavirus poses a new, powerful threat to public health, and they urged local officials to help spread the word about the need to get vaccinated.
"The pandemic is fading for people who are vaccinated," Patrick Allen, director of the health authority, said Thursday. "The pandemic is not over in communities with low vaccination rates."
The highly infectious delta variant is driving this new spike in cases, hospitalizations and deaths.
The number of new cases this week is double that of last week, Allen said. On Thursday alone, health officials logged a 25% jump in cases compared with Wednesday. Areas with low vaccination rates are being hit the hardest.
"The SARS-CoV-2 virus is circulating in every Oregon community but it is spreading fastest in counties with low vaccination rates," Allen said.
There is a wide disparity in vaccination rates among counties, ranging from 37% of residents vaccinated to 75%. Umatilla County, which has one of the lowest vaccination rates in the state, reported 70 new cases on Thursday and a test positivity rate of 14%. That compares with far more populous Washington County, which reported 43 new cases and a test positivity rate of 4%.
(See related story: Delta Variant Drives Infections In Oregon.)
Allen said increasing rates in areas where vaccine skepticism runs high will be up to local health officials, faith leaders and providers 一 not the state. 
"A localized pandemic demands effective localized public health intervention not a statewide response," Allen said. "I urge local leaders in counties with high infection rates, high test positivity rates and low vaccination rates to take action now."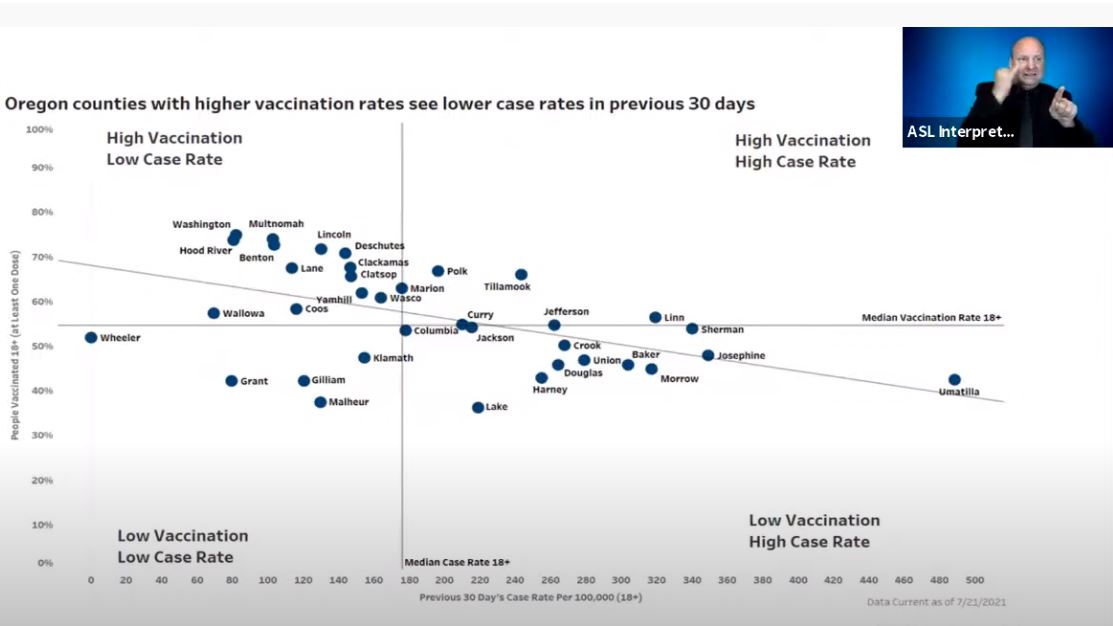 Allen said the state plans a few initiatives to promote vaccinations, including the broadcast of messages during the U.S. Olympics to reach young people and people of color. It also intends to deploy canvassers to go door-to-door to answer questions and connect people with vaccinators. 
The state doesn't yet know how many people it will use, Robb Cowie, health authority spokesman told The Lund Report. He said they will first knock on doors in metro areas 一 which already have the highest vaccination rates.
It's unclear how much impact the state's appeal will have. Allen said he's spoken with a number of local officials who favor encouraging vaccinations, but he declined to name them. He said the state has ruled out trying to impose vaccinations on health care companies and long-term care facilities, many of which have low vaccination rates among staff. Vaccination rates among ancillary staff in hospitals and clinics are also relatively low compared with rates among doctors and nurses.
By law, Oregon health care companies cannot require vaccination as a condition of employment. Allen said the state does not have the ability to issue a ruling that would rescind that law. He also said the state is hesitant to do anything that could have an adverse effect on health care workforce staffing, which remains a problem in Oregon and across the country.
Compared with this spring, when residents were clamoring for vaccinations, now Oregon is logging only a few thousand shots a day.
COVID-19 vaccines are the main barrier to prevent infection, state officials said. Studies show that the vaccines by Pfizer and Moderna prevent about 95% of infections while the Johnson & Johnson shot prevents about 65%. They may be less effective against the variants, however.
(See related story: Age Plays A Role In Fighting COVID-19, Research Shows.)
Still, 90% of infections, hospitalizations and deaths are among people who are not fully vaccinated. People are fully inoculated two weeks after they've received the single Johnson & Johnson dose or the second Pfizer and Moderna shots.
"We're trying to make sure people understand that the delta variant is quite serious," Allen said.
The state has seen increases in cases among younger people, but that's probably because their vaccination rates are lower, said Dr. Dean Sidelinger, state epidemiologist. He added that If you're not vaccinated and you come into contact with someone infected with the delta variant, you're likely to catch it because it's so transmissible. One reason, scientists suspect, is that it accumulates in the nose, making it easier to spread.
"When we talked about the alpha variant that came into Oregon over the winter, that was 50% more transmissible than (the strain) had been circulating in Oregon," Sidelinger said. "This delta variant is 50% more transmissible than that."
You can reach Lynne Terry at [email protected] or on Twitter @LynnePDX.