Image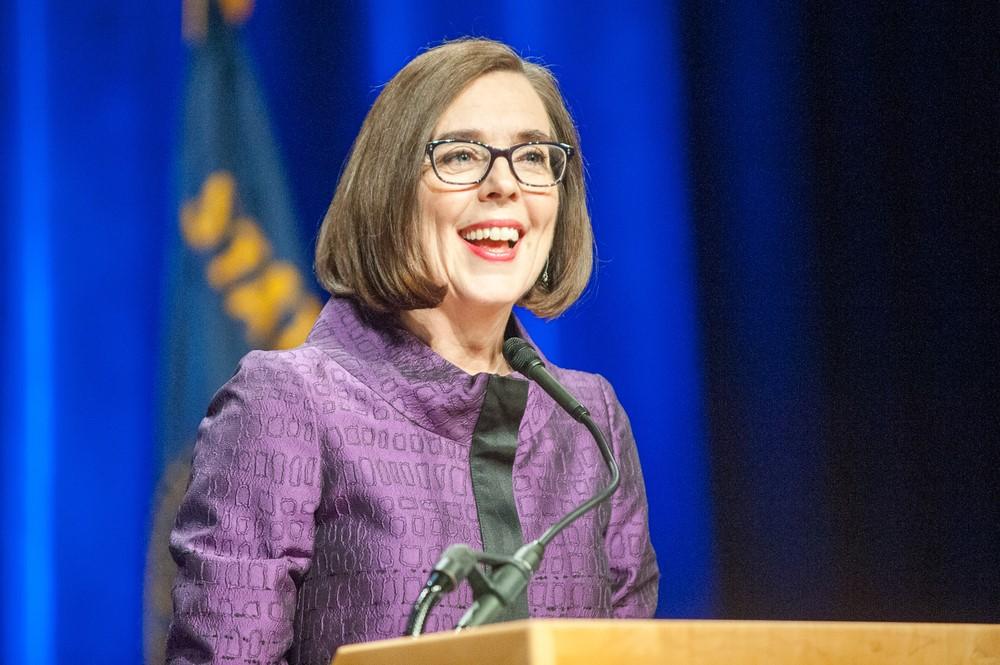 May 1, 2020
Oregon officials plan to test 100,000 volunteers in a study tracking the spread of coronavirus as part of the state move towards reopening. 
Rural counties could reopen as early as May 15, Gov. Kate Brown announced at a news conference on Friday. Even then, Oregonians will be expected to continue to wear  face masks and respect social distancing guidelines for months to come, she said, emphasizing the need to track the virus and avoid an outbreak that overwhelms health systems. 
"Handshaking is probably out the window for a long time," Brown said. 
Oregon will need months, not weeks, to return to normal. The reopening will start gradually in rural counties with few, if any, cases. 
The 100,000-volunteer study is a key piece of the state's arsenal for reopening Oregon. Oregon Health & Science University and the OHSU-Portland State University will work with randomly selected volunteers to track and map the spread of the virus across the state and provide data to the Oregon Health Authority. The researchers will contact potential volunteers. Participation will be voluntary.  
The state plans to have 600 contact tracers reach out to people who may have been exposed to COVID-19 so they can self-quarantine and stop the spread. 
Brown said partnerships across the hospital systems and in rural areas will help the state reach the needed testing capacity. Anyone with symptoms and asymptomatic people in high-risk settings such as nursing homes, prisons and farmworker housing will be able to get tested. 
The state can run about 15,000 tests a week, which will need to increase as the reopening progresses, said Dr. Dean Sidelinger, epidemiologist with the Oregon Health Authority. 
'We know that our infections will go up and we hope to be able to control that," Sidelinger said.
Through the study, Oregon can provide randomized widespread testing across the state, Brown said, calling it a "game changer."
"It will give us a more accurate understanding of the true rate of infection in Oregon," Brown said.
Sidelinger said that data projections show that business closures and social distancing measures have decreased transmissions by about 70%, preventing about 70,000 infections and 1,500 hospitalizations. 
The modeling also shows that stepped-up testing and contact tracing is critical when regions reopen. 
"As we open up and people start going about more and returning to some sense of normalcy, we know that there's going to be an increased risk of spread," Sidelinger said.
OHSU President Dr. Danny Jacobs said that 100,000 people who will be randomly selected to take part in the study will be sent an invitation the week of May 11. He said the study will provide valuable data about the disease, stressing the path forward has unknowns with "no complete rulebook."
 Nearly 2,600 people have been infected in Oregon and 104 people have died. The  highest number of cases have been in Multnomah, Washington and Marion counties. Baker, Gilliam, Lake and Wheeler counties have no cases, and Crook, Grant, Harney, Sherman and Wallowa counties only have one case each.
Friday afternoon, Brown held two conference calls with officials from various hospitals and 18 rural counties about the steps they will need to take to qualify for reopening, including testing, contact tracing and having ample supplies of personal protective equipment. One meeting involved officials from Gilliam, Hood River, Sherman, Wasco, Baker, Malheur, Morrow, Umatilla, Union and Wallowa counties, and the other included Crook, Deschutes, Grant, Harney, Jefferson, Klamath, Lake and Wheeler counties. No details emerged from those meetings.
Brown has not given any indication of when urban areas might be able to open, but she said guidelines would come out soon. 
Hard-hit urban counties are starting to plan their reopenings. 
In an interview, Dr. Sharon Meieran, a Multnomah County Commissioner and emergency room doctor, said the state's county-by-county approach will allow urban and rural regions to tailor their plans to their situation. 
In developing its plan, Multnomah County is working closely with Clackamas and Washington counties, Meieran said. 
Multnomah County officials will need feedback from different groups such as health care providers, people of color and businesses before opening up, she said. 
"Being able to really back our plan up with the data and with the evidence is crucial and also having a deep engagement with all of our communities," Meieran said.
You can reach Ben Botkin at [email protected] or via Twitter @BenBotkin1.