Gov. Kate Brown on Monday announced the forthcoming rule, which will apply to lower risk counties.
Image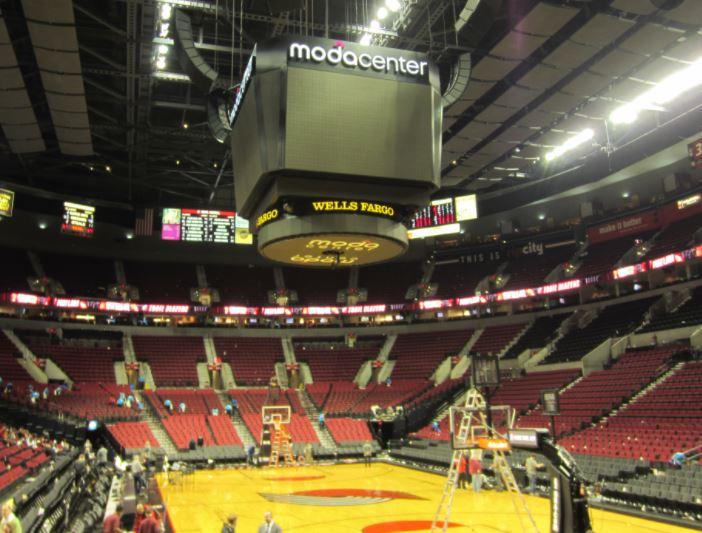 May 24, 2021
The Oregon Health Authority will rewrite COVID-19 rules so businesses and venues in lower risk counties can create so-called "vaccinated sections" where fully-vaccinated people can interact without social distancing. 
Gov. Kate Brown announced the upcoming changes on Monday. They are aimed in part at large venues like the Moda Center, home of Portland Trail Blazers basketball games. Multnomah County will move to the lower risk level once the state approves its vaccination equity plan, allowing sports venues and other businesses to operate at a greater capacity. 
The basketball games  will be the first major indoor sports event in Oregon to have vaccinated sections for fans, the governor's office said. The NBA playoffs begin on Monday, with the first Portland game scheduled for Thursday. The governor's office said it will release county updates on Tuesday that they will take effect Thursday. 
The Moda Center will have socially distanced sections available for unvaccinated people. 
The governor's office, health authority and Trail Blazers collaborated on the rule changes. Brown used the upcoming change to make another appeal for Oregonians to get vaccinated -- so they can enjoy Trail Blazers games without social distancing. 
"When fans left the Moda Center last March, it was one of the first signs this pandemic was about to change our lives in ways we hadn't previously imagined," Brown said in a statement. "Vaccines are the key to our return to normal life. It is a testament to the way Oregonians have united to battle this virus and get vaccinated in large numbers that, this week, the Rip City faithful can return to give our Trail Blazers the legendary home court advantage they deserve. If you haven't gotten around to getting vaccinated yet, go do so today."
Counties qualify for the lower risk level on the state's framework for COVID-19 risk once they vaccinate at least 65% of adults 16 and older with at least one dose and submit an equity plan. Multnomah County reached that threshold two weeks ago along with Benton, Deschutes, Hood River, Lincoln and Washington counties. They all submitted their plans a week earlier than Multnomah County, allowing them  to move to the lower risk level last Friday.
It's unclear what day the new rules for vaccinated sections will go into effect. The governor's office said the health authority will update the rules this week, but didn't specify a day. Rudy Owens, a spokesman for the health authority, declined to say what day this week the agency will release the updated rules.
Restaurants, stores and entertainment venues in higher risk categories face restrictive capacity limits that can only allow them to operate at a fraction of their capacity. It cuts down on profitability and makes it difficult for businesses that depend on customer volume to stay open. 
The new health and safety protocols will expand beyond the Moda Center to other businesses, venues and faith institutions, Brown said. The specifics will come out later this week, but the governor's office outlined how the system will work. 
They are an option, not a requirement. "Fully-vaccinated sections" will have no physical distancing or capacity limits for fully vaccinated adults 16 and older who provide verification of their vaccination.
Businesses can still require masks in vaccinated sections if they desire. The state already allows businesses in any county to allow fully vaccinated individuals to go maskless if they show documented proof of their vaccination. However, this is not a requirement for businesses and they can still require masks for entry if they don't want to check vaccination status. 
Children up to age 15 who wear a mask are permitted in vaccinated sections with their fully vaccinated parent or guardian. This is because the vaccination only recently became available for children 12-15 years old, the governor's office said.
Unvaccinated sections must follow all health and safety protocols, including masks, social distancing and capacity limits. 
Brown also has set a goal of vaccinating 70% of adults statewide. Once the state reaches that, Oregon will end its risk level framework for individual counties. The framework determines capacity limits for businesses such as restaurants, retail outlets, gyms and entertainment venues. At the 70% threshold, the framework will disappear regardless of what level individual counties reach. Currently, Oregon's vaccination rate is 64% statewide and officials anticipate the state will reach the 70% goal in June. 
Oregon has turned to different incentives to boost its vaccination rate. Brown on Friday announced a $1 million lottery as an incentive to boost the state's vaccination rate, along with 36 $10,000 prizes -- one for each county. That drawing takes place June 28.
You can reach Ben Botkin at [email protected] or via Twitter @BenBotkin1.