Gov. Kate Brown announces a $1 million lottery prize, and other smaller prizes, to entice the unvaccinated into getting a jab.
Image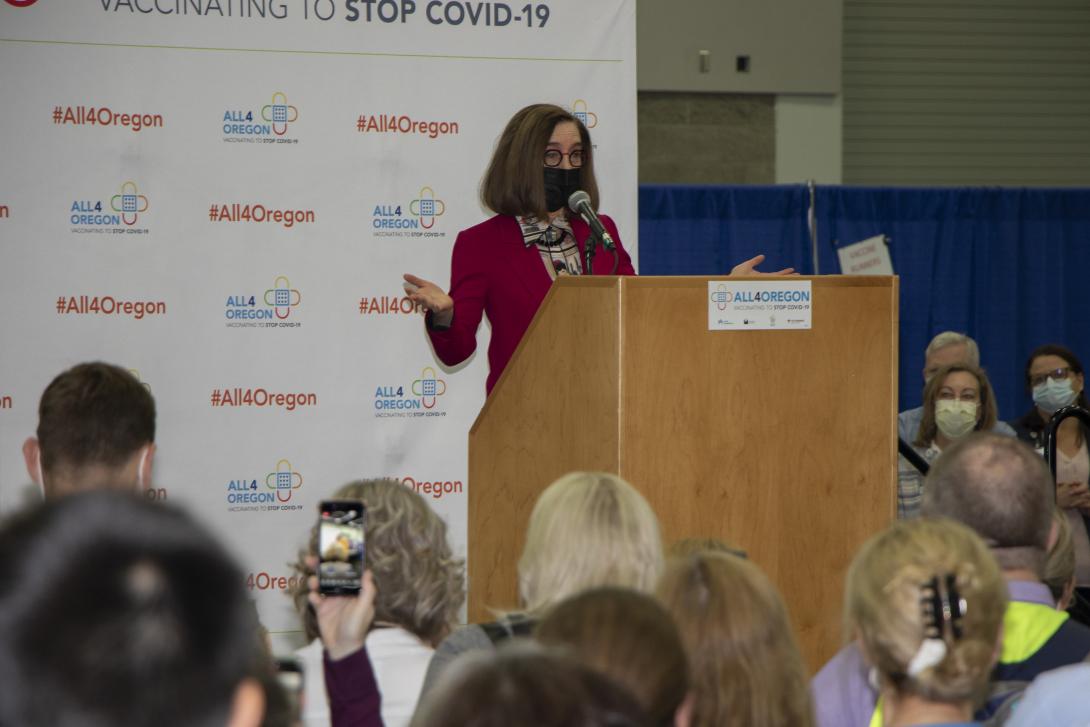 May 21, 2021
Gov. Kate Brown on Friday announced lottery prizes and scholarships -- including a $1 million prize -- for Oregonians who get a COVID-19 vaccination. 
The move marks an aggressive step by Oregon to boost its lagging vaccination pace, but it's not unprecedented. Other states are using prizes and gimmicks to attract people to line up for a shot. Ohio announced a series of $1 million lottery prizes to people who get a COVID-19 vaccination. Maine is offering residents free hunting and fishing licenses and state park passes. 
Every Oregonian who has had at least one dose of the two-dose Pfizer and Moderna vaccines, or one dose of the single-dose Johnson & Johnson vaccine by June 27 will be automatically entered into a drawing that takes place June 28. The week after the drawing, the state will announce winners.
Besides the $1 million prize, there will be 36 prizes of $10,000 -- one for each county.  Vaccinated youth age 12 to 17 will have a chance to win one of five $100,000 Oregon College Savings Plan scholarships. 
"Vaccines are the best tool we have to protect ourselves and our loved ones from COVID-19, and our fastest way to end this pandemic," Brown said in a statement. "The Take Your Shot Oregon Campaign is a way to thank Oregonians for stepping up and keeping our communities safe. It's never been easier to get a vaccine, so don't miss your shot to enter!"
Up to now, Oregon has relied on personal and public health arguments to persuade residents to get vaccinated. But demand for vaccination is slowing, so the state is resorting to one of the oldest motivators -- money.
In a press conference, Brown said vaccinations "can save your life and just maybe make you a millionaire."
That's a pre-tax million, of course. The lottery withholds 24% in federal taxes and 8% in state taxes from prizes greater than $5,000 before cutting checks to winners.
Prizes May Help State Reach 70% Vaccination Level
The timeline of the lottery prizes matches another timeline: Brown and public health officials have said they hope at least 70% of Oregonians 16 and older will be vaccinated by the end of June. Brown set the 70% target as the point at which the state will drop the county-by-county restrictions on business capacity limits.
Currently, Oregon has a vaccination rate of 63%, or about 2.1 million people. Another roughly 250,000 to 300,000 people need to be vaccinated to hit the 70% goal. Even then, vaccination work will continue, especially as more vaccines are approved for children. Currently, only one vaccine, the two-dose Pfizer, is approved for children 12-15 years old. 
Unknowns remain about what Oregon will look like after it hits the 70% mark and removes business capacity restrictions. For example, state officials aren't sure whether they will continue to require masks for unvaccinated people who enter businesses. The Centers for Disease Control & Prevention released optional guidance last week that said it was safe for vaccinated people to go maskless indoors, but didn't spell out how to enforce that. 
Oregon decided to put a rule in place that requires businesses to check vaccination records, so that vaccinated customers can go maskless, but unvaccinated ones must still wear masks.
Brown on Friday said Oregon will continue to align with the CDC guidance on masks. She said she intended vaccination verification as a temporary measure until the state hits the 70% level. But she did not clarify, for example, whether at that point the state might drop the vaccination verification but continue to require unvaccinated people to wear a mask -- even though it would be on an honor system -- or whether the state would drop mask requirements for everyone.
Prizes Are Incentive, Not Bribe
In its planning, the state consulted Ashby Monk, executive director for the Global Projects Center at Stanford University. The center researches finance and infrastructure issues. 
Monk said research shows that raffles and cash prizes can be powerful incentives. They've been used to motivate people who don't have a bank savings account to sign up for one, he said.
"Games drive the behavior that we would like to see," Monk said. "Incentives that can change your life with big financial rewards really do inspire large groups of people to take positive action."
Governments have long used prizes to further the public good, Monk said, citing the Nine Years' War of 1688-97, in which England and its allies fought France. England raised war money through a lottery. 
When a reporter asked Brown if the prizes are "bribery" to convince the vaccine hesitant, the governor turned it over to Monk. 
Monk said the money's no bribe, just a tool to motivate people. "The objective is to create a new incentive to do it, to do what's in their self-interest," Monk said.
Of course, every lottery has odds. For Oregonians, the odds for a shot at the $1 million jackpot will be one in more than two million since every vaccinated Oregonian will be entered automatically unless they opt out. 
The odds for the 36 jackpots of $10,000 each, however, are less uniform across the state. A vaccinated resident in a sparsely populated rural county will have a better chance of winning than a Portland-area resident. That's due to the statistical probability. One jackpot will go to every county. This means people in densely populated counties will have worse odds than rural Oregonians. The chance of winning in Multnomah County, with 830,000 residents, is low, but it's high in Wheeler County, with just under 1,500 residents.
The cash campaign is a collaboration between the Oregon Health Authority and the Oregon Lottery and will use $1.86 million in federal Coronavirus Relief Act dollars. 
The lottery agency will help the Oregon Health Authority draw the names of winners. No personal identifying information will be shared with the Oregon Lottery, and winners can opt out in order to preserve patient privacy. Lottery winner names are public record in Oregon.
"We are excited that Treasury's College Savings Plan can help with the effort to increase vaccination rates in Oregon," said State Treasurer Tobias Read. "This is a win-win: get vaccinated now to protect yourself and others, and get the chance to fund your future through a scholarship that can be used for higher education and job training."
You can reach Ben Botkin at [email protected] or via Twitter @BenBotkin1.