Oregon Falls Behind in Home Health Agency Ratings Nationwide
The analysis, conducted by the Centers for Medicare and Medicaid Services found that 44 percent of Oregon's agencies landed at the bottom among their counterparts in other states.
Oregon has landed in the bottom tier among home healthcare agencies, according to a federal government analysis that rated 9,000 agencies around the nation based on how quickly patients were seen and how fast they improved.
Among the 55 agencies reviewed in Oregon, 44 percent landed in the bottom tier on the five-star rating scale – Care at Home in Baker City, Kaiser Home Health Agency in Portland and Pacific Home Health and Hospice – each scored 2.5 or lower on the 5 star rating scale.
Conversely, Riverside Home Healthcare in Grants Pass received the highest rating of 4.5. Calling itself the only family owned and operated agency in southern Oregon, Riverside says it prides itself on offering personalized care to residents of Josephine, Jackson and Douglas counties.
CMS designed the scoring system to be used as a tool to help consumers find home healthcare providers offer high quality services to match their needs. Medicare's Home Health Care Compare site was developed to list and provide guidance for finding such a provider and using the scoring system.
To put things in perspective, in 2012, CMS identified 21,000 Medicare patients who received over 440,000 home healthcare visits, with total visitation charges of more than $102 million.
Detailed information about Oregon's home health agencies can be found here.
OAHC Responds to Ratings
According to Sarah Myers, executive director of Oregon Association for Home Care, many of Oregon's agencies are receiving what the Center for Medicare & Medicaid Services calls a "typical" rating – between 3 and 3.5. These averages are based on a statistical comparison with home healthcare agencies across the country, which are incidentally also scoring in the same range.
OAHC works with Oregon's agencies to improve their performance and star ratings overall through various tools and educational resources.
"We are certainly hopeful that through improved best practices around all the publicly reported measures, that agencies will continue to provide quality care to patients at home," Myers told The Lund Report in an email. : "This is a quite new effort for our industry to add to already available consumer data to assist them in making informed choices regarding the selection of a home health agency."
Home Health Care Agency Perspectives
The Lund Report called five home healthcare agencies to get their perspective on the new star rating system. Salem Home Care, a nationally owned agency which had a 2.5 star rating, declined to comment, while Brookdale Home Health (3 star rating) and Signature Home Health Care (2.5 star rating) did not respond despite repeated phone calls and emails.
The star ratings is a fairly new system, according to Golden Touch Home HealthCare and Providence Home Health, and patients may not unaware of the comparison scores.
Patients should be made aware of this new rating system before being discharged from the hospital, said Delia Peynado, owner of Golden Touch Home, which received a 4 star rating. Only a few of its patients are readmitted to the hospital which is another measure of success. "Often the reason they need additional care is because the patients are discharged too soon, or because they've reached their maximum potential."
Shaune Mattsson, director of Providence Home Health, said star ratings are a fairly new concept and potentially confusing to both patients and their families. Her agency received a star rating of 3, and served approximately 12,000 patients last year, nearly 85 percent were Medicare.
"While a 3-star rating could be perceived as an average, an agency with 3 stars in home health could also be one of the best in the area," she said.
Ratings Listed for Oregon Agencies
Oregon's home healthcare providers' star ratings between 3 and 4.5 are listed in the table below. Each provider's location and type of ownership are indicated followed by the quality of patient care star rating shown in the far right column.
1 Home Health Compare datasets can be downloaded at the Medicare.gov website:
https://data.medicare.gov/data/home-health-compare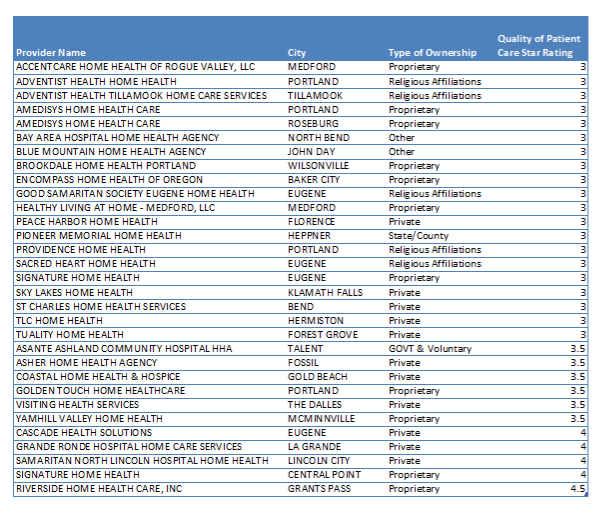 Oregon's home health care facilities (including location and type of ownership) with quality of patient care star ratings between 1 and 2.5 shown in the table below.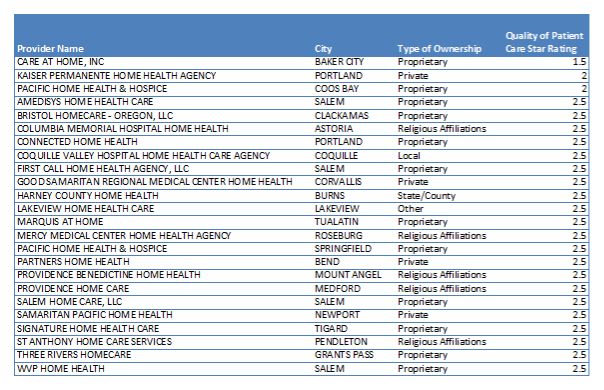 Criteria for Quality Ratings
The score is an average of nine measures out of a total of 27 currently tracked and reported as part of CMS and U.S. Department of Health and Human Service new push for assessing and improving healthcare quality across the nation.
Medicare's quality of care comparison scores are provided to help consumers and their families determine how well home healthcare agencies are caring for their patients. Facilities get a higher score by following best practices when caring for their patients, and when patients improve.
Criteria for home care quality scores are considered in these categories:
Managing daily activities
Managing pain and treating its symptoms
Treating wounds and preventing bed sores
Preventing harm to the patient
Preventing unplanned hospital care
CMS methodology for selecting criteria is based on process and outcome measures. Process measures include (1) timeliness of the initiation intake or visitation, (2) drug education regarding the medications provided to patients, and (3) influenza immunizations.
Outcome measures include improvements in the following areas:
Ambulation
Bed transferring
Bathing
Pain interference with activities
Shortness of breath
Acute care hospitalization
CMS is also in the process of designing additional star ratings that will be based on the patient experience. These are scheduled for publication on the Home Health Care website in January 2016.
Calculating Scores
Medicare's home health care star ratings are calculated based on a combination of factors: patient consensus data, the agency's Outcome and Assessment Information Set (OASIS) assessment (a requirement of Medicare's certification process), and Medicare claims data.
All home healthcare agencies with a certification to provide Medicare services to eligible patients are required to receive a rating.
As noted on Medicare's Home Health Compare website, it's important to keep in mind that the star ranking is a comparison between facilities that have provided sufficient data. Those with limited data are excluded from the ratings.
Calculations for the star ratings are an average of measures ranked from lowest to highest across facilities nationally. Although one agency may rank lower than another, it should not necessarily suggest the facility is providing poor quality of care.
Kaiser Health News Did an Analysis
The star ratings come as home health agencies play an increasingly important role in caring for the elderly, according to an article by Jordan Rau that appeared in Kaiser Health News. Last year 3.4 million Medicare beneficiaries received home health services, with nurses, aides, and physical and occupational therapists treating them in the home. Medicare spends about $18 billion on the home health benefit, which provides skilled services that must be authorized by a doctor, not housekeeping care that some elderly pay for privately.
"It's not like a nursing home, where you can go and walk around," said Dr. Cheryl Phillips, an executive at LeadingAge, an association of nonprofit groups focused on the elderly, told Kaiser Health News. "You can call the agencies and find out a little bit about them and their philosophy of care, but even for an informed consumer like me, you're kind of stuck with whatever your physician has ordered."
Experts said the ratings could have substantial financial impacts on agencies, even driving some low-rated ones out of business. Hospitals, doctors and nursing homes may be reluctant to refer patients to agencies with fewer than three stars. A total of 2,628 agencies — 28 percent of those Medicare evaluated — received those below average ratings. "It's a very fragmented, competitive market in a lot of metropolitan areas," said Lilly Hummel, a manager at Avalere, a health care consulting firm in Washington, D.C. "It could get difficult for home health agencies that, for whatever reason, aren't doing well on the star ratings."
The analysis by Kaiser Health News also found a wide variation in scoring among types of providers. Visiting nurse associations and agencies with religious affiliations tended to get the most stars. Home health agencies run out of skilled nursing homes and agencies run or paid for by local governments tended to perform poorly.
The star ratings were designed to capture overall quality by summing up the results of nine of 27 measures Medicare already publishes on its Home Health Compare website. Agencies were evaluated by how quickly they started visiting a patient, whether they explained all the drugs a patient was taking either to the patient or their caretaker and whether they made sure a patient got a flu shot for the season.
The agencies also were judged on how much their patients improve in skills like walking, getting in and out of bed, bathing, breathing and being able to move around with less pain. Finally, the agencies were rated on how many of their patients ended up going to the hospital. The current star ratings are based on performance from the fall of 2013 through the end of last year. Medicare will reassess the stars quarterly.
Diane can be reached at [email protected] and Kathryn can be reached at [email protected].
If you value this story from The Lund Report and others like it, support our matching challenge grant today! All donations made to The Lund Report by October 31, 2015 will be doubled. Click here for details.
×
This article is for premium subscribers. If you are one, please sign in below.
You can see
two
more premium stories for free. To subscribe,
click here
. We depend on premium subscriptions to survive, and they are tax deductible.