No strike is imminent, but the vote increases pressure on hospital management as contract bargaining drags on
September 18, 2023
This article has been updated with additional reporting. 
Nurses at Oregon Health & Science University announced that they are prepared to strike if management at the state's largest hospital doesn't improve its contract offer to address workplace issues that a union leader says are at "crisis" level.
Hundreds of nurses and their supporters rallied in Elizabeth Caruthers Park on Portland's South Waterfront Monday to announce that the Association of University Registered Nurses voted overwhelmingly to authorize a strike. The boisterous rally followed a summer marked by labor unrest in Oregon and elsewhere that included a rare nurses strike by three workplaces at Providence Health & Services. 
While no strike is imminent, the rally by the union — which operates under the umbrella of the Oregon Nurses Association — is the latest show of strength by health care workers seeking to leverage their post-pandemic clout for better wages and working conditions. 
The two sides have been meeting since December 2022 to negotiate a new contract for the more than 3,100 OHSU nurses represented by the union. They have been working without a contract since June 2023.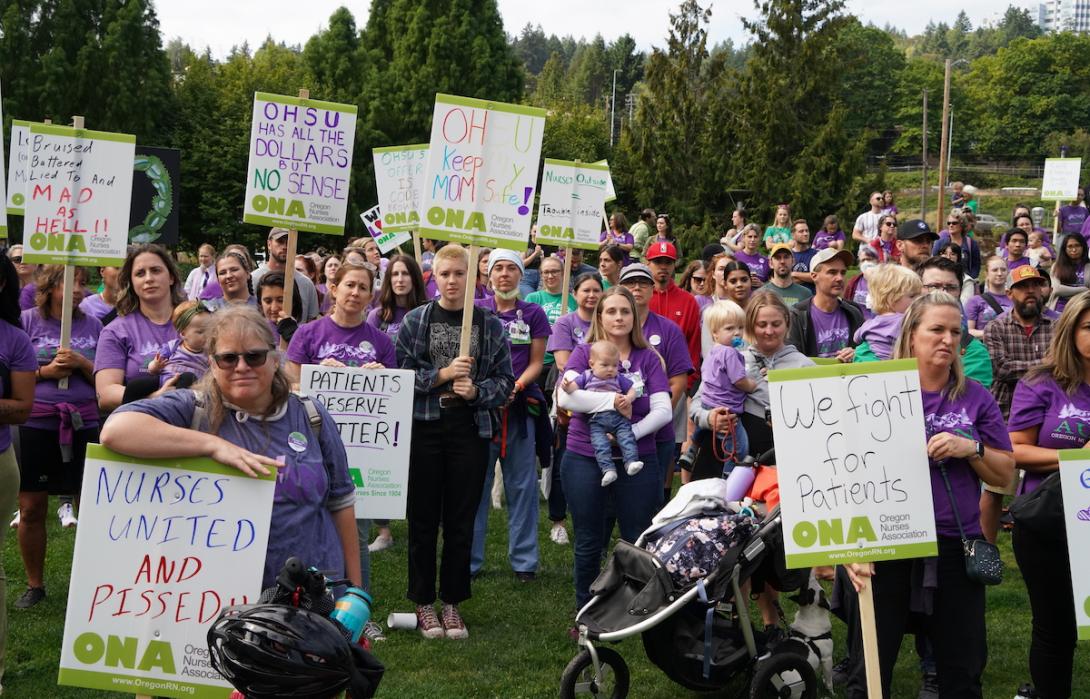 "We are now and have always been ready to bargain for a contract that improves health care for our patients, our co-workers and our community," Duncan Zevetski, association vice-president told the rally. "But we refuse to roll over and accept a contract that would endanger our patients or co-workers or our community."
Clad in the union's signature purple, nurses held signs with slogans including "Ignoring nurses is bad medicine," "ice cream (and) pizzas DO NOT PAY MY BILLS" and "protect us, respect us." 
The crowd jeered and booed as Zevetski outlined the nurses' complaints with OHSU: Not enough staff to care for patients or even give staff breaks. Too many nurses assaulted on the job. Nurses fleeing the job because of working conditions. Zevetski said that OHSU has meanwhile poured money into executive compensation and new construction, while also seeking to purchase Legacy Health. 
"No matter what it looks like on the outside, OHSU's crises are real," he said. 
OHSU spokeswoman Sara Hottman responded with a statement stressing that no strike has been declared and both sides continue to negotiate. 
"OHSU takes seriously the possibility of a strike and it is our hope that such an event can be avoided," reads the statement. "That is why OHSU has continued to respond to ONA's stated priorities during mediation."
Hospital management has offered across-the-board raises starting at 15% in the contract's first year, with smaller raises after that. The university's statement called the offer "historic," saying it would mean the "highest average wages in the state." 
By June 2024, the hospital's offer would bring staffing levels at or above the nurse-to-patient ratios required by a new state law, according to the statement. Additionally, the hospital has offered bonuses of up to $10,000 The university committed to spend at least $10 million on workplace safety improvements following an outside review of the hospital's training needs, security of its physical environment and emergency alert systems. 
A post on the nurses union blog states that negotiators met with OHSU representatives for over 14 hours on Friday for the third day in a row. OHSU management has offered one-time bonuses ranging from $5,000 to $10,000, according to the blog. But in exchange for the bonuses, hospital management is asking for the nurses union to give up extra pay for difficult positions and shifts, increases to staffing, safety measures and others. 
A factor complicating the negotiations is the proposed merger between OHSU and Legacy Health that would create a 10-hospital system in the Portland area. The nurses union now wants the ability to reopen negotiations if OHSU's acquisition of Legacy is finalized. 
Bill Erickson, a member of the union's bargaining team, told The Lund Report that union negotiators are seeking an additional agreement with OHSU to reconsider portions of the contract should it acquire the health system.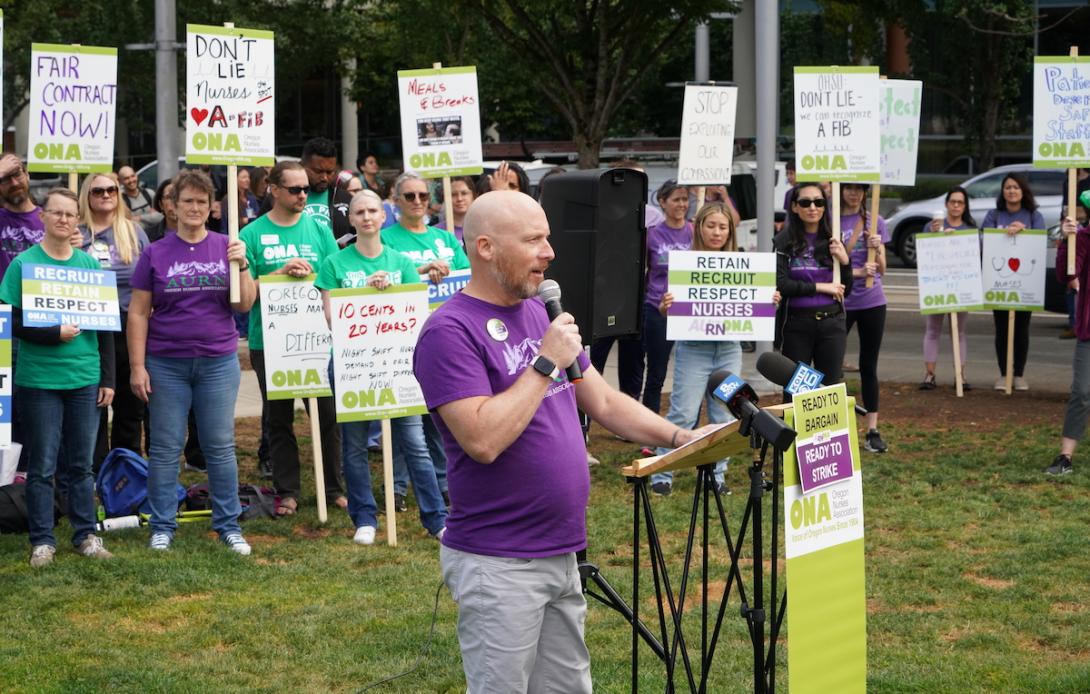 He said the union wants to be able to renegotiate working conditions for nurses affected by the acquisition and protections for any who lose their jobs. Specifically, he said the acquisition could have a big impact on the "floating pool," nurses who are assigned to various medical units based on need and may be stretched thin with more hospitals brought under OHSU's umbrella. 
In August, a week before the merger was announced, the nurses union declared an impasse after contract negotiations with OHSU failed to reach a  breakthrough. The impasse declaration meant talks entered a 30-day cooling off period to allow for more negotiations. As negotiations continued, the union encouraged its more than 3,000 members to attend "strike schools" to prepare for a potential work stoppage. 
Health system representatives in the past have described strike authorization votes as a negotiating tactic intended to up the pressure for concessions.
Service Employees International Union Local 49 announced last week that over 4,000 health care workers at Kaiser Permanente in Oregon and southwest Washington authorized a strike.
The Oregon Nurses Association in June led a five-day strike against Providence that resulted in what the union described as significant concessions for two of the three workplaces involved in the walkout.
The union js required to give OHSU 10-days notice before launching a strike.
The strike would only affect OHSU nurses in the Portland area, including the main hospital and satellite facilities, such as the Richmond Richmond Clinic, Oregon Nurses Association spokesperson Myrna Jensen told The Lund Report in an email.
The union also represents 132 nurses at Columbia Memorial Hospital in Astoria who are also considering taking a strike authorization vote as contract talks remain in mediation. 
Amber Cooper, a union labor representative, told the crowd that Columbia Memorial has a partnership with OHSU. She said that a sticking point in negotiations between the nurses and Columbia Memorial is over wages and pension benefits. 
---