New Data on Healthcare Prices Raises Questions for Policymakers
The author raises several questions about whether Oregon is doing enough to deal with rising healthcare costs and looking to see if healthcare providers are cost shifting.
OPINION -- A New York Times report released yesterday put the spotlight on healthcare prices. We all know that healthcare still costs too much, but too often, we have little information about how much it does cost and why. Here at OSPIRG, we are trying to do something about that. But in the meantime, what we do know shows that prices for the same service can vary wildly from one hospital or clinic to the next, even for facilities within a few miles of each other. The new data shows that there are also big variations in price depending on where people get their health coverage.
Specifically, the report shows that parts of the country with low Medicare spending do not necessarily have lower healthcare prices for those of us with commercial insurance. In fact, many areas with unusually low Medicare spending have unusually high prices for people who get their insurance elsewhere. Here's where some of Oregon's cities rank for spending in Medicare and commercial insurance among the cities considered in the report: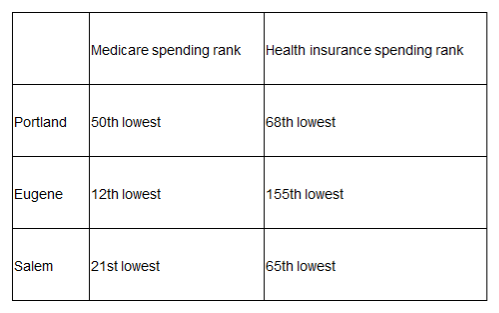 On the bright side, four of these five cities are below the national average in both categories. However, these variations are dramatic, the reasons for them are unclear, and without greater transparency, there is little that consumers can do to protect themselves from high prices.
This data raises some tough questions for policymakers:
Jesse Ellis O'Brien is the healthcare advocate for OSPIRG and can be reached at [email protected].