Member Insists OEBB Overpays for Prescription Drugs
Its policy of mandating that only mail order companies can provide a 90-day supply of drugs is increasing insurance costs, she says
October 30, 2012 -- Tamara Weaver questions why the Oregon Educators Benefit Board (OEBB) is paying more for prescription drugs through its mail order company than at Costco, her local retail pharmacy. OEBB is responsible for selecting the health plans for the majority of Oregon's public school teachers, community colleges and state universities.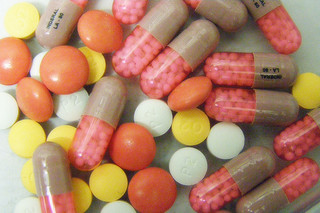 "Our insurance cost has gone up considerably since Central Oregon Community College (where her husband, James, works) joined OEBB." Weaver explained. "My main goal is to try and find a way for OEBB to save money."
Recently, she paid $47.99 for a 90-day supply of her husband's medication at Costco, without going through OEBB, and learned she could have ordered that same prescription using the 90-day option through Postal Prescription Services at a cost of $84.46. OEBB, which has a contract with this mail order company, doesn't allow retail pharmacies to dispense a 90-day supply.
Weaver decided to submit her Costco bill to OEBB, hoping she'd be reimbursed, but was turned down. "It's rather incredible that they won't reimburse you if even if you are paying less than their going rate," she said. "They should be making sure the prices they are paying are closer to market rate. I've always tried to save money for the insurance company. But it's hard to do in this day and age. Even if I wanted to be a good partner and save the insurance company money, I can't. We all need to do something about insurance and the cost of medical care."
Explaining the price differential, OEBB administrator, Joan Kapowich, told The Lund Report that the cost of medications fluctuates frequently. The manufacturer, source prescription bottle size, strength, and formulation dispensed all contribute to the cost.
"Our carriers review the benefit design and contracted rates available at participating pharmacies and evaluate the overall potential saving across all medications," she said. "We encourage OEBB members to evaluate all pharmacy options when considering purchasing a prescription medication due to the variation in costs across our pharmacy network. Costco is currently a participating retail pharmacy option. Members can receive a pharmacy specific estimate for an individual medication by accessing our online prescription price check tool."
Weaver also finds it unbelievable that OEBB doesn't allow its members to get their prescriptions refilled unless they've used up 75 percent of the medication. Before she and her husband went on a camping trip recently, they decided to "dump the insurance company" and just ended up pay cash.
"It was a huge hassle," Weaver said. "Everyone I talk to says the 30-days are a nightmare."
The 75 percent policy is in place to reduce waste, Kapowich said. "If members require a refill of their medication while they are traveling within the United States, members are urged to go to the closest available participating pharmacy. ODS (the Weaver's carrier) customer service can assist members in locating a participating pharmacy and provide assistance with the travel refill. They frequently work with members traveling out of the country or to remote areas of the United States to ensure there is no disruption in medications therapy."
Image for this story by Auntie P (CC BY-NC-SA 2.0) via Flickr.