Malpractice Legislation Nearly Ready to See Daylight
The legislative draft calls for physicians to discuss serious medical errors with their patients and, depending on the severity of the problem, offer them a financial settlement outside the courtroom
November 15, 2012 -- After months of negotiations between trial lawyers and physicians, legislators are optimistic about reaching a consensus on medical malpractice reform when they gather in Salem next month. All along the goal has been to find a way of reducing lawsuits while creating a safer patient environment.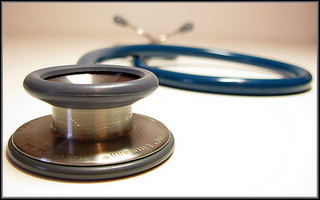 "We're still at the table talking," Sen. Jeff Kruse (R-Roseburg) told The Lund Report. "At this point I'm not sure the trial lawyers are willing to go where we want to go on disclosure and some parameters on safe harbor; hopefully we'll be able to solve those problems. Words mean things, and there's still some fussing to be expected."
Kruse was unwilling to share details about the disagreements. "We're still at the table and still talking. As long as that's happening, I don't want prejudice the process," he said.
But, he's optimistic legislation can be introduced during the early days of the session, which gets under way February 1. "That's our intent so it doesn't get held hostage to something else," he said.
The work group appointed by Governor Kitzhaber has several meetings scheduled, and hopes to wrap things up December 5, said Sen. Floyd Prozanski (D-Eugene). "I'm very pleased when you can get people to sit down and communicate with each other, and find there are more things you agree with than you disagree with."
The governor made his intentions quite clear when he appeared at a political forum sponsored by the Oregon Medical Association recently. "We're doing pioneer things on medical liability," he told physicians.
Before appointing the work group, Kitzhaber laid out four principles to guide their work – the legislation needs to lower the cost of the legal system, lower the cost of defensive medicine, improve patient safety and not preclude people from seeking legal action.
The legislative draft calls upon physicians to inform their patients in the event of a serious medical error and explain how they intend to prevent future errors. Financial compensation can also be offered to patients. And physicians would not have to report such settlements to the National Practitioners Data Bank.
To protect physicians, such disclosures would be considered confidential and not admissible in a civil lawsuit.
Calling the legislative draft a "bold proposal," Dr Bud Pierce, president of the OMA who co-chairs the work group said, "Initially, there was a lot of fear by physicians that an open and transparent process would be used against them. And, without protections, physicians also felt the new process wouldn't be fair. Now we'll see if we have the nerve to pull this off on all sides. The OMA is in favor as long as we get to see what the final legislation looks like."
Derek Johnson, an attorney with Johnson Johnson Larson and Schaller PC, who also co-chairs the work group, did not respond to a request for comment about the legislative draft.
Traditionally discussion about tort reform has revolved around limiting the amount of money people can recover for non-economic damages – pain and suffering.
But physicians realize the culture needs to change, said Dr. John Moorhead, who's watched as his colleagues have left the medical profession after enduring lawsuits.
"Now I'm an advocate for keeping physicians out of the courts," he told his colleagues at the OMA forum. "We found a program that's less confrontational, that fits patient safety and that doesn't keep a family waiting for an outcome for five years and lowers the cost of medicine."
But not everyone is in agreement about this legislative draft, particularly the liability insurance companies who end up paying the settlements.
James Dorigan Jr., senior vice president with The Doctor's Company that insurers 40 percent of Oregon physicians, believes this new system will lead to a higher volume of claims and higher costs.
"There's no data to support a decrease in either the frequency or severity of claims," he told the work group.
Over the last five years, he said, liability premiums have decreased, while the frequency of claims has also dropped by 30 percent.
Dorigan prefers to have an appropriate agency handle serious event reports, collect data and develop a plan for using this data to improve patient safety. Insurance companies also need to be involved at the reporting stage to help make the final determination on settlement offers, he said.
Melanie Spiering, underwriting director with the CNA group that insures 2,000 physicians, agreed with Dorigan's conclusions, saying her company preferred to see the legislature enact tort reform. One example she gave would allow the amount awarded in a lawsuit to reflect the actual loss incurred.
Of all the testimony, Legacy Health offered the harshest criticism, saying its hospital system opposed the legislative draft and already engage in early discussion and disclosure similar to what's being proposed.
This legislation will not reduce costs, limit defensive medicine, discourage lawsuits or fairly compensate people who are the victims of true negligence by asking physicians to offer an apology and then outlining the steps so as not to make future medical errors, according to Campbell Groner, senior vice president and senior legal officer.
"This will become a windfall for trial attorneys," he wrote. "It punishes providers for disclosure and making efforts to improve quality. It contains the false promises that disclosures will not make it into court," he told the work group.
Groner called the approach "contradictory to all modern research-based efforts in high risk systems to avoid a culture of blame and promote a culture of safety" and suggested that physicians should use evidence-based medicine and design safe systems to minimize the occurrence and consequences of inevitable human error."
On the other spectrum, OSPIRG stressed the importance of patient safety while commending legislators for its attempt to improve the medical malpractice system.
Under the legislation, an administrative entity would be empowered to establish and disseminate techniques to prevent medical errors.
"That information should be widely available with recommendations published so there's an opportunity to make the process more robust," said Jesse Ellis O'Brien, healthcare advocate. He also suggested that such recommendations be incorporated into the standards required by hospitals and insurance companies and become a requirement for rate increases.
Studies have shown, he said, that medical malpractice payments are highly concentrated, with just 5% of physicians responsible for about a third and 11% of doctors responsible for over half of all payments from 1991-2006.
"The proposal could do much more to protect consumers by strengthening patient safety provisions and working to build greater provider accountability," he said.
Acknowledging the legislative draft is still a work in progress, Larry Mullins, CEO of Samaritan Health Services, who sits on the work group, said, "During the hearing process we've heard pros and cons on the approaches, and the direction we're trying to go is a good direction. The legislative members and the rest of us are committed to doing it; now we're trying to hammer out some language and considerations to get to the legislative body. Not everyone will get everything they want, but I think it will be an improvement from where we are now."
TO LEARN MORE
To review the latest legislative draft and read comments about the proposal, click here:
http://www.oregon.gov/oha/OHPR/PSDM/LegDraft.pdf
http://www.oregon.gov/oha/OHPR/PSDM/OutstandingIssues.pdf
http://www.oregon.gov/oha/OHPR/PSDM/PublicCommentfromOrg.pdf
http://www.oregon.gov/oha/OHPR/PSDM/PublicCommentSummary.pdf
http://www.oregon.gov/oha/OHPR/PSDM/FinalRecstoGov_9%206%2012.pdf
http://www.oregon.gov/oha/OHPR/PSDM/Roster.pdf
Image for this story by Lidor (CC BY-NC-ND) via Flickr.