Survey: Sexual Harassment, Discrimination Pervasive At OHSU
Oregon Health & Science University has a problem with sexual harassment and discrimination, according to a survey of staff and students. 
The survey, which was conducted online a year ago and was recently released internally and to The Lund Report, shows a high prevalence of sexual misconduct and discrimination. The results echo those from a 2017 staff survey but they're much more in-depth. One-third of staff and students who responded said they'd experienced sexual misconduct in the last five years; 34% said discrimination was somewhat, very or extremely problematic at OHSU; 20% said they'd witnessed discrimination within the past year; 15% said they'd personally been discriminated against in the past 12 months; and nearly 60 percent said they feared they would be retaliated against for reporting a problem.
At the same time, a large majority -- nearly 80% -- said they felt safe, and about 60% said they knew where to get help for discrimination, harassment or retaliation.
OHSU routinely surveys employees about their work environment. But this poll was the first to focus on harassment and discrimination. It comes at a time of increased awareness about the prevalence of sexual harassment and gender bias at academic medical institutions.
"It is a very, very pervasive issue," said Dr. Dara Kass, assistant clinical professor of emergency medicine at Columbia University in New York and a founding member of Time's Up Healthcare, a nonprofit formed a year ago to address sexual and gender bias in medicine.  
The problem is that men are in charge, Kass said. "Traditional academic medicine consists of a male-dominated environment with a hierarchical structure," Kass said. "The system facilitates a culture of harassment which then empowers men to be harassers."
OHSU's affirmative action director, Laura Stadum, also co-founded Time's Up Healthcare as did Dr. Esther Choo, an OHSU associate professor and emergency medicine physician and national speaker against sexism and bias. 
OHSU declined an interview request from The Lund Report. Instead, it released a statement:
"Diversity and inclusion are central to OHSU's core values and strategic goals and are supported and advanced at the highest (levels) of the institution. In the past few years, we have implemented a number of programs and initiatives in support of an inclusive, welcoming and respectful work and learning environment," it said.
The statement acknowledged OHSU has a problem: "The results show more work is needed to expand prevention and training efforts as well as develop more efficient ways for people to access resources."
It's unclear how deep bias and harassment cuts through other academic medical institutions. Surveys like the one OHSU conducted are relatively rare, Kass said. But a 2018 report by the National Academies of Sciences, Engineering and Medicine -- entitled "Sexual Harassment of Women" -- found that academia has the second-highest rate of sexual harassment behind the military. The report said sexual harassment affects nearly 60 percent of women faculty members and staff. Medical students are especially vulnerable, it found: They're 220% more likely than students in non-scientific or technical fields to experience sexual harassment.
Thousands Respond To Survey
At OHSU, just over 5,300 people responded to the poll, nearly one-quarter of some 22,000 staff and students at the university. Almost 80 percent of respondents were white, nearly 70% were female and 55% were between 30 to 49 years old, with more than 17% employed as faculty, just over 75% other staff and 7% students.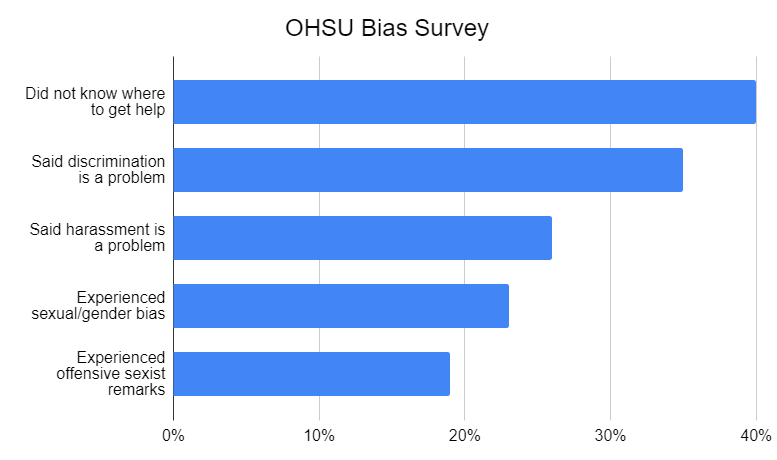 The survey indicated that those in charge -- faculty and supervisors -- were responsible for the highest proportion of sexual misconduct (40%), but participants also cited staff and administrators (26%), with a fraction of the violations committed by students, residents, fellows and even non-OHSU officials.
"The reason (sexual harassment) is so high in medicine is that it comes from every direction," said one OHSU faculty member who requested anonymity for fear of retaliation for speaking to The Lund Report without authorization. "In other settings, it's mostly co-workers and  supervisors. In health care, it's coming from every direction -- colleagues, supervisors, family members and patients - there are so many potential sources of harassment."
In the survey, 26% of respondents said they'd been the victim of sexual misconduct within the last three months, while 22% said it had happened a year or two ago. 
An ongoing court case accuses OHSU of allowing harassment and intimidation to go on for several years. 
In the suit filed last year in Multnomah County Circuit Court, Brandi Toscano,a medical imaging specialist, said that in 2016 a coworker at OHSU started "a campaign of sexual harassment, intimidation, stalking and threats" against her. She complained to her supervisor and so did others, the lawsuit says. But her manager brushed it off, saying the accused harasser  "was probably 'on the spectrum' and that he probably just 'admired her,'" the suit alleges.
Toscano, saying she worried about her safety and that of her children, with the coworker ambushing her in a dark changing room after her shift, obtained a protective order against him. OHSU launched an investigation in 2018 but that was dropped because the official in charge left the organization, the complaint says. The coworker was put on administrative leave the same year, and Toscano was forced to take on an overload of work the suit says.
An amended complaint filed this past December accuses OHSU of retaliating against Toscano by demoting her, reducing her pay and forcing her to quit. The pending discrimination suit seeks unspecified damages.
An OHSU response to the complaint says that university policy bans sexual harassment. It says Toscano's complaint should be dismissed because Toscano didn't file an internal complaint until September 2018 and that OHSU investigated, concluded the investigation in March 2019 and that Vincent left the same month.
"Any claim for sexual harassment or hostile work environment based on alleged harassment before September of 2018 is barred," the response says.
That same year, OHSU researchers published a study that looked at bias in the operating room. It found that female surgeons were subject to gender discrimination while performing procedures. 
The survey shows a high reluctance among employees to complain, out of fear of reprisals. But when they do, investigations are so secret that even victims are not kept up-to-date, sources told The Lund Report.
"The minute there's an investigation it goes into lockdown," said one OHSU faculty member, who requested anonymity out of fear of reprisals. "Nobody is allowed to talk about an ongoing investigation."
The administration generally doesn't tell employees when an investigation is concluded or what the results were either.
"Part of the problem is that these things are so opaque," the faculty member said. "It's very hard for (someone) to know what is happening."
'A Numbers Game'
Women make up the majority of OHSU staff  -- 67%. But that's not enough, critics say.
"It's not just having a numbers game where men and women are equal in numbers," said Kass of Time's Up Healthcare. "We've seen admissions in medical school to be at basically even numbers for a generation. It's about empowering and promoting women, minorities and underrepresented groups across the board into positions of leadership and power and making their voices count and matter."
That sentiment is reflected in an ongoing court case filed by a former vascular surgeon at OHSU who said she was paid less than her male counterparts, blocked from promotion, and subjected to questioning about her judgment and sexist comments.
"Rather than take corrective action to stop pervasive sex discrimination, year after year, defendants tolerated it, contributed to it and fostered an environment causing an exodus from OHSU," the complaint alleges.
In response, OHSU denied in a court document that it had discriminated against the surgeon, Dr. Erica Mitchell, in pay, career opportunities or other ways.
The case, in U.S. District Court in Portland, has dragged on for more than a year. 
Some of the sentiment in the complaints, which accuse OHSU of supporting a "toxic environment," are echoed by members of an African American group on campus. It's one of several groups for women and minorities such as Latinos and the lesbian, gay, bisexual, transgender and queer community that are supposed to offer opportunities for career development and support. But they've not helped diversify the campus, critics say.
Only 3% of faculty, researchers and other staff are African American. Members of the black resource group told The Lund Report that OHSU is unwelcoming to blacks. Some say they don't feel safe, especially following the noose that appeared late last year slung over a cone in a construction area. The perpetrators were not found.
Dr. Danny Jacobs, who was hired at OHSU's president in August 2018, is African American, but members of the resource group say he has yet to move the bar on promoting and hiring African Americans into positions of authority so that they can make changes.
Several complaints have been filed against OHSU with the Oregon Bureau of Labor and Industries since last July, alleging discrimination and bias. One of them was filed by an African American nurse who was hired as interim chief nursing officer for Doernbecher Children's Hospital at OHSU last November. She accused the university of discrimination in terminating her contract. The complaint said she was told she was "aggressive, a stereotype associated with black women," and that she was told to straighten her hair for an interview for a permanent position to "be seen as 'professional'" or less black.
OHSU did not comment on the case. But in a statement, the university said it has zero tolerance for bias.
"Discrimination, harassment and sexual misconduct at OHSU are not tolerated," the statement said. "Individuals who violate OHSU policies or laws will be held accountable."
An Action Plan
A faculty member said that the survey marked a step towards OHSU trying to understand and quantify sexual misconduct, harassment and discrimination on campus.
"So even though it's pretty depressing numbers," she said, "this is actually a very positive step. The issue will be where do we go from here."
The survey made a number of recommendations, including the adoption of more preventative measures, training to reduce discrimination and ensuring that employees know what discrimination is, how to make a report and understand their obligations. It recommended the same steps to prevent sexual misconduct.
It said that OHSU leadership must take a prominent stand and send a strong public message.
"A clear message from leadership that this behavior is not tolerated and that individuals who violate the laws and policies will be held accountable is a key component of prevention," the study said.
OHSU said in its statement to The Lund Report it plans to provide additional on-demand and in-person training on discrimination, harassment and bystander intervention; will increase communications and develop a mobile app to help people find resources and help.
It said senior leadership and human resources will develop an action plan based on employee feedback and will hold forums on campus "to hear employees' thoughts and insights on how we collectively foster a culture of diversity, equity, inclusion and respect."
The university has scheduled meetings to discuss the survey with staff this Wednesday and the following Thursday.
Solving this problem at an institution with thousands of employees working on a sprawling campus from Marquam Hill to the Waterfront won't be easy, observers said. It will take years and require a major shift in the work environment, observers said. 
They welcomed OHSU's pledge to crack down on discrimination and harassment but said it will take more than promises for change to occur.
"We need changes in the entire culture and atmosphere of the place," a faculty member said. 
You can reach Lynne Terry at [email protected] or on Twitter @LynnePDX.
×
This article is for premium subscribers. If you are one, please sign in below.
You can see
two
more premium stories for free. To subscribe,
click here
. We depend on premium subscriptions to survive, and they are tax deductible.