May 30, 2013
May 30, 2013 -- After more than a year long struggle, the coordinated care organization in Klamath County is about to see the light of day. Earlier this week its county commissioners, by a 2-1 vote, approved a memorandum of understanding with Cascade Comprehensive Care. Executive Director Bill Guest said the breakthrough came after the Oregon Health Authority intervened, producing a document that delineated the essential mental health benefits of a CCO, which had been a bone of contention among county residents. The state also brought up in a mediator to resolve the dispute between the county and Cascade.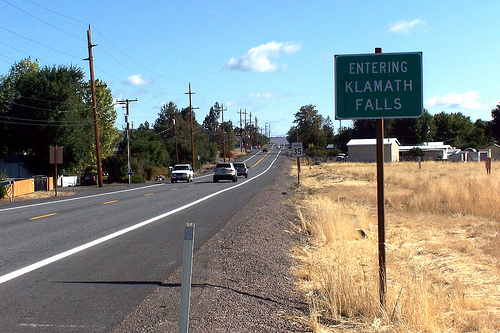 Now contract negotiations are expected to begin shortly to establish a provider panel for mental health services, while Guest is optimistic of reaching agreement with the county's two largest providers, Klamath Youth Development Center and Lutheran Family Services. Another organization, Jefferson Behavioral Services, is ending its contract with the state on June 30. The new CCO should be up and running by Sept. 1.
"I'm looking forward to implementing what's been started in the rest of the state, and becoming part of the brotherhood of the CCOs," said Guest. "We have an almost two decade record of providing Medicaid services and are strongly supported by the local medical community." Currently Cascade has 13,000 people under its wing, and that number is expected to grow by another 5-6,000 when the Medicaid expansion begins next January.
Because of the inability to reach agreement with the county, Cascade has seen its Medicaid revenue fall by 2 percent since last September after the Oregon Health Authority imposed a penalty. In total, its lost $275,000 over the past 10 months. "It meant there was less money available to pay doctors and hospitals which makes it difficult in a time of physician shortages and, in particular, primary care," Guest said. I'm looking forward to implementing in our county what's been started in the rest of the state," Guest said. "We have an almost two decade record of providing Medicaid services – we are strongly supported by local medical community."
Currently Oregon has 15 CCOs that serve more than 600,000 people on the Oregon Health Plan. Another 200,000 people will begin eligible next January under the Medicaid expansion.
Commission Chair Voted No
Despite the recent decision by the commissioners, not everyone in Klamath County agrees with the need to establish a coordinated care organization. The most outspoken opponent is Dennis Linthicum, who chairs the county commission and voted against the agreement. Basically Linthicum objects to increasing governmental spending for health care out of a belief it will just lead to higher costs, less innovation and not provide better services.
He had no hesitation about sharing his opinion, "Healthcare is running mad and will be very expensive by encapsulating more and more people," he told The Lund Report after the vote. "The state has an incentive to growth the program because for every dollar, they get a 50 percent match. It's a great way to keep getting more money for more services, the program grows but never curbs costs, provides better access or innovates. There's actually a perverse incentive s we spent more money on Medicare and Medicaid. Instead of cost cutting and finding innovation, healthcare is going to bankrupt this country if we don't take this seriously. We pretend we have solutions but we have an expensive market and special interest groups receiving the rewards at the expense of taxpayers."
Linthicum also objected to the decision because Cascade, as a for-profit entity, wouldn't allow anyone from the county to serve on its governing board once its CCO is established. "The public at large has no access to any meaningful feedback and doesn't get access to the private books and record keeping of a for-profit entity. We just wanted a seat at the table."
Cascade does intend, however, to create a community advisory council of public members similar to other coordinated care organizations around the state.
Also when the Oregon Health Authority opened the process for entities to become coordinated care organizations, no one tried to organize in Klamath County. "The relatively small size of the county make the feasibility of more than one CCO unlikely,"" said Guest. His 9-member board includes Sky Lakes Medical Center, which has seats.
Some people have suggested that the hospital was unwilling to contract with another CCO. But Guest said he was unaware of such discussions, "We don't have anything to do with the hospital's individual decisions on who they contract with; they're a minority owner on our board.
Image for this story by J. Stephen Conn (CC BY-NC 2.0) via Flickr.
Diane Lund-Muzikant can be reached at [email protected].
To read previous articles about the dispute in Klamath County over mental health issues, click here.