Hospital Systems Face Internal Vaccine Skeptics
Dr. Cynthia Maree, medical director of infection prevention at St. Charles Health System in central Oregon, is no vaccine skeptic. But last year when Pfizer and Moderna announced their COVID-19 vaccines would be ready by December, she was hesitant to embrace them.
"Most of us came in with a very critical eye to something that had been created so quickly," Maree told The Lund Report. 
Usually, it takes at least a decade to develop a new vaccine. These vaccines were available in less than a year, and they relied on a new technology -- mRNA -- that had never been approved before. Messenger RNA vaccines turn cells into factories that manufacture a key part of the pathogen rather than introducing the pathogen to the body through the vaccine.
Like many other specialists, Maree did her homework. She read the studies and combed through the data. When the vaccine was offered to St. Charles in December, she was eager to get her shots.
So were other medical providers in her hospital system. But not everyone at St. Charles -- or those who work for other hospital systems in Oregon -- have been willing to get vaccinated. 
A survey of hospital systems in Oregon indicates that between about 85% and 90% of providers -- doctors, nurses and other professionals -- at hospitals have been vaccinated. But only about 75% have been inoculated when taking account of all employees, including housekeeping, nutrition staff and administrators.
Maree said she would like to see a higher overall vaccination rate at St. Charles and other hospital systems.
"I am concerned that if we do not stay focused on the goals, we will not get there soon enough to prevent another surge in our area this fall," Maree said. 
Given the level of vaccine hesitancy and resistance in U.S. society at large, it's no surprise that even within hospital systems -- which have led the vaccination drive -- numerous workers are rejecting the shots.
Hospital leaders said they are trying to address that within their own organizations through education campaigns. By law, health care companies cannot mandate vaccination as a condition of employment. 
At Salem Health, Dr. Jasmin Chaudhary, an infectious disease expert, has led an effort to educate employees about the vaccines by holding weekly town halls that address people's questions and go over the data and studies. The hospital system has held them in Spanish and plans to include other languages. The idea is to give staff correct information and combat wild claims on social media.
"We know that nationwide and worldwide, we're facing a battle with misconceptions on social media that take precedence in people's minds," Chaudhary said. "It's our duty as medical providers to reach out with the sound data and the research and the results that show that this vaccine is effective and life-saving."
The most vaccine-averse at St. Charles are workers who don't deal directly with patients, Maree said.
Most Hospital Systems Hit 75% Mark
St. Charles records show that about 76% of its employees have been vaccinated. That's the same as PeaceHealth's staff in both Oregon and Washington, a hospital spokesman said. At Oregon Health & Science University, a total of 75% of employees and students were vaccinated as of May 15, a spokeswoman said. OHSU employs 18,000 people and has 4,000 students in its medical, nursing and dental programs.
At Kaiser Permanente, about 76% of the 12,000 Oregon employees in its health plan have received at least one dose, a spokesman said. Health plan staff include nurses, mental health therapists, nutritionists and office staff but exclude physicians and dentists.
Legacy Health, which employs more than 12,100 people in Oregon, has vaccinated 75% of its staff -- the same percentage as Samaritan Health Services, which has a staff of nearly 6,100 in Benton, Lincoln and Linn counties. 
Hermiston-based Good Shepherd Medical Center, which employs more than 500 people, did not respond to repeated requests for its vaccination rate. The hospital system is in Umatilla County, which has among the lowest vaccination rates in Oregon.
A spokesman for St. Alphonsus Medical Center in Baker City did not provide a percentage either. 
"Since we do not require that our colleagues get vaccinated, we do not track the number of them who have received the vaccine," said spokesman Mark Snider. The center is owned by Trinity Health, which is based in Livonia, Michigan.
A spokesman at Providence Health & Services, the largest hospital group in Oregon, said the nonprofit also doesn't track the vaccination rates of its employees.
Salem Health, which has about 5,100 employees, said it has vaccinated at least 70% of them. 
"If you compare that to how many people in the U.S. and in Oregon are vaccinated, it far exceeds those percentages," Chaudhary said. 
Just over 40% of Oregonians are fully vaccinated, and another 10% have received one dose, according to Oregon Health Authority statistics. Across the country, nearly 40% have also been vaccinated.
But those rates will need to rise to keep the pandemic at bay, specialists say. Infectious disease experts estimate that the country will reach herd immunity -- when the viral spread stops because enough people are immune -- when 70% to 90% are fully vaccinated or have natural protection because they've already been infected.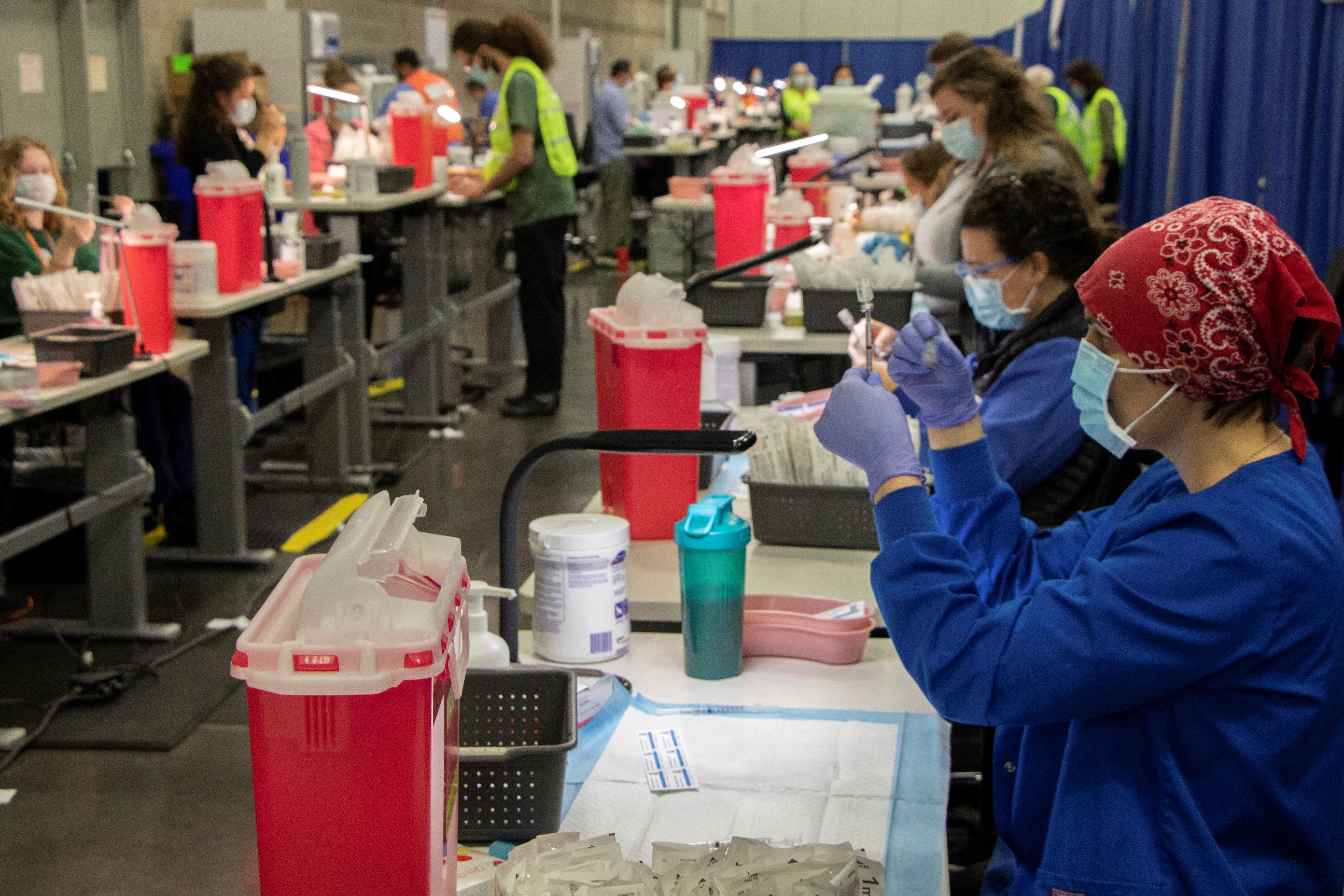 Providers Lead The Way
The Lund Report survey indicates that medical providers in Oregon, including physicians, nurse practitioners, physician assistants and osteopaths, have the highest rates of vaccination among hospital employees in the state. But even among this key group of professionals, as many as one in 10 remains unvaccinated, despite the fact that all of the hospital systems started administering shots to employees in mid-December as soon as the Pfizer vaccine was available.
Northwest Permanente, Kaiser's physicians' group which includes 1,250 doctors, has a vaccination rate of more than 90%, a spokesman said. It's dental arm, Permanente Dental Associates, which includes 150 dentists, has a similar rate.
About 85% of providers at both Salem Health' and St. Charles Health System are vaccinated. 
Maree, the infectious disease chief at St. Charles, sees 85% as a good goal for vaccination rates in the hospital and community.
"I would like to see 85% in hospital as a minimum for this year and the same in the community across (all) ages," Maree said in an email. 
Gov. Kate Brown has set a 70% vaccination target of Oregonians aged 16 and older for the state to reopen. She has acknowledged -- and so has Patrick Allen, director of the Oregon Health Authority -- that 70% falls short of herd immunity. The Oregon Health Authority declined to provide any scientific reasoning for the 70% figure, which has also been adopted by Washington state Gov. Jay Inslee, and set by U.S. President Joe Biden as a goal for the country as a whole by July 4.
"If we can reach that level and beyond, then we'll continue to see reductions in cases," said Rudy Owens, a spokesman for the health authority. 
A public health expert who requested anonymity over fears of any backlash, said that no one really knows what the scientific target should be to end the pandemic, so they set a goal based on politics, not science.
"A lot of the politicians land on 70%," the expert said. "They picked something that was achievable."
It also takes into account hardcore vaccine opponents in Oregon, the expert said.
Physicians Aim To Close Knowledge Gap
On Friday, Brown announced that an Oregon vaccine lottery offering cash prizes will take place on June 28.
Everyone who's had at least one shot will be entered. 
Maree said the prizes might help. 
"Lotteries bring attention to the continuing vaccine campaign and the need to encourage everyone to get vaccinated," Maree said. "I am not of the belief that this will change the minds of those firmly opposed to vaccinations. However, it may be the motivation some needed to do today what they were planning on doing at some point."  
So far, the prize money has not spurred a rush in demand for vaccines, according to Salem Health, which operates a mass vaccination site at the Oregon State Fairgrounds.
"Salem Health has not yet seen a marked increase in first dose vaccine demand since the monetary incentives were announced by Governor Brown on Friday, but we are prepared for any increased demand that the incentive may generate," said Lisa Wood, a spokeswoman for Salem Health. "For the vaccine clinic at the fairgrounds, the number of first doses given on Saturday was less than the previous two Saturdays."
Most of the mass vaccination sites in Oregon are winding down amid a drop in demand, but the health authority hopes that providers, who have personal relations with their patients, will help increase the vaccination rate.
Maree, of St. Charles, said the hospital system plans to make the vaccine more available for people who've had transportation difficulties or work night shifts, for example. 
"We have a lot greater vaccination compliance with our patient-facing roles as opposed to our non-patient facing roles," Maree said. "There is a lot more motivation if you feel like you have the potential to get exposed to COVID at work versus not, but there are also the concerns of being able to get to the vaccine and of having more barriers to getting vaccinated in those non-patient-facing roles where you could be working at home, the transportation could be difficult or the hours you work could make it difficult."
Oregon experts recognize that a slice of the population -- perhaps 20% to 30% -- is adamantly opposed to the COVID-19 vaccines. But they hope to reach the rest and persuade anyone -- on their hospital staff or in the community -- to get vaccinated to protect themselves and others. And they realize that the vaccination rollout is now at a pivot point that will require more mobile clinics to reach people in their homes and at odd hours, to make the shots more convenient.
"We are trying to identify and battle every barrier possible, and that includes with our employees, our medical staff and the community," said Dr. Matt Boles, vice president of medical affairs at Salem Health. "I think it's a matter of time. We will continue to see these rates climb. We are going to vaccinate our way out of this pandemic."
You can reach Lynne Terry at [email protected] or on Twitter @LynnePDX.
×
This article is for premium subscribers. If you are one, please sign in below.
You can see
two
more premium stories for free. To subscribe,
click here
. We depend on premium subscriptions to survive, and they are tax deductible.