Rising medical expenses in this state put a wide range of stresses on people, according to a new report.
Image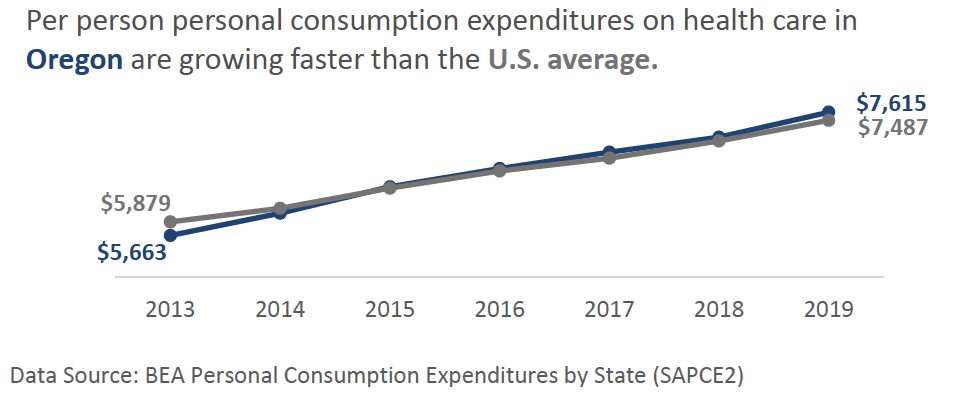 April 26, 2022
As part of its drive to curb the pace of health care cost increases, the Oregon Health Authority has released a detailed look at how rising medical expenses are eating up an ever-bigger part of Oregonians' household budgets.
Using data from 2019, the new report found that annual family health care insurance premiums averaged $19,405, including the premium cost paid by the employer and by the employee. That's nearly the average price of a compact car, at $20,972, the OHA said.
Plus, that price tag for premiums doesn't include residents' out-of-pocket costs such as co-pays, co-insurance and deductibles that aren't covered by insurance, the agency noted.
The report said that rising health care costs jeopardize the financial security of families, consume some families' savings and prompt some residents to forego needed care.
"This report fleshes out with data a troubling picture of the impacts of rising health care costs on Oregon families," said Jeremy Vandehey, director of the Health Policy and Analytics division of the Oregon Health Authority. "High costs not only cause poor health outcomes, but they also do real financial harm to people in Oregon."
The agency used the report to hammer home the value of the state's new Sustainable Health Care Cost Growth Target program. The program, being phased in over several years, aims to limit annual per-capita increases in health care costs statewide to 3.4%. The program will require scores of large health care insurers and health care providers to curb their per-capita spending to that figure. Alternatively, entities can exceed the cap if they provide reasons the OHA deems acceptable.
The program is supposed to prod insurers and health care providers into rooting out inefficiencies and streamlining health care delivery, while maintaining the same quality and range of services.
The annual per-capita cost growth rate has been about 6% or more, according to state officials.
Experts speculate there are many reasons why health care costs have risen so quickly nationwide and in Oregon. They cite factors that include mergers, excess profit-taking by insurers and hospitals, a proliferation of unnecessary procedures, and increased demand for care from an increasingly unhealthy population.
But there's not much doubt that rising health care costs are causing financial stress and chaos for many consumers, according to the new report. People are delaying care, are unable to pay medical bills, are using up savings to pay medical bills, are running up medical debt and are declaring bankruptcy to erase medical debt, the report said.
The crisis is most acute for those covered by the commercial health insurance market – about half the state's population. Some have generous insurance that provides broad coverage. Others have skimpy insurance that puts most of the financial burden on the employee. Increasingly, employers have reduced how much of their policies' premiums they cover, leaving an ever-bigger slice for the employee to pay.
The median commercial family plan premium paid by an employee rose to $5,404 in 2019, from $4,327 in 2013, the report said. In 2019, a family's premium and out-of-pocket costs totaled 13.5% of the median family income, the report said.
The other half of the population is covered by the government's Medicaid or Medicare systems. In those programs, the government is already broadly holding providers and insurers to an increase rate of roughly 3.4% a year.
The cost growth target program was created by the Oregon Legislature in 2019. It's one of a string of programs created by lawmakers and implemented by the OHA to wrestle with the high cost of health care, including high insurance premiums.
Other efforts include:
A new program to review mergers or acquisitions involving large health care entities to ensure they don't result in higher costs and reduced services;
A drive to provide affordably priced health care for some of the roughly 300,000 people who are expected to be dropped from the state's Medicaid program, the Oregon Health Plan, with the end of the pandemic.
 ways to provide universal health care coverage at an affordable price. One focus is to cut the premiums and improve the coverage for people covered by skimpy, high-priced commercial insurance plans.
Programs to document the prices of hundreds of pharmaceutical drugs sold by pharmacies and thousands of medical services and procedures charged by hospitals.
You can reach Christian Wihtol at [email protected].