Governor Kitzhaber Seeks to Expand Coordinated Care Organizations
The CCOs, which got under way in August, now cover 500,000 people on Medicaid throughout the state
September 12, 2012 – With coordinated care organizations – better known as CCOs -- in full swing for the Medicaid population, Governor John Kitzhaber is setting his sights on the next targets – people on Medicare, the state's public employees and the private business sector.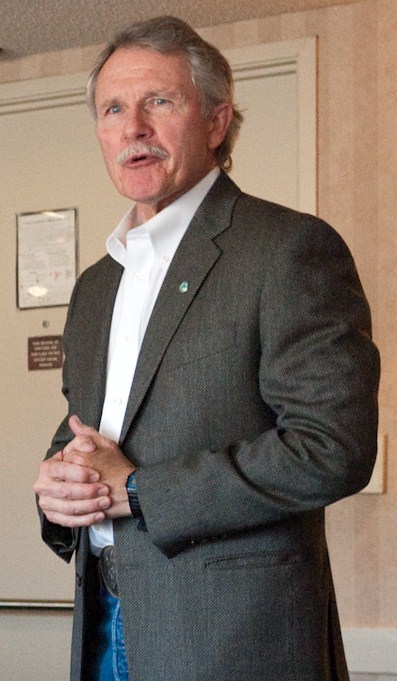 "The biggest challenge with Medicare is that it's not a sustainable model," the governor told Beaverton residents last week at a town hall meeting hosted by Sen. Mark Hass (D-Beaverton). Why not allow people on Medicare to participate in a CCO on an "experimental basis," he suggested.
Coordinated care organizations, which emerged in August, represent a new way of delivering healthcare – physical, mental and oral health under one umbrella – while the focus is on prevention, lowering costs and improving quality. Eventually, each CCO will have a global budget for all these healthcare services with targeted goals. Thus far, 500,000 people formerly on the Oregon Health Plan have joined one of 13 CCOs around the state.
"The real work has yet to begin," Dr. Bruce Goldberg, administrator of the Oregon Health Authority told the Health Policy Board yesterday. "So far the transition has been smooth and far exceeded what we had hoped for. There's been tremendous collaboration between the Oregon Health Authority and the coordinated care organizations."
Kitzhaber adamantly believes such an approach can save billions of dollars and become a model for other states struggling with limited resources.
"The federal government gave us $1.9 billion, and they stand to save a total of about $10 billion," he told the audience. "That's a pretty good return on investment. In Oregon, I hope that can be reinvested in things like education."
Looking beyond Medicaid, Kitzhaber said the coordinated care organizations are in a perfect position to offer insurance benefits to state employees. The Public Employees Benefit Board is preparing the insurance plan designs for calendar year 2014, and that bid proposal should be released later this fall.
The governor did acknowledge that the private insurance market probably feels threatened by the inclusion of CCOs. Of the 131,750 state employees and their dependents, the majority – 110,000 have coverage from Providence Health Plans, while the rest belong to Kaiser Permanente.
"A lot of money is being spent in the system that's not being used for health," Kitzhaber told the audience. "We have a system in which all the incentives are based on acute care with very little money spent on prevention. Of that $2.8 trillion, most of it goes to take care of people getting sick. We need to invest those dollars to help people be healthy.
Most chronic diseases get worse over time, and little or no money is spent on prevention. The most effective healthcare dollar is the one you don't have to spend."
There's also a huge role for public health in the new system, the governor said, calling it the "the lost step child," adding that public health goes right to the heart of the debate because it can keep people out of acute care settings.
According to an analysis by Bloomberg, $591 billion will be spent on Medicare this year, while another $459 billion will be devoted to Medicaid and $108 billion dispersed through other government healthcare spending. When Medicare and Medicaid were fully operational in 1970, their budgets represented 17 percent of healthcare spending compared to 37 percent in 2012.
Turning attention to the private business market, Oregon's healthcare leaders intend to hold meet with business leaders from the Oregon Business Council this weekend to discuss the future of coordinated care organizations. Joining them will be leaders from the insurance, hospital and physician sector. The Oregon Business Council holds its leadership summit, known as the Oregon Business Plan, on December 12-13 where Governor Kitzhaber will discuss his new approach to transforming healthcare.
Goldberg is attending those orientation meetings along with Mike Bonetto, the governor's health policy advisor, and Eric Parsons, who chairs the Health Policy Board. And, earlier this week Sean Kolmer, assistant health policy advisor to Governor Kitzhaber, also spoke to the Rotary Club of Portland on the impact of CCOs.
"It's about how we can all work together to control healthcare costs, how we can collaborate and change the way healthcare is delivered," said Goldberg, adding that discussions are in the start-up phase. "It's about information sharing and charting a long-term vision for healthcare in this state. Healthcare costs are increasing faster than any other economic indicator, and we have a common interest in working together to lower costs and improve the health of our community."
While Oregon continues full steam ahead to transform its healthcare system, nationally there's discussion about creating accountable care organizations. When Kitzhaber was asked to explain the differences between CCOs and accountable care organizations, he had a quick response.
"Both seek to integrate care, but we're the ones off the ground; we're not just talking," said Kitzhaber, adding that he was very proud of the Oregon Legislature for its bipartisan support of CCOs. "Healthcare reform at the national level is very polarizing."
There's also no sense, he said, of tying health insurance to a person's job, Everyone should have a basic benefit package that stays with them wherever they work, which will happen when the health insurance exchange is launched in January 2014.
"We either pay at the back or the front end, and we need to disconnect healthcare from a person's job," the governor said.
Recently, Kitzhaber was also ranked number three in the list of the 100 most influential people in healthcare for 2012 by the online healthcare forum, Modernhealthcare.com. He came in ahead of President Obama, who came in right behind him, in fourth place. Supreme Court Chief Justice John Roberts was number one, followed by Aetna Chief Executive Officer Mark Bertolini.
According to analysts, Kitzhaber received a high ranking after he convinced the federal government to approve Oregon's waiver to transform its Medicaid plan and provide the state with $1.9 billion.
Image for this story by Cameron Yee (CC BY 2.0) via Wikimedia Commons.