Gov. Kitzhaber Steps into Debate over Medical Liability Reform
When the Oregon Medical Association's board of trustees met last Saturday, a passionate debate ensued over the governor's medical liability proposal
January 31, 2013 -- A heated debate over medical liability reform pitted physicians against each other and came extremely close to the tipping point when the Oregon Medical Association's board of trustees met last Saturday. Legislators, defense attorneys and malpractice insurers even joined the fray.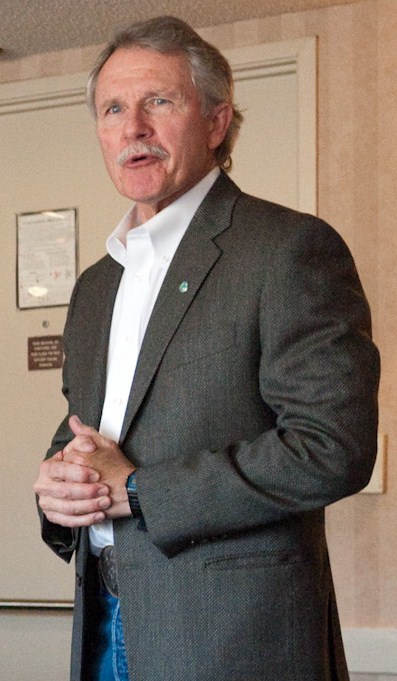 The governor had appointed a committee of physicians and trial attorneys last year, which reached agreement on an early disclosure process for medical errors, allowing physicians to apologize and enter into mediation before facing litigation. Shortly before the OMA met, that legislative proposal was altered -- making it voluntary in order to curry the favor of physicians. But there was still dissension in the ranks, particularly among physician specialists who feared the proposal would open them up to more lawsuits because of the lack of confidentiality.
When Gov. John Kitzhaber realized his proposal could go be thrown into jeopardy – which is one of his top legislative priorities – he sent a letter to physician leaders shortly before the meeting -- trying to reassure them that their voices were being heard and the resolution process was completely voluntary. He also agreed to create an oversight council of physicians and other stakeholders to monitor the implementation of this new process.
"I promised the medical community that I would seek a solution that was meaningful and viable," according to the governor's letter obtained by The Lund Report. "I believe this is the best opportunity we have had in nearly 20 years to improve the liability climate in Oregon."
He also wrote that "This proposal will be the only one I will support in 2013."
This proposal, he added, "will improve patient safety, preserve justice and reduce the collateral costs associated with our current medical liability system."
But that message didn't satisfy all the physicians gathered at the OMA headquarters who debated the proposal for nearly four hours. In the end, it passed by a small majority – 52 vs. 48 percent. To gather more momentum, board members unable to attend were able to cast their vote by phone -- even though some hadn't listened to the entire proceedings. The final tally was 60 vs. 40 percent in favor.
Two former presidents opposed the proposal
After the meeting several physicians spoke to The Lund Report, among them Dr. John Evans, a Portland anesthesiologist and a past OMA president, saying he opposed the recommendation because "of the overwhelming advice from our defense attorneys that this helps physicians minimally at best and may harm them."
A strong advocate of the OMA and its ongoing attempts to improve patient care, Evans said he had a great deal of confidence in Sen. Elizabeth Steiner-Hayward, also a physician, who intends to bird dog the process. "I do hope that if this passes the legislature she'll be appointed to the task force that reviews this legislation," Evans added.
Other physicians were also disheartened by the outcome. "Oregon needs real, proven tort reform because defensive medicine is a major driver of healthcare costs, and it also affects our ability to recruit new physicians to the area to care for patients," said Dr. Monica Wehby, a Portland neurosurgeon, also a past president of the OMA. "For those of us who've worked for years for tort reform to go from a point a year ago when we had a $566,700 cap within our grasp to an experimental program that bears no resemblance to tort reform. it's disheartening.  Our defense attorneys and liability carriers warned that this legislation could make matters worse by 'creating a problematic system where one does not exist now.'"
A voluntary early disclosure process could end up harming physicians, opening them up to more liability, according to another physician unwilling to share their name for fear of retribution from the leadership. "In early disclosure, anything you say could be used against you, and any good lawyer could find out this information despite the fact it was considered not discoverable. If a physician doesn't want to participate, their patients will think they're hiding something and trying to withhold information. And if the physician wants to participate and believes in the mediation process, they'll be afraid of disclosure because anything they say could be used against them in the courtroom."
The American Medical Association also stepped into the picture when asked whether physicians who went through the mediation process would have their names appear in the National Practitioner Data Bank. According to its attorneys, there's uncertainty about how the Department of Health and Human Services would make such an interpretation, and it's also unknown whether malpractice insurance companies would feel obligated to report such a payment.
It's the first step in tort reform
Dr. William "Bud" Pierce, president of the OMA, believes such settlement payments can be kept private. "We're hoping not for a secretive way, but a less contentious way to settle these events." U.S. Senator Ron Wyden, who sponsored the federal legislation creating the data bank, also is interested in having the early disclosure process move forward.
Pierce called the decision to approve the early disclosure proposal the first step in tort reform. "I recognize that the OMA was divided on this issue, and we need to work together over the long term to make sure we continue to be the organization that speaks for physicians in Oregon."
When physicians heard the governor talk about tort reform last year, they expected more, he acknowledged. "No one's against the concept of early discussion and resolution, but for some people it's not nearly enough."
Governor Kitzhaber realizes there's a need to move toward compromise and settlement to advance this issue, Pierce said. "We haven't made any progress on this issue since the 1980s; it's so damaging to doctors and patients."
Since no one else has taken such a program to the statewide level, there's skepticism, he said. "Because of the uncertainty about whether this is doable in a non-closed system, it was felt we should make it completely voluntary to start with so people who had confidence this would work could do it and others could see the proof. It requires a lot of cooperation among insurers, hospitals and individual physicians."
The ultimate goal from the physician's viewpoint, he said, is to get out of the courtroom so lawsuits become a rare event. "Right now the courtroom is so damaging to doctors, and it harms so many people involved. We're hoping for a less contentious way to settle these events."
Dr. Wehby favors caps
The best way to achieve tort reform is either placing caps on non-economic damages or requiring a certificate of merit, Dr. Wehby said. Before filing a lawsuit, the case would have to be reviewed by an administrative board. Such a process is under way in more than 30 states including Colorado.
"This legislation could be vastly improved by the addition of a certificate of merit which is a signed letter by a board-certified physician in the same specialty stating that the standard of care was not met," she said. "The lack of complete confidentiality of early disclosure discussions, and the federal law requiring insurers to report to the National Practitioner Data Bank are at the top of the list of my concerns."
Also, most hospitals already have their own early disclosure and risk management systems, and major patient safety initiatives that require adverse event reporting are in place at the local and national level. "But there is concern that governmental intrusion will add a layer of complexity, inflexibility, and cost to an informal process now currently tailored to meet the needs of individual hospitals, patients, and doctors," she said.
Malpractice costs have decreased
In Oregon, over the past five years malpractice premiums have actually decreased and are now are at or below what physicians paid in 2002, Jim Dorigan, Jr., senior vice president, regional operating officer of The Doctors Company told the work group that drafted the legislation. His company insures 40 percent of physicians in Oregon. Also, the frequency or the number of claims against Oregon physicians has decreased by 30 percent.
Dorigan also has serious concerns about the legislative proposal, saying it "may increase costs and delay resolution of medical malpractice cases. This proposal is untested and there is no data to support a decrease in either the frequency or severity of claims.
The proposed system is likely to drive up the number of claims or cases reported and add a layer of costs for mediation on cases that eventually are litigated. The majority of claims brought against physicians are without merit as evidenced by the fact that approximately 80 percent of claims are closed without indemnity payment."
University of Michigan has early disclosure program
An early disclosure reporting program initiated by the University of Michigan Hospital showed that the number of reports and claims actually increased, which created an administrative burden for insurance companies, but the amount in paid claims went down.
"The question is – in Oregon where we're doing this statewide rather than at a university, would the increased administrative burden be offset by decrease in the amount actually paid out?" asked Dr. Pierce.
Also the Michigan experiment is part of a comprehensive liability reform package. It is a closed system, everyone is employed by the same group, they are self-insured, have a state liability cap, have a very strong legal department that represents the university, and the doctors were promised they would never be named in a lawsuit to avoid being named to the data bank.
The state also has a cap on non-economic damages, restrictions on expert qualifications, compulsory pre-suit notice (waiting period) and collateral source rule. This resulted in a similar drop in lawsuits in all Michigan hospitals.
The University of Michigan risk management budget went from $500,000 in 2001 to $3.25 million in 2009, and the number of reported matters increased from 3,900 in 2002 to 18,000 in 2009. Also, out of pocket costs remained pretty stable at $2.7 million between 2001-2005.
"Comparing such programs as the one at the University of Michigan (being done without legislation) to the state of Oregon is like comparing apples and oranges," Dr. Wehby said.
"The AMA cautions against extrapolating the success of early disclosure programs in closed systems or states with comprehensive liability reform to systems without traditional liability reforms," she added. "They state that several key questions remain : (1) whether they can increase the frequency of liability claims (2) whether they can succeed in states without traditional liability reform (i.e., caps that serve as a financial backstop),  and (3) whether they can be expanded outside of a large integrated health system (AMA BOT report 14 June 2011)."
Image for this story by Cameron Yee (CC BY 2.0) via Wikimedia Commons.