Good Samaritan Medical Center Suffers $10 Million in Losses
Efforts are under way to reduce staff but not restrict referrals by independent physicians, according to Larry Mullins
June 13, 2012 -- Reorganization is under way at Good Samaritan Regional Medical Center in Corvallis after the organization's revenues plunged by 6 percent, representing a $10 million loss since the beginning of the year, according to a memorandum sent to hospital employees by Steve Jasperson, CEO.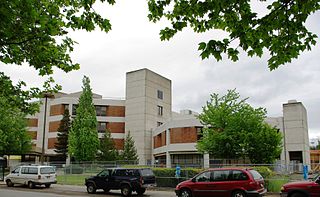 Because more losses are predicted in the coming months, the medical system is reducing its staff by 35 positions after implementing a wide range of initiatives to reduce expenses. By the end of this year, those
efforts are expected to save $2.5 million. Over the last 17 months, Good Samaritan has reduced its staff by approximately 100 full-time equivalent positions through attrition.

Jasperson told employees it was imperative that Samaritan reduce its expenses. "Our economic situation is not expected to significantly improve in the near future," he wrote. "We will continue to closely
monitor the process and take additional steps as necessary."

Over the past year, its hospitals and clinics have seen more uninsured patients while fewer people have commercial insurance. "There's been a significant change in bad debt and charity care," said Larry Mullins,
PHD, president and CEO of Samaritan Health Services, which runs five hospitals and 70 medical clinics in central western Oregon. ""We're responding to a challenging economic environment in terms of
reimbursement."

To offset its operating income losses, Samaritan is deriving a greater share of revenue from ownership of buildings and other properties and by doing consulting work for other hospital systems and academic institutions both inside and outside Oregon.

"There's been quite of bit of interest in emulating our work," Mullins said. "If people can benefit from some of our experience, that's fine. The hospital system is also strengthening the alignment among its employed physicians who number 350, but has no plans to restrict referrals to independent physicians including those who work at the Corvallis
Clinic. That clinic has 625 employees, among them 72 physicians, and is run by a board of six practicing physicians.

"There's plenty of work for all of us to do, and we're trying to work through the collaborative for our coordinated care organization," he added. "We're working as we always have with the clinic and in some areas we compete and in others we collaborative. We use the clinic for a lot of our services, and they use the hospital. Having all employed
physicians is probably not the best model; having a mix of physicians is good."

Several years ago the Office of the Inspector General conducted a non-public investigation over allegations that Samaritan Health Services had illegally controlled or directed physician referrals from its
network. Although there were no findings of wrongdoing, the hospital system supposedly got a warning following that investigation.

"We went through the review and investigation and they released us," Mullins said. "Obviously, whoever initiated that investigation didn't produce what the OIG was looking for."

Now as Samaritan prepares to launch a coordinated care organization in August through its InterCommunity Health Network, there'll be a greater shift away from hospital services to primary care medical homes, Mullins said.

"That means we won't have the demand that we've had for hospital services; we're already seeing this trend," he said. "We're trying to reshape and restructure ourselves to better match up what we're seeing
right now."

The aftermath of the economic recession has had an impact with people losing their jobs and losing health insurance coverage and fewer high technology diagnostic tests and procedures are being done.

"Cardiologists are still very busy and booked out as they have been before, but we're not seeing the level of disease or pathology that requires those patients to get some of interventional procedures they might have had such as cardiac stents," Mullins said.

Mullins is also confident the emergence of coordinated care organizations will have a decided impact on healthcare reform, particularly as behavioral and mental health practitioners collaborate with physicians.

"I'm pretty encouraged with what I'm seeing and hearing in the collaboration among the counties, the private sector, the independent physicians and mental health providers," he said. "There's been a lot of good traction and good activity. In our view this isn't a debate about what we like or don't like about health reform. It's what we have to do as a provider community, and we need to do best job to make it work well."

Samaritan also opened a fitness and wellness center in Lebanon recently. Similar facilities are planned in Corvallis, Albany and on the coast. In the past six months, 3,500 of Samaritan's 5,000 member work force joined the center and underwent a health screening assessment and were assigned a navigator to help improve their health status.

"If we can demonstrate population health with our own work force and employees, it's a model we can offer to the public at large and goes a long way to meeting the goals of the Triple Aim and is the start of a very long transformational process," Mullins said.
Image for this story appears courtesy of M.O. Stevens via Wikimedia Commons (public domain).