The volunteer crew serving Gilliam County temporarily quit when their boss was fired after a COVID-19 hospitalization.
Image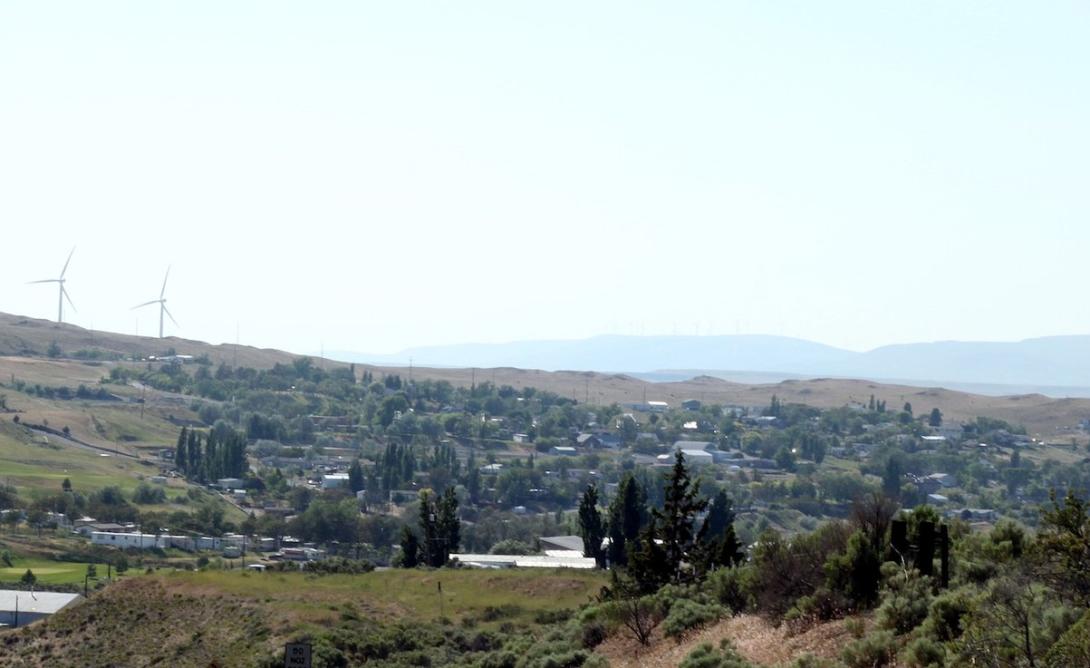 November 2, 2021
A north central Oregon health district faces uncertainty following the sudden and unexplained firing of a well-liked administrator of a clinic in Arlington and the local ambulance service.
The resulting walk-out, albeit brief, at the ambulance service showed how the workforce crisis gripping health care across Oregon can suddenly get worse in small communities. Gilliam County, with a population of about 2,000, lies east of Wasco County, abutted by the Columbia River to the north.
In late October, the board overseeing the North Gilliam County Health District voted to dismiss David Anderson from his positions. 
Anderson, who held both positions since 2014, had recently been released from an intensive care unit at Oregon Health & Science University for a severe case of COVID-19. His dismissal drew swift backlash with all 10 volunteers with the district's ambulance service quitting in protest.
While the volunteers have returned, unease remains over unsettled questions regarding Anderson's termination. Marcus Swift, attorney for Anderson, declined to provide detailed comment in response to questions from The Lund Report regarding his client's dismissal from the district. 
But Swift said in an email that his client encountered "discrimination and retaliation" after returning home from his COVID-19 hospitalization. Anderson was terminated after he notified the district that he was claiming protected status as a whistleblower, Swift said. 
"The alleged reckless actions by the North Gilliam County Health District have severely harmed my client's reputation, career, and health," said Swift. "Worse yet, the District's alleged actions have created uncertainty surrounding the future of emergency medical services in the area. The District must be held accountable for these alleged actions."
There are no complaints against North Gilliam County Health District filed with the Oregon Bureau of Labor and Industries, according to the agency's public records manager Kelsey Dietrick.
Mark Mitchell, chair of the board overseeing the North Gilliam County Health District, said he couldn't provide details about the decision to terminate Anderson. He also stressed that ambulance crews are back and responding to calls. 
North Gilliam County Health District is among Oregon's more than 1,000 special districts, according to the Special Districts Association of Oregon. These are typically small government entities run by a few employees and volunteers to provide a specific community service such as libraries, parks, fire or health. About 30 of them are health or hospital districts.
Mitchell said the district operates a health clinic in Arlington and an ambulance service for the northern part of the sparsely populated county that includes a stretch of Interstate 84 east of The Dalles. He said the district has four and a half employees.
One of those employees is an emergency medical technician, he said. The ambulance service relies on 10 community volunteers. 
Tiffany Wilkins, a volunteer ambulance driver for the district for 15 years, called Anderson a "step above." She said he's a trainer who is so effective "you're learning and you don't even realize it." She credits his help with her high score on the emergency medical responder certification test. 
She described Anderson as a dedicated leader who built the district's employees and volunteers into a strong team. 
"To be honest, we are second to none," she said. "And we are volunteer."
David Gossett, who was a volunteer emergency medical technician and driver before recently moving away for work, said Anderson was a rare person accepted by everyone in a cliquish small community.
Gossett and Wilkins said volunteers' trust in the board plummeted after Anderson was suddenly fired while still recovering from a severe COVID-19 case. 
Both said they worried the district wouldn't have the backs of volunteers and might allow them to be exposed to legal liability if someone using the ambulance service sued. 
Volunteers walked off the job for 36 hours but returned because the service is so vital, they said. Wilkins said the ambulance covers a large stretch of freeway extending to Boardman, the John Day Dam and as far south as the unincorporated community of Mikkalo. 
"If someone gets hurt they are going to die," she said. "This is our community; these are our people." 
Other community leaders are trying to mediate a resolution. In the meantime, Wilkins said the concerns of volunteers haven't been addressed.
Mitchell said the district and its volunteers should be focused on serving the public rather than the situation of one person. 
"I don't understand it," he said. 
Julius Courtney recently resigned from the five-member board that oversees the district. He largely declined to comment for this story.
"I don't want to take sides in this," he said. "I will say there are two sides to the story and leave it at that."
You can reach Jake Thomas at [email protected].