Complaints and unannounced inspections at Portland's psychiatric emergency hospital found a range of problems, including patient sexual encounters, an attempted suicide, Facebook livestreaming, escapes, nurse shortages and more.
Image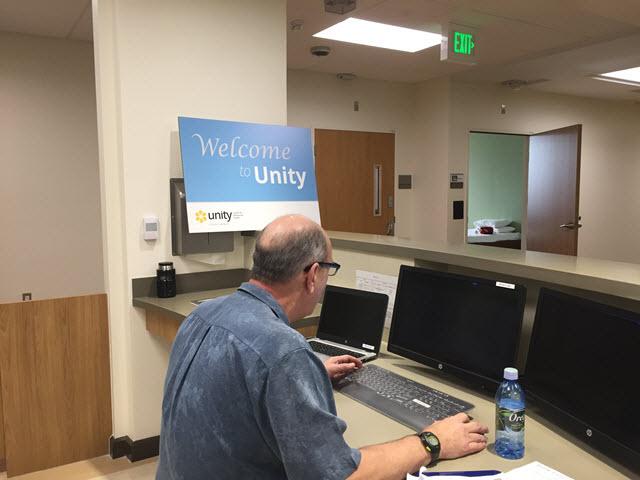 September 29, 2020
State and federal authorities have launched a new crackdown at Unity Center for Behavioral Health in Portland following complaints that the psychiatric emergency hospital has failed yet again to keep fragile mental health patients safe. 
The latest list of issues is long: Sexual encounters in a bathroom. An attempted suicide. Invasion of patient privacy. Patients escaping. Use of handcuffs and restraints. A lack of nurses and other trained staff and a failure to quickly investigate and fix problems.
The details are laid out in a 128-page report from the Centers for Medicare & Medicaid Services and the Oregon Health Authority, which licenses Unity. Dated April 4, and first reported by the Portland Business Journal, the report includes Unity's fixes which it said would be completed by the second week of October -- about a year after a surprise visit by state inspectors following two complaints. A third complaint sparked another unannounced inspection in March.
The Centers for Medicare & Medicaid Services and the Oregon Health Authority declined to release the complaints. CMS said it would not do so while the investigation is pending.
Legacy spokesman Brian Terrett said the report was sparked by the violations noted in the document and that Unity reported all of them to health authorities, as required.
"We are taking a number of steps at Unity Center to address the conditions of participation outlined in the statement of deficiencies," Terrett said in a statement. "We have documented those steps in our plan of correction."
Legacy Health an interview request. Instead, Terrett pointed The Lund Report to a statement from Unity President Melissa Eckstein.
"There is nothing we take more seriously than the safety of our patients and staff, and we welcome and appreciate the OHA survey process as a means of holding us accountable for meeting safety standards," Eckstein said in the statement dated Sept. 8. "We have submitted a plan of correction to CMS and the OHA to address the findings from their report."
Eckstein took the helm last September, about a year after Unity emerged from a state investigation of complaints of abuse, neglect and two deaths, including a suicide. The investigation prompted CMS to put Unity on a "termination track" which could have ended its federal reimbursements for Medicare and Medicaid patients. Without those, the hospital wouldn't be financially viable. 
The health authority approved Unity's corrective plan and recommended Unity retain federal payments.
Unity Opened With New Treatment Model
The hospital opened in February 2017 with great fanfare. A joint venture of Oregon Health & Science University, Adventist Health, Kaiser Permanente and Legacy Health, it was supposed to be the region's answer to its mental health crisis, by treating patients who were being "warehoused" in hospital emergency rooms. The participating hospitals scaled back their emergency room treatment of the mentally ill, shifting much of the work to Unity. 
One section at Unity with a big open room that was modeled after a hospital in California was designed to treat a large number of people quickly. Patients rest on recliners while providers diagnose them, give them medications and get them stabilized so they can be discharged.
The hospital also has nearly 110 beds for adults and adolescents.
But the facility was plagued with problems from the start. Professional staff filed complaints about violence, abuse and neglect of patients. The Oregon Occupational Safety and Health Division fined Unity for patient attacks against employees. The health authority put the facility on notice, and as recently as January, Unity's medical director warned regulators the hospital was facing a "real state of crisis."
A summary on Unity's website shows that in the past year, it's had to turn patients away about a quarter of the time because it's been full. The average in-patient stay was nearly 50 days.
Unity's poor track record and the latest complaints alarm advocates.
"It's very disappointing, extremely disappointing," said Kevin Fitts, who's on Unity's advisory committee and is executive director of the Oregon Mental Health Consumers Association, a small policy group.
One of the problems is Unity's open floor plan in the section with recliners where patients are treated without privacy.
"It seems like it's retraumatized people who were in a deep state of trauma," Fitts said.
Another advocate, Jason Renaud, a volunteer at the Mental Health Association of Portland, agreed.
"Unity has struggled with this since opening with staffing issues and with how the floor is designed," Renaud said. "It sounds like a continuation of those same problems."
Report Cites Range Of Issues
In writing the new report, inspectors visited the facility twice and reviewed a range of records, including for 21 unnamed patients and five staff members. They also read Unity's policies and procedures and looked at floor plans.
The report cited Unity for failing to shield patients from abuse, for using restraints unnecessarily, not having enough nurses and for lacking properly trained staff, all of which it said were "repeat deficiencies" mentioned in previous surveys.
"Staff failures to prevent patient access to unsafe items, failures to prevent elopement, failures to provide supervision, failures to appropriately manage behaviors and prevent unnecessary restraint use, and failures to protect patient privacy resulted in actual and potential harm to patients," the report said, "and investigations to ensure such incidents did not recur were not timely or complete."
In one instance, a bipolar patient who was delusional and psychotic was allowed to have a cell phone with a camera. That patient, whose access to technology was later restricted because that person called the Secret Service, used the phone to spy on another patient who had tried to commit suicide four days earlier. Peeking at the suicidal patient through a door, the person with the cell phone streamed video on Facebook, saying, "recording this conversation; this is live right now," the report said.
It said Unity did not investigate the incident at the time and did not conclude that the suicidal patient's privacy rights had been violated.
Four days before the cell phone incident, the suicidal patient was found in the bathroom with zip ties around their neck. Unity gave patients 8-inch zip ties as substitute shoe laces and to hold up their pants, the report said. 
The patient's neck was blue, the report said. The patient fell to the floor, hit their head and was taken to Legacy Good Samaritan Medical Center in Northwest Portland.
When they returned to Unity, their psychiatric condition worsened, the report said.
The patient's records showed that providers were aware the patient was suicidal. Nevertheless, a psychiatrist had asserted several days in a row that the patient was at a "low risk of suicidal behavior while at the hospital." 
Smoke Alarms And Weapons
Smoke alarms also turned out to be a problem. In two instances in five days, patients took smoke detectors off the ceiling. In another incident, a patient used a broken metal piece from a paintbrush to scratch themselves.
And in another case, a nurse gave a patient a pencil sharpener with three blades in it. The item was recovered, and no one was harmed. An internal report said staff had followed the standard of care. 
The report also cited a patient in a secure unit who was found with a lighter, marijuana and a cigarette. Again, the internal investigation brushed it off, the federal report said.The report said Unity failed to note a "deficient practice" and did nothing to prevent a recurrence. It also said that other items obtained by a patient could have been turned into "weapons" and that the patient "could have seriously harmed someone."
And in another instance, a patient swallowed a pen and had to be transferred to another hospital.
Some Have Sex, Others Escape
In 2017, Unity rebuilt a 20-foot wooden wall in its garden to prevent patients from fleeing out after a patient escaped. At least three patients escaped in 2018. The latest report cites two more escapes. In one case, a patient managed to get onto the roof and ran. Another patient, who was described as "exit-seeking," got out twice. 
An internal report said the facility was short staffed and didn't have enough personnel to ensure that person was always being watched.
The facility also didn't prevent patients from having sex. Internal reports noted that in January that two patients were found in the shower together and then were found in the bathroom after having sexual intercourse and oral sex. One of them asked for a sanitary pad because they were bleeding.
A doctor wrote it off as consensual sex, the report noted. 
"The hospital is responsible to ensure that patients are free from abuse and neglect, including sexual abuse," the report said. "Patients' abilities to consent to sexual acts does not relieve the hospital of its responsibility to protect patients, particularly vulnerable populations such as psychiatric patients, from unsafe situations such as unprotected sex with strangers on the floor of a bathroom or shower room."
Patient Subjected To 'Take-Down'
The report cited Unity for handcuffing and then restraining a patient it was trying to send to a sobering center. The patient, who had a history of mental illness and methamphetamine use, had been at Unity three times in 24 hours. This person was sedated with medication and then given a drug test. It found nothing except a sedative in the patient's system, which the report said was "consistent" with the medication.
The person had high blood pressure but wasn't monitored for hours. When staff finally checked, it was even higher.
Internal reports said the person became aggressive and that staff decided the patient needed to go to a sobering center. They were taken outside. By that time, the patient had lost their shoes and kicked a car. Security guards intervened and did a "take-down," the report said, by getting the person onto the ground and handcuffing them. Police arrived and had the handcuffs removed. 
Police said the person needed mental health treatment -- not a hospital. A medical director assessed the person and they should be readmitted to Unity. The patient was taken back inside and thoroughly strapped to a gurney after throwing a bottle of orange juice. 
The report cited Unity for the overuse of restraints and lack of training.
"It was determined that hospital staff failed to complete training in techniques to identify, prevent and manage patients' aggressive behaviors in accordance with policies and procedures to ensure patients' rights to receive safe care by trained staff," the report said.
It also said Unity failed to provide adequate nursing care, noting that this issue was mentioned in five previous inspections.
Staffing issues are at the heart of the problem, said Renaud, the mental health advocate.
"If you're understaffed and under supervised, you're going to get these kinds of problems no matter who's there because people will find a way to hurt themselves," Renaud said.
Earlier Call For Help
The report comes three months after a call for help from Unity's medical director. Last January, Dr. Gregory Miller warned the health authority in an email that Unity was in crisis, with patients languishing for days in recliners and dozens of others stuck in rooms awaiting admission to the Oregon State Hospital, the state's central mental health hospital. Unity said it was essentially acting as an annex of the hospital but was not being paid the same higher insurance rates.
The health authority offered to meet with Unity to review its finances and concerns about uncompensated care, but the company declined, health authority spokeswoman Sarah Kelber said. 
Unity currently receives a Medicaid rate of $834 per patient per day for people who are on the waitlist for Oregon State Hospitals, Kelber said, and that rate hasn't changed. Unity has not asked to increase its bed count, a spokesman said.
Starting Jan. 1, 2021 coordinated care organizations will assume the risk for members who are at Unity or any other hospital and are on the waitlist for Oregon State Hospital, Kelber said. 
Kelber said the authority is trying to stem the demand for treatment at Unity and elsewhere by working with county mental health programs and coordinated care organizations to help people access services. 
Another agency spokesman, Jonathan Modie, said the authority will ensure that all of the issues identified in the report will be addressed.
In her Sept. 8 statement, Eckstein, Unity's president, said she expects a revisit by inspectors in 45 days.
Though Unity is again in crisis, it's the only hospital in the Portland-area for people in acute psychiatric trouble. A for-profit company has proposed building a 100-bed psychiatric hospital in Wilsonville. But the application for state approval is still incomplete, according to the Oregon Health Authority, and critics have questioned whether that hospital would help address core problems such as the mentally ill who are also homeless or addicted to drugs.
If Unity were shuttered, there would be nowhere else for the mentally ill who are in crisis, said Fitts, a member of its advisory board.
"If they pull the plug on it, what's the Plan B?" Fitts asked. "They don't have any Plan B. The problem is, I don't think there was enough oversight initially and I don't think there was enough questioning initially."
You can reach Lynne Terry at [email protected] or on Twitter @LynnePDX.
You can reach Ben Botkin [email protected] or on Twitter @BenBotkin1.