Image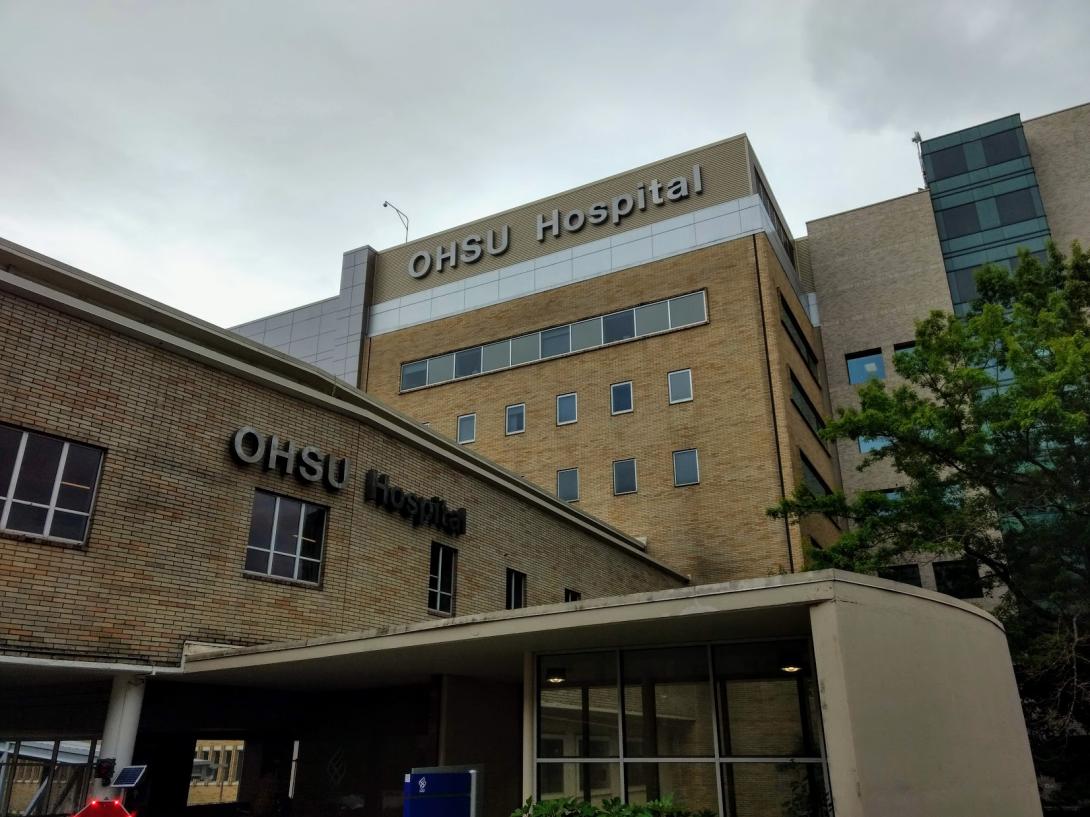 August 12, 2019
A medical crisis hit the heart transplant program at Oregon Health & Science University the year before it collapsed. A rash of patients died, giving the program its worst outcomes in three decades. 
The heart failure team hunkered down to investigate the deaths. It took time to sort out the issues. But the close-knit team eventually steered the program back on track -- and then they left.
All 10 patients who received a new heart at OHSU in 2018 are still alive today. But last year the heart transplant program imploded following an internal shake-up. The university suspended the program and patients went elsewhere. The 20 patients on the waiting list were referred out of state, mostly to the University of Washington in Seattle. Providence Health & Services in Portland also stepped up, taking on about 350 patients from OHSU.
None of that happened because OHSU's heart transplant program had a deadly year in 2017. The situation was much more complicated and involved personnel issues. The way it unfolded shines a light on the culture of the institution, Oregon's only academic medical center. OHSU is a key employer in the area with more than 16,000 employees and many respected scientists, researchers and clinicians on the payroll. It also has enjoyed nearly a decade of rising revenues and profits, reaching a record $150 million in profit this year.
But some departments have been plagued by a churn of staff, and talented people have left or been asked to leave. It's affected the Anesthesiology and Emergency Medicine departments. It hit the heart transplant program hard.
The implosion of the program coincided with a shakeup in OHSU's Knight Cardiovascular Institute, with Dr. Sanjiv Kaul stepping down as director. The institute's benefactor, Nike co-founder Phil Knight, shifted his generosity to Providence. OHSU's heart transplant survival rates plunged, putting the hospital in the bottom tier in outcomes nationwide.   
"The patient should have been in the heart of this the entire time, and they got lost in the politics," said one insider, who only agreed to speak on the condition of anonymity.
The Lund Report interviewed multiple authoritative sources for this story: No one in the cardiology institute would talk on the record. Staff members who leave OHSU often sign nondisclosure or non-disparagement agreements. Others worry that if they speak out it could damage their reputation or that OHSU could retaliate and harm their careers.
The university's president and top administrators have apologized for any anguish caused to patients. They've also praised the program's history of good outcomes. They're now gearing up to restart the program. President Dr. Danny Jacobs promised that the new team's outcomes would be exemplary.
But multiple sources who witnessed what happened over the last two years remain skeptical. They said good care depends on a team that works well together. Teamwork takes time to build. Sources said the next team will lack the depth of experience of its predecessor. They also lack confidence in the program's leadership. 
Program Struggles At Beginning
OHSU kicked off its heart transplant program with 24 surgeries in 1988, three years after the hospital performed the state's first successful heart transplant. Outcomes in the first year were worse than the nationwide average. Five patients died -- a 20.8 percent death rate. That compared with 17.4 percent nationwide, based on yearly data obtained by The Lund Report from the Scientific Registry of Transplant Recipients. The agency collects data on patients, surgeries and outcomes and produces bi-annual reports covering two-and-a-half years. 
"It keeps the whole organ and transplant (system) in check," said Amy Ketterer, spokeswoman for the registry.
The yearly data show that during its first nine years, OHSU's heart transplant program struggled to beat the average death rate nationwide. Some years were great. In 1989, only one patient died within a year of surgery among 24 transplants, and in 1992 one patient died within 30 days and another passed away within a year among 32 transplants. But that contrasted with death rates above the U.S. average five other years including 1996 when three patients among 14 transplants died within a year of surgery, including one who didn't live past 30 days. 
By 1997, the program hit its stride. It performed 12 surgeries that year, its second-lowest number to date. But there was only one death in a patient who didn't live 30 days. 
Through 2016, deaths following heart transplantation at OHSU remained relatively low. At most, two people died within a year of transplant. The death rate rose above the U.S. average during a handful of years but some years no patients died within a year of receiving a new heart.
The scientific registry publishes one-month, one-year and three-year survival rates. The one-month mark is important to surgeons, sources said, because any surgical problems are likely to emerge within that time. 
"Surgeons typically own the first 30 days," a source said. 
Survival after a year generally indicates that the heart failure cardiologists and other staff have done a good job. 
"You want the one-year mortality to be low because it means you're getting patients successfully through transplant and through their first year, which is the hardest year for transplants," a source said. 
The Centers for Medicare & Medicaid Services, which approves programs for reimbursement, looks at the one-year survival rates and so does the national transplant oversight committee. The ratings are published online, with programs ranked for waiting times and outcomes.
The year 2016 was busy for OHSU's heart failure team, which comprises about 20 people. They didn't just handle transplants and care for patients after surgery. They also treated people needing a heart assist device. That year, surgeons had a steady stream of heart operations, performing 29 heart transplants -- the highest number in about two and a half decades. 
Staff called it a stellar year. Only two of the patients operated on that year died within a year of surgery, including one within 30 days. 
"We had good outcomes and (had) had a long period of no complications," a source said.
Deaths Spike In 2017
That year was followed by the program's worst results to date. In 2017, staff performed 18 heart transplants. Six patients died -- a rate of 33.3 percent. That was four times the national average of 8.3 percent.
Tim Stevens, a former director of transplant services at OHSU, said three people died in the first half of the year and three in the last six months. A senior consultant at Guidry & East, he was hired by OHSU in March to help rebuild the program. He would not discuss details surrounding the deaths, referring instead to registry reports. 
Those first three deaths involved patients who died within 30 days of surgery, sources said.
"They were still in the hospital," one source said. "In fact, most were still in the ICU. It was really hard." A fourth transplant patient died at the end of summer and the other two died by the end of the year, sources said. 
Stevens said he found no connection among the six deaths.
"There was no single thread that runs through all cases," Stevens said. 
That position was repeated in an editorial by OHSU's president, medical school dean and chief executive of the OHSU health system, which was written following a story by The Oregonian/OregonLive on the latest registry report citing poor OHSU outcomes.
"Our expert multidisciplinary team found no significant trends of any kind that could be attributed to the unfortunate patient outcomes," the editorial said, adding that experts found no systemic issues and that each case was unique.
Stevens told The Lund Report that "patient physiology" may have been a factor in the six deaths. 
"In recent years, heart failure patients referred to us for transplant have been sicker and increasingly complex over time, having received a number of less invasive devices and medical therapies that ultimately failed," Stevens said.
Multiple sources said heart transplant patients are always very sick -- they're essentially dying -- and that there was no marked difference in the patient population between 2016 and 2017. 
"We were fairly cautious," one source said. "The kind of patients we took were more straightforward and less complicated" than those at the University of Washington.
Each program selects patients based on internal and federal guidelines.
"The patient selection is a multidisciplinary selection process based off of national standards, policies and protocols," Stevens said. OHSU maintains a "Heart Transplant Protocol Handbook" that's reviewed by CMS.
Patient selection is the responsibility of the care team, including an approved surgeon and cardiologist along with pre- and post-transplant coordinators, nurse, nurse practitioner, social worker, nutritionist and pharmacist. The team was led by Dr. Jim Mudd, a heart failure cardiologist hired by OHSU in 2010 and put in charge of the heart failure team the following year.
The team reviewed patient data together and decided as a group.
"We all looked at them," a source said about the patients who were selected. "Everybody would have to say yes."
Stevens said that after each death in 2017, a multidisciplinary team reviewed the cases.
"The reviews for each patient death occurred in real-time and included analyses of every possible activity that could have adversely affected patient outcomes, including quality of the organs that were received and all components of pre-operative preparation, transplantation procedures and the care received after surgery," Stevens said.
Normally, the team reviewed cases quarterly, sources said. But following the first three deaths of 2017, it launched an intensive examination. Team members met bi-weekly and spent hours poring over details. 
One detail stuck out: The first three people died shortly after surgery. That indicated potential problems with the procurement or harvesting and transport of the heart, the surgery, or both, sources said.
The review turned up an array of issues.
"There were issues with surgical procurement, surgical technique and surgical management," a source said.
One example: Air got into the heart-lung system that patients are put on during surgery to keep them alive while their heart is being replaced, sources said. The system is only supposed to circulate blood. There were also problems associated with misplaced intravenous lines used to feed medications to patients during the operation, a source said.
"There were complications in the (operating room) that should not happen," a source said.
No single surgeon was at fault, sources said.
"Every single one of our surgeons has had issues," a source said. "It's a high-risk procedure."
But one chief problem was echoed by five well-placed sources. They said delays kept some of the harvested hearts on ice too long before they were implanted into the patient. The time a heart is on cold storage is called ischemic time. Ideally, it should not exceed four hours.
"There are certain things we don't mess with," a source said. "One is you try to get under those magic four hours. Every second counts."
The longer the heart stays on ice, without blood flow, the greater the chance that it won't work once it's implanted.
"That's why we use Learjets" to transport the hearts, a source said.
Stevens acknowledged that four hours is the "gold standard," but he said surgeons in other hospitals sometimes keep hearts longer on ice. 
He said that was not the case with any of the patients who died.
"I did not identify any cases that went beyond four hours," Stevens said. 
Several sources in the program disputed that. They cited ischemic times longer than five hours.
There were various reasons for the delays, they said. Travel times were sometimes longer than expected. Once, bad weather closed an airport, forcing the procurement team to change travel plans. Sources also cited communication problems between the surgeon who harvested the heart from the donor and the implanting surgeon at OHSU Hospital who was in charge of the transplantation. 
"There was a problem with both," a source said.
The two are supposed to coordinate the timing of their actions in lockstep -- from harvesting the heart to landing at the airport to cutting open the patient -- so that when the heart arrives in the operating room, the surgeon is poised to sew it in.
"It's a coordinated ballet between the heart arriving and the heart being cut out," a source said. "It's intensely coordinated."
But on at least one occasion, the surgeon in the operating room was still cutting through a patient's sternum when the heart arrived, a source said.
The team also looked at patient selection but nothing stood out, sources said. One patient who died had been treated with chest radiation in the past. The team wondered whether that had been a contributing factor. It had not mattered before. They also puzzled over another patient who walked into the hospital -- without ever having had a heart assist device implanted -- and never left, dying after the operation.
The team focused on tightening the ischemic time. By the end of the year, everyone involved in the harvesting of the hearts and the surgeries was onboard.
Among the changes, the team shortened the allowed travel distance to harvest a heart and required two senior surgeons to be in the operating room for the implantation. Only two surgeons -- Dr. Howard Song and Dr. Fred Tibayan -- were allowed to do transplants, a source said.
The team also cracked down on their documentation, something that CMS had flagged as a "deficiency" during an on-site survey at the end of 2016.
"We made sure that a lot of the systemic issues were corrected," a source said. "We made sure the surgeons who were responsible understood the importance of sticking to that magic time window."
Stevens said the team's outcomes in 2018 improved when the team tightened the selection process. "To reduce the number of deaths, they had to be more selective with their patients," Stevens said.
Insiders said they fixed the problems by tightening protocols.
"We had good outcomes after that," a source said. "Then this whole thing unraveled."
New Director Appointed
In September 2017, while the heart failure team was in the thick of its case studies, Dr. Joaquin Cigarroa was appointed head of cardiology clinical operations. That made him Mudd's boss.
One physician in the Knight Cardiovascular Institute praised Cigarroa but other sources complained about him, saying he didn't tolerate different opinions and failed to keep some promises. 
In January 2018, Cigarroa demoted Mudd. He made the announcement in a terse email sent to everyone in the Knight Cardiovascular Institute which was among several emails obtained by The Lund Report. Cigarroa said he was restructuring the heart failure team and had asked Mudd to step down. The email included no explanation. In meetings with the team, Cigarroa offered no details, sources said. They were told it was Cigarroa's decision and that the factors involved would remain private.
Many of Mudd's colleagues were stunned. Mudd was well-liked, considered a first-rate heart failure cardiologist and ran a tight team.
"Jim is our passionate, thoughtful and selfless leader who is the steadfast backbone of this program," his colleagues wrote in an email to Cigarroa, the institute's faculty, the dean of the medical school and head of human relations.  
The previous year had been the worst in OHSU's heart transplant history but the program was back on track. 
One physician called Mudd one of the top heart failure cardiologists in the country. Another said in an email to colleagues that "the development is emblematic of deep problems in the division with regards to respect and value."
The lack of explanation fueled speculation. Several sources suspected that the reason Mudd was demoted had nothing to do with his ability or performance. Rather, they said it boiled down to a personality conflict. 
Both men are strong-willed and opinionated. Mudd spoke his mind and pushed for what he felt the team and patients needed, sources said.
The team asked for more staff but were told there was no funding.
For a few years, Mudd and another heart failure cardiologist, Dr. Jill Gelow, had run the program on their own, sources said. Over the next few years, other cardiologists came and went. In 2013, OHSU hired Dr. Chris Chien. Dr. Jonathan Davis joined the team in 2015 and Dr. Virginia Hebl was hired in 2016. Chien left in 2016 and Hebl left in 2017. The same year, Dr. Divya Soman joined the team.
When Mudd's demotion was announced, Drs. Gelow, Davis and Soman were working under Mudd along with nurses and other staff.
The team was told that Mudd was a valued professional and would stay at OHSU despite his demotion. Several months later, however, they learned that OHSU was not renewing his contract. 
But Mudd remained in the job. He led the team, worked on new protocols and handled scheduling. His team members, angry about his demotion, lobbied upper management, including the chief executive officer of OHSU Healthcare, a position that was then held by Mitch Wasden; Dr. Sharon Anderson, dean of the School of Medicine; and Dr. David Jacoby, now chair of the Department of Medicine. They also met with Cigarroa several times. They warned that if Mudd was forced out, others would leave.
And that's exactly what happened.
OHSU declined to comment on Mudd's demotion, citing  "confidential personnel matters."
Gelow was the first to go. She had adopted a son from Somalia and needed to have a better work-life balance so that she could spend time with him, sources said. She was hired by Providence Health & Services in July. Davis left in September. He was snapped up by the University of California, San Francisco, where he leads the heart failure program. Soman also left in September. In February, she was hired by Kaiser Permanente. She splits her time between its Sunnyside location in Clackamas and Salmon Creek in Clark County. Robin Miller, the team's acute care nurse practitioner, also left OHSU.
Mudd, too, was gone by the end of September. He went to Spokane, where he works as a heart failure specialist for Providence.
Four other cardiologists not associated with the transplant team -- Drs. Dan Sedehi, Dave Guarraia, Yen Tibayan, Luke Burchill -- also left OHSU last year. Tibayan, who's now at VA Portland Health Care System, retains a faculty appointment at the Knight Cardiology Institute.
This month two more cardiologists, Drs. Michael Shapiro and Shimoli Shah, left as well. 
There have also been departures in the division of cardiothoracic surgery. Dr. Matt Slater, who was second in command under Dr. Howard Song, went to St. Charles Medical Center in Bend in 2016 after 17 years at OHSU where he did his training. Dr. Jai Raman returned to his native Australia in 2018 and Dr. Don Thomas found a job in Michigan, where he attended medical school. Dr. Danielle Smith went to the Portland VA in 2018. Dr. Fred Tibayan, the heart transplant accredited surgeon, is still there as is Dr. Castigliano Bhamidipati, who was hired in August 2017. 
Late last year, OHSU hired four outside specialists to conduct a peer review of the program but the results were not released. The administration also brought in an outside surgeon to do a review, sources said. The findings were not shared with staff, sources said.
In June, OHSU addressed the collapse of the heart transplant program in a post on its website. Entitled "OHSU Heart Transplant Program: Lessons learned," it said that outside and internal peer reviews indicated that the problems stemmed from heavy workloads, communication issues, a lack of support and provider burnout. It said that OHSU will ensure that when it reactivates the program it will have more staff, something the team had requested for months.
But burnout was not the problem, a source said. 
"There was no burnout," the source said. "(Cigarroa) single-handedly destroyed the program for the pure and simple reason that he and Jim just didn't get along."
Cigarroa declined a request for an interview.
Rebuilding The Program
OHSU is about to restart the program. It's hired three heart failure cardiologists -- two junior physicians and a more senior cardiologist to lead the team. Under federal rules, a heart transplant program has to have at least one trained heart failure cardiologist.
The new hires include Dr. Luke Masha from the Brigham and Women's Hospital in Boston, Massachusetts, who was on campus in July.
The other two hires will be announced this month, a spokeswoman said.
Programs can remain suspended up to 12 months without seeking approval from CMS. If OHSU reactivates this month, it will fall within that time frame and won't need to jump through any new oversight hurdles.
The university still has a designated transplant-trained surgeon -- Dr. Fred Tibayan -- and Stevens said the program has retained its contracts with insurance companies for payment purposes. But the program needs to attract patients. It no longer has a waiting list.
The program's ratings are poor. The registry gives OHSU only one of five bars for survival and only two of five bars for the time it took to get a transplant. On the other hand, it has four of five bars for waitlist survival, based on registry data.
Among 144 hospitals nationwide performing adult heart transplants, only eight are in the same lowly tier as OHSU. They include Johns Hopkins Hospital in Baltimore, Maryland and Brigham and Women's Hospital in Boston, Massachusetts, which both have lower waitlist survival rates and performed 15 and 21 adult heart transplants respectively in the current reporting period.
On the West Coast, the University of California San Diego Medical Center in California stands out. It performed 55 heart transplants in the past two-and-a-half years and is it the top tier in its survival rates. The University of Washington Medical Center, which performed 87 heart transplants in the same period, ranks in the middle, with three bars for survival.
Despite OHSU's low rankings, Stevens is confident it can rebuild the program.
"It's just like with any loss of trust in a relationship, it's again proving that we can do what we say we do," Stevens said. "OHSU's had bumps in the road. Every program across the country has had a bump in the road. They're resuming the quality of care that they previously had provided."
He said there's interest among patients: "We already have patients calling and wondering when they can be seen here." 
But the program will be under tight surveillance. The spike in deaths raised a red flag at CMS, federal officials said. Normally, they would have held an on-site investigation last year, sources said, but the program was suspended. Stevens expects CMS officials to visit OHSU after heart transplants resume. 
CMS officials said they will track OHSU's outcomes data for the next year. If deaths are still high, officials could flag the program as being out of compliance.
"The program as it reactivates will be under close scrutiny by CMS, and CMS can request a variety of things," Stevens said. "CMS can be a little bit of a wild card. They treat each program individually almost. You know, there are guidelines, but I've not seen them respond the same way to two programs the same way."
OHSU also will have competition. Providence Health & Services, which implants more heart assist devices than any institution in the state and has five heart failure cardiologists on staff, including Gelow, is preparing to launch a heart transplant program of its own. The two institutions had been in talks following the suspension of OHSU's program and the transfer of patients to Providence. Those talks included the possibility of collaboration. But apparently, OHSU decided to forge it alone.
The university's cardiology program no longer has the support of Phil Knight, whose $125 million donation in 2012 paved the way for the creation of the Knight Cardiovascular Institute. Sources said OHSU had expected another donation from Knight. Instead, he gave $75 million this year to Providence for its cardiology services.
Sources questioned why OHSU would want to restart the program. Heart transplants are not typically a big moneymaker, one insurance official said. But Stevens said the program is part of OHSU's mission of "providing the full array of services to the patients and the citizens of Oregon." It is also the only academic medical center in the state.
It remains to be seen whether the state can support two heart transplant programs. Providence previously launched a heart transplant program in 1999. It closed the program in 2012 due to low volume. It only performed one operation in 2011 and two a year the previous five years.
Providence plans to launch its program at the beginning of the year, while OHSU's reactivation date is Aug. 26, according to CMS.
You can reach Lynne Terry at [email protected].