Exclusive: OHSU's Head Of Emergency Medicine Stepping Down Following Investigation
The head of Oregon Health & Science University's emergency department is stepping down following an internal investigation and an exodus of physicians from the department.
Dr. Oscar "John" Ma announced his departure in an email to staff on Monday morning, saying he will leave July 8 and that the department's executive vice chair and director of clinical operations, Dr. Mary Tanski, will take his place in the interim.
His email, sent at 9 a.m. on Monday, focused on his accomplishments as chair since he took the job in 2007.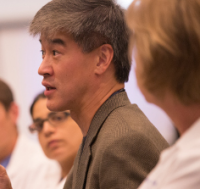 "During my 12.5 years as your chair, our department has expanded emergency medical services from staffing one emergency department in 2007 to covering five by July this year," Ma wrote. "Our ED volume will have increased from 37,000 in 2007 to more than 150,000 cumulatively in July. Our faculty and staff clinicians will have more than tripled to 116 across all ranks (including adjunct and clinical associations). Our operating budget has also more than tripled to $35 million in FY20."
The announcement follows months of turmoil in the department, multiple complaints about Ma's leadership, successive departures of physicians and persistently low morale.
"Before he came, our department was one of the most respected in the country and probably had the happiest faculty - people loved working there," a source told The Lund Report. 
OHSU confirmed Ma's announcement but declined to comment further. A spokeswoman referred The Lund Report to an official announcement on its website that lauded Ma's tenure. 
"John Ma distinguished himself in expanding access to top-tier emergency medical care so that thousands more patients from the north coast to the metro area can get the care they need when they most need it," Dr. Sharon Anderson, dean of OHSU's medical school, wrote on the website. "He has been an innovative, results-oriented leader who has achieved success across missions."
Ma, who earns a base salary of nearly $270,000 a year excluding clinical pay, oversees a staff that includes nearly 70 physicians, according to OHSU's website. His staff includes 55 women - many more than when he started.
But a number of them -- and men as well -- have been unhappy.
The ER physicians at OHSU spend eight hours on their feet at a time in an all-consuming job that involves juggling patients and supervising trainees. They try to patch up broken bodies and save patient lives. They rarely have time for a snack and have to break bad news, telling families that their loved one didn't make it. Yet the hardest part of their job at OHSU, physicians told The Lund Report, hasn't been the work but the leadership.
A steady stream of professionals have left, some switching to work outside an academic medical center. They include six physicians -- both men and women -- who have either resigned from the emergency department over the past six months or are in the process of doing so, according to multiple sources.
"There have been at least 20 people who have completely changed their careers because of this one individual," an OHSU physician told The Lund Report, referring to Ma. "That doesn't happen elsewhere."
Over the past six months, The Lund Report has interviewed multiple physicians and staff in the department who complained about Ma's leadership. None of them would go on the record over fears of retaliation. They said that not only did Ma control their compensation, schedule and career path at OHSU but that he also wields influence nationwide as the secretary-treasurer of the influential American Board of Emergency Medicine.
Contacted Monday, sources said they were dismayed but not surprised by his departure.
"This response and allowance (by OHSU) of this man to walk away with a glowing send-off and no consequences is spine chilling," one source responded. "This is why no one will go on the record."
"His email is nothing more than a list of accomplishments that he has 'helped to strengthen and diversify' this department and shore up the role of women and the field of emergency medicine," the physician added. "I would say it leaves me speechless but, honestly, it leaves me floored and deeply saddened. And dispirited."
Another physician said they were not surprised that he was going.
"It was surprising only in that we expected it six months ago," the physician told The Lund Report. "It should have happened earlier. It was time for our department to get new leadership that will bring up morale and reinvigorate the department and give us a stronger vision for our future academically."
Yet another person responded with a statement:
"So many women have come forward and men (as witnesses ) due to the years of sexual harassment, discrimination, retaliation and toxic work environment fostered under the leadership of Dr. O. John Ma.  Each time, OHSU leaders told us that our safety concerns had no merit and instead engaged in victim blaming," the statement said. "It's been terrifying to go through this inordinately long process, meanwhile being actively harassed; where we were not believed or supported by OHSU in any manner.  This "step down" is hardly meaningful in the steps OHSU needs to make in taking corrective action to address their culture of sexual harassment and discrimination at the cost of OHSU employee safety. The manner in which OHSU handled this could not possibly be more demoralizing as a female in 2019."  
Multiple sources told The Lund Report that OHSU's human resources department conducted a months-long query into Ma's conduct that included an email he fired off to staff last July, announcing an educational event on ultrasound at Lucky Labrador Beer Hall in Northwest Portland.  It said "if you are PC and easily offended, please consider skipping this event," adding that it would contain graphic language, violence, brief nudity and a Guatemalan.
"Food and beer will be served," the email said. "The ultrasound probes will not be the only things well lubricated."
A physician told The Lund Report that the email "managed to offend every minority group in the department."
Staff reported it to human resources, they said. Sometime after that, the email mysteriously disappeared from their email inboxes though some had saved a screenshot.
During the investigation, human resources officials contacted individuals in the department, asking them if they wanted to discuss their concerns. There was not an announcement informing the department of an investigation. 
Sources said dozens of people came forward.
Some officials told faculty members a few weeks ago that the investigation had finished. They did not give any details.
Ma did not say in the email why he suddenly decided to step down. He will remain on the faculty.
By all accounts, he bolstered the department's standing.
"Under his leadership, we've done amazingly well from a business perspective," one physician said. He expanded to all these other sites and increased the footprint, revenue and reputation of OHSU. The university views him as an asset."
Ma extended OHSU's reach through deals with other hospitals. OHSU physicians now staff emergency rooms at Columbia Memorial Hospital in Astoria, Tuality Healthcare Emergency Room in Hillsboro and, in July, at Adventist Medical Center in Southeast Portland.  
Yet some suspected that eventually he would be forced out under an avalanche of complaints.
They're now hoping for a new chapter.
"We are all eager to move forward with a search for a new chair," a source told The Lund Report.
You can reach Lynne Terry at [email protected].