Saint Alphonsus is transferring nurses from Idaho to keep maternity services going through August, and delay of the closure could extend 6-12 months if federal agency comes through
Image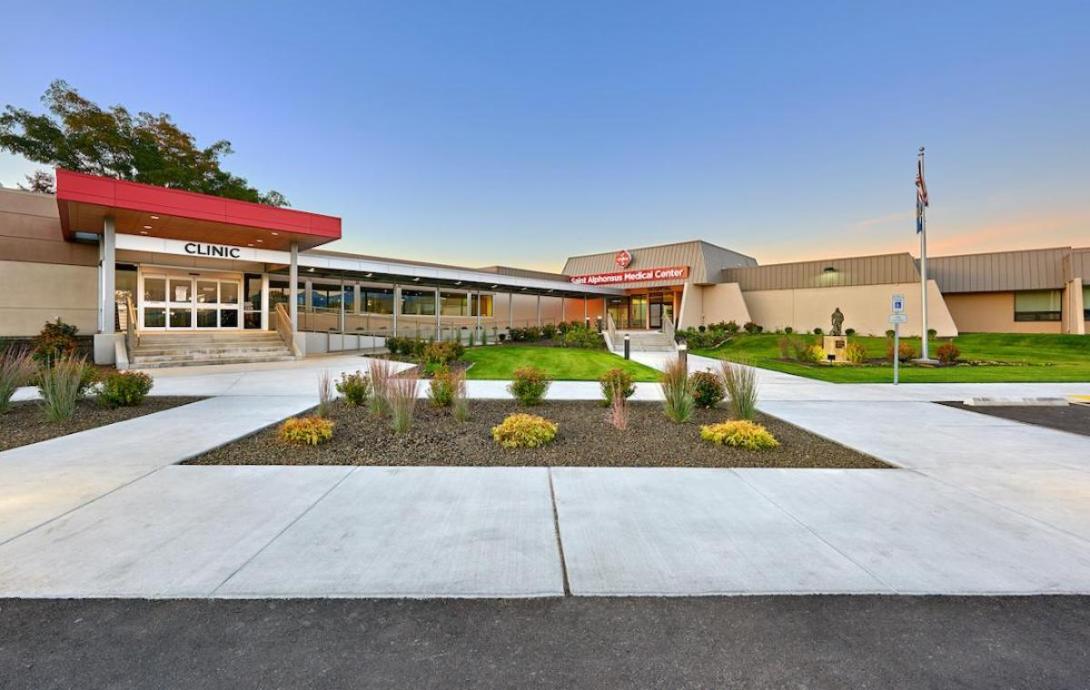 July 26, 2023
This article has been updated to incorporate additional reporting on Thursday, July 27.
Plans are taking shape for the birth center at Saint Alphonsus Medical Center in Baker City that could allow it to stay open well beyond the previously announced July 31 closure date. 
U.S. Sen. Ron Wyden and Oregon Gov. Tina Kotek have spearheaded the government response even as Baker County residents mobilize to highlight how the hospital's plans will pose the dangers to them and the community at large. Keeping the birth center open would require help from federal, state and local governments — and cooperation from the fifth-largest hospital system in the country.
On Wednesday, the Saint Alphonsus Health System announced that the birth center at Baker City will remain open four weeks beyond the initial closure date the system had announced . The health system is transferring five nurses from Idaho temporarily to make that happen, The Lund Report has learned.
Meanwhile, discussions are proceeding about bringing in U.S. government nurses to keep the birth center going, and Saint Alphonsus officials have participated in those discussions, Baker County Board Chair Shane Alderson said in an interview. He said a Kotek aide joined him in person for a virtual meeting earlier this week with officials from the U.S. Department of Health and Human Servivces, as well as officials from Trinity Health, the parent organization of Saint Alphonsus.
At a special session of the Baker County Board of Commissioners on Thursday morning, the board approved funding for the federal nurses' travel and lodging, which Alderson told The Lund Report amounted to "matching funds" for the federal investment. The funding would be between $288,000 to $576,000, depending on whether the nurses stay for six or 12 months.
Residents say closure would threaten lives
During the July 27 meeting, residents showed up — some with babies — to support local funding to keep the birth center open.
 Jessica Allen said she's 33 weeks pregnant, and has had to make plans to deliver her child in Boise, adding new demands on her life at an already demanding time.  "It's been very stressful," she said. "I hope that the continued efforts from the community and from you guys will help extend (the birth center) so that we can get a permanent solution."
Paige Perilli, a physical therapist, described giving birth at the Baker City birth center last year, saying she had an "amazing crew" of caregivers, but still lost two-and-a-half liters of blood when it turned into a c-section.
"Without them being prepared," she said, "I would be dead." Now, she added, the potential closure of the birth center could affect her family's plans to expand, and force them to move. "I will be a high-risk pregnancy," she added, "We do need that long-term solution."
Paige Witham said the community needs to defend the health of its residents, such as by opening a women's clinic. 
"It's not just a critical access issue, or a membership size issue. It's the fact that it's a rural community. And they are not dedicated to serve us," Witham said. "While we can't force St. Alphonsus to sell, though they do not seem to care about our community, what we can do is make things a little bit uncomfortable for them."
Dr. Nathan DeFrees said he'd grown up in the area, and had returned specifically to provide obstetrical services. He stressed the need to have a continuously functioning birth center that is there to handle emergencies during pregnancy. "It really does help keep the pregnant women our community safer, even if they're planning on delivering elsewhere," he said.
He stressed that the nurses already at the hospital with obstetrical experience will be needed to keep the birth center operating. They "have been through a lot in the last month," and need extra support from local and state government, he said.
After The Lund Report first reported on the board vote Thursday morning, Wyden retweeted the article, saying  the decision exemplified "the Oregon way" of "pulling together to solve big problems."
Health system seems open to lengthier delay
Saint Alphonsus, in its July 26 statement, appeared to signal its openness to a longer delay and federal help: "We appreciate Senator Wyden and other elected leaders' focus on ongoing conversations around Obstetrics services in Baker City."
It stated that "we have just received expedited approval from the state of Oregon for six Obstetrics nurses and plan to keep the Obstetrics unit at Baker City open for another four weeks to allow the community additional time to plan for the transition."
A Saint Alphonsus spokesperson declined to elaborate on the press release's meaning, but Shane Alderson, chair of the Baker County Board of Commissioners told The Lund Report that Saint Alphonsus has agreed to temporarily transfer nurses from Idaho to keep the birth center open.
Barbara Holtry of the Oregon State Board of Nursing confirmed to The Lund Report that the state has granted emergency licensing to the Saint Alphonsus nurses. "St. Alphonsus requested and was granted five 90-day license exceptions this week," she wrote in an email. "This allows nurses to work while their endorsement applications are being processed."
In its initial June 22 announcement of the closure, the hospital cited declining use and the difficulty of hiring specialized staff. The move immediately sparked safety concerns, with some noting that it could force families to drive more than 40 miles through a mountain pass that can be treacherous or unpassable in winter. 
Alderson told The Lund Report that with Baker County set between two mountain passes, "The risk to our mothers in this area has suddenly become huge," with threats to passage including not just winter storms but summer wildfires. 
"In the winter time it is not unusual to have I-84 closed down at least once a week,"  he added.
The community quickly mobilized, with more than 300 people showing up to a town hall organized by Wyden days after the closure was first announced.
Wyden and fellow U.S. Sen. Jeff Merkley urged the health system, which is part of one of the largest hospital chains in the country, to delay the closure for six months, while the Baker County Board of Commissioners pressed for a one-year delay. Gov. Tina Kotek weighed in, too, joining Wyden and Merkley in asking the U.S. Public Health Service to provide six nurses on an emergency basis.
Alderson told The Lund Report the additional nurses will address the staffing shortages that were cited by Saint Alphonsus when it announced the closure. "They've had a nursing shortage for quite a while," he said.
Service cuts increasingly common as maternal mortality grows
The potential closure by St. Alphonsus is among many such moves by hospital systems nationwide to cut unprofitable or hard-to-staff services, such as birth centers, as hospitals try to regain operating profitability coming out of the pandemic. Meanwhile, mortality rates across the country have grown, more than doubling in some states, studies show.
The 36-bed hospital reported a record loss for 2022, following record profits in 2020-21.
The looming closure alarmed state officials , but they cannot legally force Saint Alphonsus to keep the maternity unit open as the state did when Legacy Health announced a similar closure earlier this year.
Saint Alphonsus officials did not provide responses to The Lund Report's questions  sent July 24 about the staffing makeup of the hospital's maternity unit or what assistance would ensure it stays open.
But after Wyden and Merkley raised the possibility of help from the Public Health Service and other ideas in a July 10 letter, a Trinity Health executive, Odette Bolano, responded that system officials were pursuing the "resources" they'd cited to "potentially temporarily maintain" the birth center, adding "we appreciate your willingness to work together."
Births at the maternity unit have been trending down in recent years. Preliminary state data show 100 births at the Baker City facility last year, down from an average of about 125 in the 2010-2020 period.
But because other hospitals are so distant, the service is vital for the county of 17,000 residents, community leaders say.
It could take Baker County residents an hour or possibly much longer to reach maternity units in other hospitals in other counties. Community leaders have pleaded with the Boise-based Saint Alphonsus system to keep the maternity unit going.
The drive to the nearest hospital – in La Grande – "can be treacherous in the winter, and the route is frequently closed, leading to commutes as long as three hours," the senators wrote to the federal health service.
The Baker City hospital and Boise-based Saint Alphonsus are part of Trinity Health, the fifth-largest hospital system in the nation. Like many other hospital systems, Trinity in recent months has incurred operating losses due to sharply rising labor costs that have outpaced revenue growth.
 In the six months ended Dec. 31, 2022, the system, with 88 hospitals nationwide, incurred an operating loss of $297 million on operating revenues of $10.5 billion. But other revenues, including returns on the system's $5 billion investment portfolio, cut the loss for the six months to $33 million, according to the system's financial filings. The system has a net worth — all assets such as investments and buildings, minus liabilities such as debt — of $17 billion, according to the filings.
The Baker City hospital is a tiny part of the system. Prior to the pandemic, the hospital had long been financially steady and unspectacular, typically hovering around breakeven point on revenues of about $30 million a year, losing some money some years, making a small profit in others, according to filings with the Oregon Health Authority.
In 2020-21, its revenues soared to $41 million a year, due in part to a total of $4.7 million in federal pandemic aid from the Department of Health and Human Services. The hospital reported profits totaling $10 million in those two years.
But as federal aid ended, the hospital finances sagged in 2022. Its expenses rose, its revenues dropped to $36 million, and it reported a loss of $3 million, its largest in the Oregon Health Authority's database, which goes back to 2007.
---